United States Saint-Saëns, Henri VIII: Soloists, Dancers, Bard Festival Chorale, American Symphony Orchestra / Leon Botstein (conductor). Fischer Center at Bard, Annandale-on-Hudson, New York, 30.7.2023. (RP)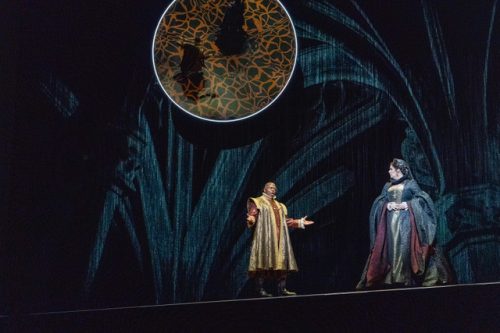 Production:
Director – Jean-Romain Vesperini
Sets – Bruno de Lavenère
Costumes – Alain Blanchot
Hair and Makeup – Anika Seitu
Lighting – Christophe Chaupin
Video Projection – Studio AE (Étienne Guiol with Thomas Ocampo)
Chorus master – James Bagwell
Cast:
Henri VIII – Alfred Walker
Catherine d'Aragon – Amanda Woodbury
Anne Boleyn – Lindsay Ammann
Don Gómez de Feria – Josh Lovell
Cranmer – Kevin Thompson
Duke of Norfolk – Harold Wilson
Lady Clarence – Alaysha Fox
Cardinal Campeggio – Christian Zaremba
Earl of Surrey – Rodell Rosel
Garter King of Arms – Aaron Blake
Dancers – Joyce Edwards, Lindsey Jones, Doug LeCours, Brandon Washington (Dance Captain)
Wind Ensemble: Andrea Ábel (flute), Michał Cieślik (oboe), Eszter Pókai (clarinet), Philip McNaughton (bassoon), Alberto Arias Flores (horn)
Fully-staged opera performances are rare during the summer in New York, but one need only venture a bit north up the Hudson River to get a fix at the Bard SummerScape. Every summer, its founder and music director, Leon Botstein, presents operatic rarities in vibrant productions with exciting casts. This year was no exception, the draw being Saint-Saëns's Henri VIII, which the composer himself considered one of his finest creations.
The action centers on Henry VIII's efforts to rid himself of his first wife, Catherine of Aragon, and wed the much younger and beguiling Anne Boleyn. It is best not to fret over historical accuracy in the libretto by Léonce Détroyat and Armand Silvestre, which was based on El cisma en Inglaterra (1627) by Pedro Calderón de la Barca. The historical gist is there, however, and provides more than ample dramatic fuel. Even more enticing is the opera's never-ending flow of beautiful melodies, rich and subtle orchestrations and stirring choral scenes.
Jean-Romain Vesperini's concept for Henri VIII leaned towards the traditional but with enough modern touches to lift the production from the realm of comfortable period drama. He seemed to create two different spheres of consciousness – a traditional one where the royal court functioned somewhat rationally, and a far more ominous, mysterious realm where danger lurked.
The traditional elements were the tile flooring, furnishings and Alain Blanchot's sumptuous costumes. The most impressive one was the rose window that dominated the stage while a synod heard evidence and ultimately ruled favorably on the king's divorce petition from Catherine, the first of his six wives.
The contemporary was introduced through a circle and an archway. The circle could be transformed into a mirror that reflected the action below or outlined in pure white light to create a somber celestial object, while the archway functioned primarily as a door. Vesperini and his team worked magic with masses of hanging beads that served both as partitions and screens. There was a lot going on visually in this production, but it was neither overwhelming nor distracting.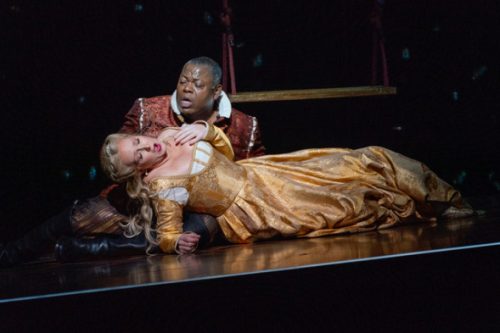 Alfred Walker's Henry was dashing but a tyrant. There were softer edges to this king, such as tender love scenes with Anne or fleeting, self-serving remorse over Catherine's fate, but envy, suspicion and violence were ever-present. Walker's rich bass-baritone is cut of noble cloth, capable of expressing rage or passion in scintillating sound. There was no self-doubt in Walker's monarch, who ended the opera in a fierce invocation of the axe as his political and personal instrument of choice.
Equally regal was Amanda Woodbury's Catherine, whose lyric soprano flowed freely as she expressed the wronged woman's pride, defiance and passion for both her Catholic faith and her husband. Saint-Saëns made Catherine the most sympathetic character in the opera, not only evident in the magnanimity which the queen displayed to her rival as she was dying, but also in her longing for the country in which she was born. In every scene in which she appeared; Woodbury won the audience's heart.
Anne Boleyn is generally portrayed as having dark hair, but Lindsay Ammann has flowing golden locks that matched the dress she wore. It was not her appearance alone that made Ammann the focus in every scene in which she appeared: rather, it was her distinctive, attention-grabbing voice and its fascinating lower range. The contrast between Woodbury's and Ammann's voices and temperaments made their scenes together riveting.
At the center of the plot is the concealment of Anne's earlier tryst with Don Gómez de Feria, portrayed by Josh Lovell. His fine lyric tenor and natural ease on stage made for a winning combination. Bass Harold Wilson was a stalwart Duke of Norfolk, as was tenor Rodell Rosel's Earl of Surrey.
Christian Zaremba made a particularly dashing Cardinal Campeggio, the papal legate who informs Henry VIII that the pope will not grant him a divorce and, furthermore, has excommunicated him. As the Garter King of Arms, Aaron Blake's tenor also demanded attention.
Saint-Saëns researched the English music of the era, and he incorporated folk tunes and airs into the score, lending it both elegance and grace. Botstein led the American Symphony Orchestra in a performance that emphasized these elements. The ASO's brass played the stately fanfares that course through the opera with panache. Equally impressive was the singing of the Bard Festival Chorale which added dramatic impetus and aural beauty to the opera.
Dance was an integral part of French grand opera, and Saint-Saëns supplied the obligatory ballet to conclude the second act. Rather than provide entertainment for the papal legate, Botstein chose to have it performed in the lobby during intermission. An ensemble of Bard College students and alums performed the dances in Sebastian Danila's arrangement for wind quintet. The gentle strains of their playing transported one to Tudor England, even if they had a slight French accent.
Rick Perdian