United States Festival O23 [2] – Rene Orth, 10 Days in a Madhouse: Soloists, Opera Philadelphia Chorus and Orchestra / Daniela Candillari (conductor). Wilma Theater, Philadelphia, 23.9.2023. (RP)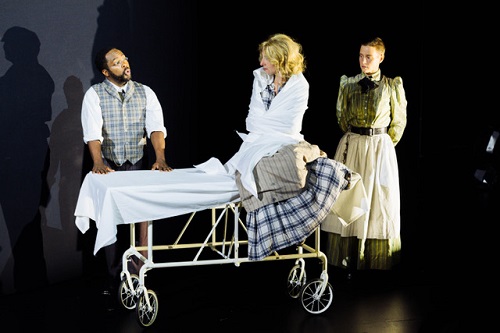 Production:
Libretto – Hannah Moscovitch
Director – Joanna Settle
Sets & Lighting – Andrew Lieberman
Choreographer – Faustin Linyekula
Sound – Robert Kaplowitz & Chris Sannino
Costumes – Ásta Hostetter & Avery Reed
Hair and Makeup – Alfreda 'Fre' Howard
Chorus master – Elizabeth Braden
Cast:
The Madwoman/Nellie – Kiera Duffy
Lizzie – Raehann Bryce-Davis
Dr. Josiah Blackwell – Will Liverman
Nurse/Matron – Lauren Pearl
Opera Philadelphia has commissioned an impressive number of new works that have proved to have legs. Rene Orth's fascinating and thought-provoking 10 Days in a Madhouse, with a libretto by Hannah Moscovitch, will certainly join their number.
Orth recently completed her tenure as Composer in Residence for Opera Philadelphia, and was the first Resident Composer at Opera San José this past season. Empty the House, her first opera, was premiered in the Curtis Opera Studio in 2016. Orth's works have been performed by opera companies and orchestras around the world, including the Berkeley Symphony, the Louisville Orchestra, Festival d'Aix-en-Provence, Fort Worth Opera and Washington National Opera.
Moscovitch is known as a playwright, librettist and TV writer. Her operas with composer Lembit Beecher, Sky on Swings and I have no stories to tell you, have been produced at Gotham Chamber Opera/the Metropolitan Museum of Art and Opera Philadelphia.
An article on the American journalist Nellie Bly and her book 10 Days in a Madhouse inspired Orth to write this opera. Bly was a pioneer in the field of investigative journalism, perhaps best-known for her real-life, seventy-two-trip global escapade that bested Jules Verne's fictional Around the World in Eighty Days and brought her international fame in 1889.
Over a decade earlier, Bly had gone undercover for the New York World to investigate conditions in a New York City women's lunatic asylum. She documented her experiences in 10 Days in a Madhouse. Her exposé prompted outrage and led to a grand jury investigation that resulted in increased funding for and reforms in the treatment of the mentally ill.
Orth and Moscovitch's opera contains elements of Bly's story, but they tell a tale that resonates with the equally problematic conditions today in the treatment of the homeless, immigrants and mentally ill. It is a reality that is driven home in the opera's final scene.
The action takes place outside an austere, barrel-like structure from which the inmates come and go. For the audience, it is an impenetrable chamber of horrors that they cannot enter. In an ingenious use of space, conductor and orchestra are perched atop it.
Nellie's story is told in reverse, with the opera beginning on her tenth day in the asylum. By this time, she is clearly teetering on the verge of insanity. Kiera Duffy's portrayal of Nellie as a madwoman was as convincing as it was terrifying. It took no imagination whatsoever to see that she could be locked inside this institutionalized version of hell for the rest of her life. By the end of the opera, Duffy has been transformed into a champion of the oppressed, her voice blazing brilliantly in defiance.
As the days passed in reversed order, the audience witnessed the indignities visited upon Nellie and the other women by Will Liverman's cooly professional Dr. Josiah Blackwell. Liverman's rich voice and demeanor could be warm and seductive, but more often they expressed his detachment from the plight of the women in his charge. He was at his most dangerous when waltzing with Lizzie with lust burning in his eyes.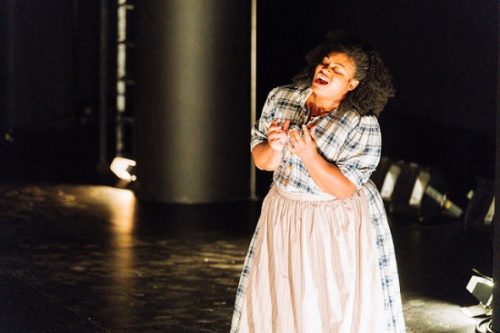 Even more frightening was Lauren Pearl's maniacal matron: she was prone to running around the asylum at breakneck speed without warning. When leading the women in a hymn, her glazed, vacant expression and mechanical movements were diabolical and frightening.
Raehann Bryce-Davis was Lizzie, a woman who was diagnosed as mad for grieving 'too much' over the death of her child. Bryce-Davis's face was a canvass on which love and hope could be painted, as well as the deepest depths of despair. Her amazing voice alternated between a rich lustrous beauty and parched tones that were heartbreaking in their honesty. The most tender scene in the opera was when Bryce-Davis told Duffy her sad story.
Orth's musical palette is made up of sounds and textures drawn from both acoustical instruments and electronic sounds. The latter is employed to create the fragile mental state of the women inmates and the precariousness of their existence. Traditional music grounds the opera in reality.
Music of the late-nineteenth century provides historical authenticity to the soundscape. Waltz music, first heard coming from an antique gramophone, is seamlessly picked up by the orchestra, slightly distorted and with a contemporary bent but realistic. It is in Orth's use of hymns composed in the same decade as Bly's stay in the asylum, however, that displays her sincerity and ingenuity.
The women sang 'When peace like a river attendeth my way' by Horatio G. Spafford, who wrote the hymn as he passed by the spot in the Atlantic Ocean where his four young daughters drowned when their ship sank. It has been an anthem of hope for many for more than 150 years, as has the spiritual 'When Israel Was in Egypt's Land', which Lizzie interjected into the hymn. But while the women sang tentatively of hope, Lizzie's voice rang with defiance.
Technology enabled Daniela Candillari to coordinate singers, orchestra and electronics, but it was still an impressive accomplishment. As was this remarkable new opera.
Rick Perdian