PABLO CASALS MEMORIAL CONCERT: 5 OCTOBER 2023 7.30pm
(50th Anniversary of the passing of Pablo Casals)
BARCELONA YOUTH SYMPHONY ORCHESTRA / LAURA PERIBAÑEZ ARTERO (cello) / CARLOS CHECA (conductor)   
Programme:
Casals – Sardana 'Sant Martí del Canigó'
Granados – Goyescas – Intermezzo
Bruch – Kol Nidrei
Brahms – Symphony No.1 in C minor, Op.68
On the 5th October, the vibrant Barcelona Youth Symphony Orchestra (BYSO) directed by their Chief Conductor and Artistic Director Carlos Checa will be giving a concert at London's Cadogan Hall to commemorate the 50th anniversary of the passing of Pablo Casals, one of the most influential musicians of the twentieth century. He was an exceptional artist who excelled not only as a cellist but also as a conductor, pedagogue and humanist. Casals's influence on the arts and society of the last century was immense, and this concert aims to pay tribute to his musical legacy.
The programme includes a dash of Casals's own Catalan heritage: the sardana 'Sant Martí del Canigó' was composed by Casals in the early years of self-imposed exile from Spain, named for a place in his native Catalonia — a region to which he had a deep emotional attachment. This is followed by the Intermezzo from Enrique Granados's opera 'Goyescas'. Granados was a close friend of Casals, who often played the cello and piano version of this work.
To complete the first half of the concert cellist Laura Peribañez Artero will be the soloist in Max Bruch's 'Kol Nidrei'. Casals was one of the first to record this work, and he often performed it.
The Barcelona Youth Symphony Orchestra will close the programme with a performance of Johannes Brahms' Symphony No.1 in C minor, Op.68. Brahms featured prominently in concert programmes of Pablo Casals, who also performed and recorded the composer's Double Concerto and sonatas.
The Barcelona Youth Symphony Orchestra will also be giving this programme on 1st October at l'Atlàntida de Vic in benefit of 'Associació TEA/Asperger Osona', and on 8th October at Palau de la Música Catalana in Barcelona in benefit of AFAB (Barcelona Association for relatives of people that suffer Alzheimer and Dementia)
(An additional outreach concert in the UK on the 6th of October is also in the works.)
Casals had a close relationship with the UK, a country that he regularly visited for numerous concerts and recitals, and to record and conduct. He collaborated with renowned British musicians such as Sir Adrian Boult, Sir Henry Wood, Frank Bridge and his friend Sir Donald Francis Tovey. He appeared at major venues including the Royal Albert Hall and Wigmore Hall and conducted major British orchestras including the London Symphony Orchestra and the BBC Symphony Orchestra. He received the Gold Medal of the Philharmonic Society in 1921, and at one time had thought of moving to the UK. Casals is well-known for being the first cellist to record the Bach Cello Suites, and the first part of this historic recording was done at Abbey Road studios in London.
A deluge of invitations from all over the world were sent to him after the end of the Second World War, during which he had stayed in seclusion in France and had refused to give a single public performance during the Nazi occupation. He decided to ignore them all and appeared in England instead, giving a performance of the Schumann and Elgar concertos with Sir Adrian Boult at the Royal Albert Hall.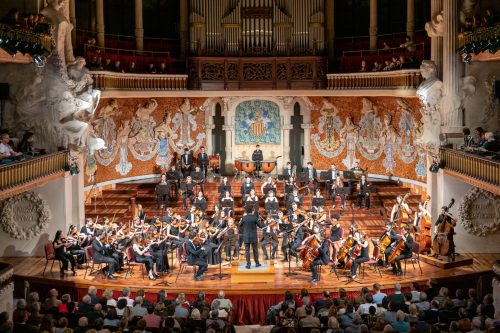 The Barcelona Youth Symphony Orchestra is an 'educational and musical training project for young instrumentalists, with the aim of providing complementary training to musical education through orchestral practice in a symphonic ensemble. It affords future professionals the opportunity to develop technical and artistic skills by offering an atmosphere of social interaction that will favour a comprehensive educational experience for young musicians'.
Cellist Laura Peribañez Artero, soloist and organiser of the concert said: 'It's an honour to be a part of such a valuable musical initiative, commemorating such an exemplary person, this autumn. Casals has always been a role model for me – in life and in music. I spent my childhood summers going to his summer house at El Vendrell, spending hours at the museum, and attending concerts at the Pau Casals Auditorium. The close association I have with Pau Casals and his legacy persisted throughout my education.
Back in 1895, Casals was a student of the Royal Conservatory of Brussels, the same institution where I started my masters before moving to London in 2019. This project will give the opportunity to celebrate the past, the present and the future in an unforgettable evening of music making.'
Ticket prices from £10 to £35
Box Office – 020 7730 4500
To book online click here
Thanks for their sponsorship and support must go to the Spanish Embassy in the UK, the Delegation of the Catalan Government, NPro and the Cervantes Institute.
Thanks also to other invaluable collaborators ILAMS, Rosita, Clos Galena, Brandlond and Pau Casals Foundation.