United Kingdom Sister Act – A Divine Musical Comedy: Cliffs Pavilion, Westcliff-on-Sea, Essex, 11.9.2023. (JPr)
Readers will never believe I have seen a lot of Hollywood films in my life because they have not always been the ones they make musicals from. Yes, I know Whoopi Goldberg starred in Sister Act in 1992 (and 1993's Sister Act 2 and the forthcoming Sister Act 3) but I have never seen more than the odd clip of it. As a musical Sister Act premiered at the Pasadena Playhouse in California in late 2006 before moving to the Alliance Theatre in Atlanta, Georgia, in early 2007. It first opened in London's West End in June 2009 and on Broadway in April 2011 with productions in many other countries. The first of several national tours opened at the Manchester Opera House in September 2011 and this revival marks Sister Act setting off – with cast changes along the way – to visit all parts of the UK with stopovers in the Republic of Ireland (Dublin and Cork) through to October 2024.
The story set in 1977 is a simple one and begins with budding singer Deloris Van Cartier, auditioning at the nightclub owned by her married mobster lover Curtis Jackson. At a fit of pique over him not furthering her career as she hoped he would and being fobbed off with a fur coat previously owned by Curtis's wife she storms out. Deloris is hiding in an alleyway when she witnesses Curtis murder someone he believes has informed on him. She is soon discovered and has to make her escape and evading Curtis and his three not-as-villainous-as-they-think-they-are  stooges (TJ, Joey and Pablo) she gets to a police station where she recognises the police chief Eddie Souther as someone she knew growing up calling him 'Steady Eddie' (apparently this has been changed from the original 'Sweaty Eddie'). He thinks witness protection is the best thing for Deloris while a case is built against Eddie so she is sent to a convent threatened with closure due to a dwindling congregation and nothing in the collection plate. For the Mother Superior the rain coming through the roof is 'the drooling of the angels'.
These are not nuns as in The Sound of Music, more like those in TV's Sister Boniface! Deloris finds it hard to conform until she is given the task of transforming the convent choir's dubious singing skills into something worth listening to. The Mother Superior begins by saying 'God loves us when we make music … even like that!' and later says 'There are no words!' when describing their singing. Deloris's modern efforts soon result in a surprising transformation though she sets herself on a collision course with the Mother Superior's more traditional values. People soon return to the church and increased donations saves the convent from being sold off. However, the publicity the choir receives conflicts with Deloris being off the grid and soon that is when the trouble starts for her and the sisters she has grown ever closer to. On the eve of singing for the visiting pope Deloris is told she must leave the convent and prepare to testify against Curtis who has discovered where she has been hiding. While staying at Eddie's house she feels guilty for abandoning her sisters when they need her most and decides to return to the convent (the song 'Sister Act'). This musical was great because I came with no preconceptions since I did not especially know the story not having seen the film and apart from confirming the triumph of good over evil (you will have expected this anyway), I will leave you to see how it ends for yourself should you not already know.
Sister Act as a musical may not be entirely PC but it is unashamedly PG and fun for all the family. The language is mild (by modern standards), there are only fleeting sex references and the violence is mainly cartoon-like, the odd gun shots notwithstanding. So there is really nothing to frighten any but the youngest children.
It is clearly a touring show flexible enough to fit on stages of varying dimensions. Morgan Large's LED screens along with Tim Mitchell's lighting often created a series of kaleidoscope colours which provided the necessary atmosphere for the plot's various locations without requiring much other stage furniture. Large's costume designs are varied and interesting especially for a show about nuns and [spoiler alert] the sparkly outfits for the finale are a hoot! The songs come and go and don't spoil anything – far from it – but they surely cannot be the best work of multi-award winning composer Alan Menken and his lyricist Glenn Slater since none are particularly memorable.
I have never seen a cast in a musical appear to have as much fun as this one looked as if they were and everyone deserves the highest praise: admittedly it is only the start of a long, long tour with many miles to travel in the next year and more.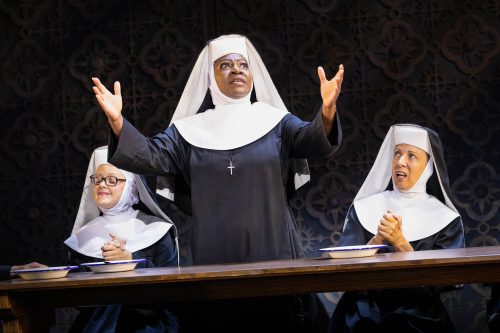 In her programme biography Landi Oshinowo describes herself as 'delighted to be back in the habit as Deloris' and she looked like it! She is a natural comedian – with more than a few hints of Whoopi – and an amazing singer whose presence on it lights up the stage. When in 'Fabulous, Baby!' Deloris sings 'I'm a diva, a goddess, a star on the brink' Oshinowo might just as well have been singing about herself. Equally 'fabulous' but in an entirely different way is the Mother Superior of Lesley Joseph, ok in the best possible way she plays Lesley Joseph, but she is another who impresses with her comedic timing but she is also the emotional heart of Sister Act because you believe the Mother Superior's desire to do her best for the nuns and keep the convent the way she is used to it. The pathos Joseph brings to 'Haven't Got a Prayer' about the challenge God has given her with Deloris will soften even the hardest hearts. Elsewhere Joseph joins in the rest of the song and dance elements of Sister Act like the real trouper she is.
So many of the cast looked and sounded as is they had their roles specifically written for them: Lizzie Bea shone as Sister Mary Robert and her paean 'The Life I Never Led' was as affecting as it was inspiring; Alfie Parker was Eddie, the stoic policeman, with a burgeoning – yet unspoken to her – affection for Deloris but the audience have learnt of it from his heartfelt 'I Could Be That Guy'; also catching the eye and ear were Isabel Canning as the ever-smiley, excitable, boundlessly optimistic Sister Mary Patrick and Lori Haley Fox as Sister Mary Lazarus, the choir's former director, who is initially grumpy but eventually responds positively to Deloris. Finally Ian Gareth-Jones as Curtis Jackson proves a suitable pantomime-style villain and Bradley Judge, Damian Buhagiar and Callum Martin bring life to the three dim-wits, TJ, Pablo and Joey.
MD Neil MacDonald supports the cast with the lively accompaniments from his small valiant orchestra of eight. It is much too easy to say something should not be missed, but if you have never seen Sister Act the Musical – or even if you have – it would be a sin not see this heaven-sent revival somewhere …
Jim Pritchard
Cast:
Deloris Van Cartier – Landi Oshinowo
Mother Superior – Lesley Joseph
Eddie Souther – Alfie Parker
Sister Mary Robert – Lizzie Bea
Curtis Jackson – Ian Gareth-Jones
Sister Mary Patrick – Isabel Patrick
Sister Mary Lazarus – Lori Haley Fox
Monsignor O'Hara – Phillip Arran
Sister Mary Martin Of Tours – Ceris Hine
Sister Mary Theresa – Wendy-Lee Purdy
TJ – Bradley Judge
Pablo – Damian Buhagiar
Joey – Callum Martin
Michelle – Esme Laudat
Tina – Amber Kennedy
Clemont – Castell Parker
Cop/Bartender – Joseph Connor
Creatives:
Music – Alan Menken
Lyricist – Glenn Slater
Book – Cheri and Bill Steinkellner
Additional Book Material – Douglas Carter Beane
Director – Bill Buckhurst
Set and Costume designer – Morgan Large
Lighting designer – Tim Mitchell
Sound designer – Tom Marshall
Choreographer – Alistair David
Musical supervisor – Stephen Brooker
Vocal and Incidental Music arrangements – Michael Kosarian
Musical associate – Jae Alexander
Musical director – Neil Macdonald