United Kingdom Donizetti & Friends: Lawrence Brownlee (tenor) and Carlo Rizzi (piano). Wigmore Hall, London, 9.9.2023. (CC)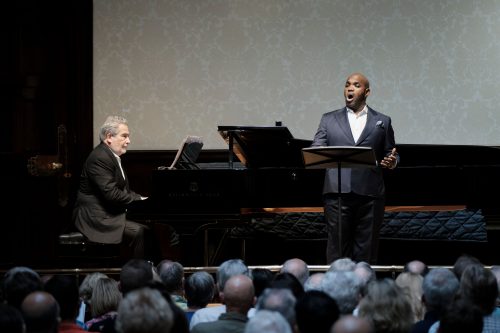 Donizetti – Lungi ne vai; Non v'è più barbaro; Malvina; Non giova il sospirar; Sovra il remo sta curvato; O anima affannate; Ella riposi alcuni istanti almeno; Lamento; V'era un dì che il cor beato; Me voglio fa'na casa; L'ora del ritrovo; Tu porgesti; Il sospiro; Corri destrier
Schubert – Vier Canzonen, D 688
Rossini – Lo lontananza
Bellini – La ricordanza
Verdi – Lo spazzacamino; Brindisi
Opera Rara is known not just for its insatiable curiosity for all tings operatic (particularly as regards music of the nineteenth century) but also for the excellence of the performances it generates. The background to their Donizetti Song Project can be found here: it is an exciting idea to record an aspect of Donizetti the composer that is wildly underappreciated – his songs.
The research that went into this Donizetti project has revealed a total of some two hundred songs by Donizetti. The musicological work has been significant: particularly as regards the tracking down of manuscripts. Some were strewn across European libraries, and beyond, others were given by the composer to friends. Opera Rara claims that this is a corpus of work that 'singlehandedly, makes a powerful argument for the importance of the Italian "school" in a field long dominated by German and French composers.'
High-profile names have often worked with Opera Rara; others became household names (at least in operatically-inclined households) via their recordings on the label. Surely Lawrence Brownlee needs little introduction: incredibly, my last review of Brownlee was via a transmission from the Met in New York in 2009 of Rossini's La Cenerentola, where he sang Don Ramino against Elīna Garanča's Angelina, a role he will reprise in 2024 at the Bavarian State Opera. Originally, this Wigmore Hall recital was to be shared with baritone Etienne Dupuis but was eventually presented as a solo programme.
It was unfortunate that Brownlee was suffering from a cold and in some discomfort, sometimes turning away from the audience to cough; and yet his singing voice retained its power and expression. His malady had not been announced in advance, but once it became all too obvious, he had little choice but to explain. Carlo Rizzi, far better known on the podium than on the piano stool, was a reliable musical partner throughout.
The programme was brilliantly constructed. It began with a group of songs from Donizetti's early period, and therefore prior to his international recognition on the operatic stage. In keeping with the rarity of many items, the first song, Lungi ne vai (You go far away) was considered lost but actually turned up in the Naples Conservatory library. It contains florid vocal lines typical of this composer. Non v'è più barbaro (There is none more cruel), the next song, was receiving its modern premiere; this one turned up in a monastery near Linz (part of a sheaf of unknown Donizetti canzonette). It is a powerful song, but perhaps Brownlee was not quite believable in the second stanza ('Gli astri mi uccidano / Se reo son io'; 'May the stars kill me if I am wicked').
Rizzi set up the restless atmosphere of Malvina perfectly, a story of the titular protagonist who plays a lament on the harp and which touched the poet (and, by extension, the singer). There are some lovely piano treble counter-melodies here, and Rizzi and Brownlee made the most of them in a celebration of musical rapport. Far jauntier was Non giova il sospirar (Sighing is useless), in which the protagonist wishes his unfaithful lover all the best in enjoying her new beau.
Perhaps the purest beauty of the evening came in the lovely romance Sovra il remo sta curvato (Over the oar is bent), a piece that ascends strategically to the singer's higher registers. Brownless rose brilliantly, and thrillingly, to the challenge. Brownlee ad Rizzi saved the best for last, however: Donizetti's ambitious setting of Dante, O anime affannate (O wearied souls). There is a YouTube video here of Brownlee and Rizzi in some of this song (presumably from the recording sessions for the disc of this project). A tastefully done fade leaves us panting for more. From the video one can get a good idea of what we heard at the concert, but I did rather feel that Brownlee, perhaps inevitably, lived the long lines more in a setting with audience.
Schubert, as we all know, wrote many, many songs. But not so many are in Italian. These are: the four Canzonen, D 688, which date from January 1820. Texts ae by Metastasio, and as so often in Schubert's songs the piano's importance is never in doubt. Brownlee and Rizzi brought beauty to the initial Non l'accostar all'urna (Do not come near the urn). Rizzi made the most of Schubert's harmonic intensifications here; The end (with its low note for tenor) hangs in the air, the silence interrupted by the charming piano opening to Gurada che bianca luna (Look how white the moon is!). The sudden freshness of the third stanza was splendidly marked. No doubting the Schubertian innocence of the third song, Da quel sembiante (From that face I learnt to sigh with love); and Schubert allows in a nice Italian aspect in the ornate vocal line. It was the final song, though, Mio ben ricordati (Remember, my beloved) that touched the heart the deepest. Brownlee's voice seemed very settled at this point, capable of real sweetness.
Back to Donizetti with a group of four songs, each virtually unknown today. All four exists only in one manuscript. Ella riposi (She rests) begins with recitative and includes a notable vocal cadenza. Perhaps Rizzi's close was a touch on the splashy side; no doubting the power of the ensuing Lamento, though. Expressions of wrenching sadness via sublime melodies are something of a Donizetti speciality, and this song is no exception, as the protagonist asks how his lover, Sandra, could become an ungrateful enemy. The text is a seventeenth-century poem and the song dates from early in the composer's career. With V'era un di (There was a day) came an unexpected tendency of Brownlee's to snatch the end of phrases; a shame as the end of the song exuded a nice warmth. Finally from this group, Me voglio fa'na casa (I want to make a house in the middle of the sea), one of the more famous of Donizetti's songs. Light as a feather, it includes a bundle of tra-la-las to titillate and delight. Brownlee was great fun, and Rizzi differentiated his oom-pah-pahs well (it has to be said, Cecilia Bartoli brings a little more character to this song though).
And so to the part of the recital labelled as 'Donizetti's Contemporaries'. The Rossini La lontananza was first up – a late work, so past his operatic period. There is a long piano opening – far longer than one might expect, so much so one did wonder if this was an unannounced solo piano piece. Brownlee has the perfect voice for the echt-Rossini melody; and how much he makes of the vocal cadenzas in this music. Good to hear Bellini at any time of course, and here we had a song, La ricordanza, its melody Heaven-sent, and beautifully projected by both Brownlee and by Rizzi. Come the fourth stanza, Bellini ratchets up the register, asking only for perfect control in the process. Brownlee was excellent. Verdi's Lo spazzacamino (The chimney-sweep) starts with a solo cry from the soloist and continues with something of a patter-song gait to it. The piano part is particularly challenging. Lots of fun in this song; as there was when Rizzi began, teasingly, with the 'Brindisi' from La traviata before we got what was advertised, Verdi's song Brindisi (each verse begins with 'Mascetemi il vino!' – 'Pour me some wine!' – and there is a lovely piano imitation of tipsiness via some grace notes). Fabulous fun, and it was clear performers were having as much fun as the audience.
It had to be Donizetti who had the last word, though a final sequence of four songs, three of which date from the late 1830s and 1840s, the apex of Donizetti's song output. The exception is the gentle lament Tu porgesti (You handed me the ring), which appeared in an Italian periodical and which might never have been performed within the last century.
Brownlee was deliciously light in the first song of this set, L'ora del ritrovo (Meeting time), the ornamentations (including tricky turns) without fault. The use of single-line staccato in the piano for the third stanza stands out here; in contrast, Tu porgesti is slow and lyrical, another of Donizetti's unforgettable melodies. It was to darker regions we ventured with Il sospiro (The sigh), infinitely touching before the final, Corri destrier (Run, steed), proved a bundle of fun.
A fabulous recital that found Brownlee triumphing over his affliction. The responsive audience loved it, and rightly so. The disc, as with all of Opera Rara's output, is eagerly awaited, as are further volumes of this three-year project (Nicola Alaimo, replacing Dupuis, will sing the baritone songs).
Colin Clarke