United Kingdom Musikfest Berlin 2023 [2] – Varèse, Haddad, Ravel, Bach-Benjamin and Schoenberg: Anna Prohaska (soprano), Ensemble Modern / Sir George Benjamin (conductor). Kammermusiksaal, Philharmonie, Berlin, 2.9.2023. (MB)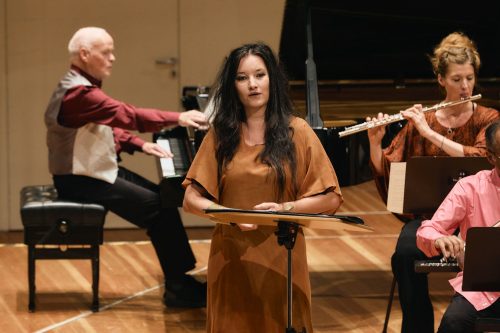 Varèse – Octandre
Saed Haddad – Mirage, Mémoire, Mystère, for string quartet
Ravel – Trois Poèmes de Stéphane Mallarmé
Bach (arr. Benjamin) – Canon & Fugue
Schoenberg – Chamber Symphony No.1 in E major, Op. 9
The first of two Musikfest Berlin Proms from Anna Prohaska, Ensemble Modern, and George Benjamin offered music on a small ensemble scale that proved anything but 'small' in terms of ambition and intensity, nor of course achievement. A hallmark of all we heard was concentration, for this was highly concentrated, often richly textured music, which also called for – and seemed to receive – a high level of concentration from the audience in Berlin's Kammermusiksaal, the smaller of the two halls in its Philharmonie.
In Varèse's Octandre, Christian Hommel's oboe initially appeared to be searching  —but searching for what? Ultimately for something piercing, impervious, something that gave the impression of always having been there, however recently discovered. Stravinskian echoes, above all of The Rite of Spring, yet also of Symphonies of Wind Instruments, did battle, though they were so familiar, so integrated, they were barely ghosts, more guests. Delphine Roche's piccolo solo, when it came, suggested something more playful, yet ensemble response was implacable as ever, akin to seeing or rather hearing the same object from another standpoint, both of angle and distance. Yet there was difference in what we heard, for instance the duet between double bass and bassoon, spreading to the ensemble as a whole. Brass rightly took no prisoners. Varèse, not unlike Stravinsky himself, remained.
Saed Haddad, a Benjamin pupil, was represented by his Mirage, Mémoire, Mystère (2011-12), for string quartet, described as being for violin and string trio. That interests me, since I did not really make that distinction when listening. Perhaps I will next time, for I hope there will be a next time. A richly turbulent opening put me in mind right away of Schoenberg's developing variation. Indeed, there were a few striking coincidences of pitch and harmony, though I suspect that is more that I was listening with Schoenberg in mind than intent or reference. Certainly, there was an emotional intensity to this single-movement work I can imagine that composer admiring. Its development, or transformation, was rhythmic too, through a kaleidoscope of related moods that, in retrospect, seemed to convey the broad overall progression of the title.
Prohaska joined the Ensemble, and Benjamin returned, for Ravel's Trois poèmes de Stéphane Mallarmé, the work in which he most clearly approaches Schoenberg (Pierrot lunaire, though not only Pierrot), without ever sounding, nor indeed writing, 'like' him: not even in the extraordinary opening string harmonics of 'Soupir', here perfectly realised in performance. Ravel, at its most characteristic, seems perhaps more the destination than the starting-point, both instrumentally and vocally, yet a floated languor heard and felt, too precise for Debussy, and indeed quite unlike him in other ways too, could only ever have been Ravel's. It was as if a Japanese engraving, with apologies for the orientalism, had come to life. 'Placet futile' proved, doubtless with similar danger on my part, a garden of delights, at times more animated, more heated even, though cooling beautifully too. Prohaska proved a vividly communicative soloist, really using the French words to shape and colour her line. 'Surgi de la coupe et du bond' presented flight and descent, movement and stasis, all art of a journey that chilled in timbre and harmony, yet also invited, whilst holding us at an almost sacral distance. 'A rien expirer annonçant/Une rose dans les ténèbres.' Some mysteries are both for us and not.
Benjamin's 2007 Canon & Fugue arranges the 'Canon alla Ottava' and 'Contrapunctus VII' from Bach's Art of Fugue for an unusual ensemble: flute (silent in the first movement), two horns, and string quartet (which can be expanded to smallish string orchestra). This is unquestionably modernist Bach, not necessarily in the line of, though surely with kinship to that of Schoenberg, Webern, Berio, and others. That sense of concentration was again apparent, indeed alive, in both movements, the sustaining power of horns (and other particular qualities) employed to excellent effect in the former. The Fugue was less frenetic and furious, though no less concentrated, early use of stopped horns and string pizzicato not only arresting but also seemingly aiding that transformation of tempo. There were many timbral delights and surprises, not least the way a combination of horn, violin, and viola sounded uncannily like an organ, yet this was always a way of hearing Bach.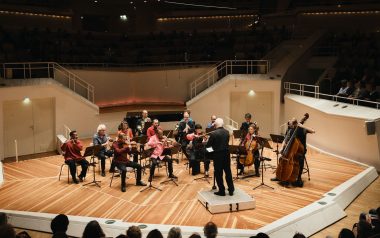 So too, albeit at a greater distance, is much of Schoenberg. It was fitting, then, to end with his First Chamber Symphony, although this was the performance about which I had a few doubts. A little more than fifteen years ago, I heard Pierre Boulez conduct this same work in the same hall, with the Scharoun Ensemble of players drawn from the Berlin Philharmonic. That struck me as an ideal performance, but perhaps I was simply more used to the underlying assumptions and aesthetic. Benjamin, I think, took the opening, once past the short introduction, not only faster but at a speed at least to rival the earlier Boulez, of Domaine musical vintage. One expects a bias towards wind in this version (as opposed to Schoenberg's two arrangements for full orchestra, where strings will tend to dominate) yet, to begin with, that balance seemed somewhat exaggerated, even harsh. The performance settled, yet Benjamin's approach had the merit of reminding us just what difficult music this can, and arguably should, be. Perhaps we have allowed Schoenberg to mellow a little too much, in post-Siegfried-Idyll-manner. When the music slowed, moreover, it really slowed. The Scherzo was urgent, yet in character, that is not merely fast; character seemed to grow out of Schoenberg's instrumentation and use of those instruments, almost as much as his harmony. This was Schoenberg on a coiled spring, which could nonetheless relax in the 'slow movement'. Moreover, the internal and external role played by fourths was certainly to be heard, as if this were a matter of casing and inner mechanism. It was another performance of concentrated riches, then, even if not always the riches I had expected.
Mark Berry