United Kingdom Prom 70 – Honegger, Rachmaninoff, Ortiz, Bernstein: Nobuyuki Tsujii (piano), Royal Liverpool Philharmonic Orchestra / Domingo Hindoyan (conductor). Royal Albert Hall, London, 8.9.2023. (MBr)
Honegger – Rugby
Rachmaninoff – Piano Concerto No.3 in D minor
Gabriela Ortiz – Clara
Bernstein – Symphonic Dances from West Side Story
Serge Rachmaninoff and György Ligeti have been the two composers whose anniversaries have been celebrated at this year's Proms and most of the concerts I have reviewed, both here and elsewhere, have been of outstanding quality. None I was more looking forward to than this one – and it has been the longest of waits for this penultimate concert of the season. Given by the Royal Liverpool Philharmonic Orchestra under their Venezuelan conductor, Domingo Hindoyan, this was one of the earliest to be sold out – and the queue for returns on the night was a long one.
The soloist for Rachmaninoff's Piano Concerto No.3 was the Japanese pianist Nobuyuki Tsujii. Returning after a decade – when he played Rachmaninoff's Second Concerto – this visit to London more than made up for a cancellation, due to Covid, a couple of years ago when he was to have played Tchaikovsky's Piano Concerto No.1. Like many Japanese – or South Korean – pianists he has acquired something of a cult following, both in his own country and overseas. He sells out concerts because he brings quite an unusual gift to the performances he gives – interpretations which are entirely focused on the possibilities of sound and feeling; he almost reinvents the music he is playing. Blind since birth, he relies on everything else he has to turn in performances which are completely different from ones you would hear from other pianists.
The Royal Albert Hall is not the best of acoustics for concertos – and again I had problems with the choice of piano they have used this year – but this didn't always sound the cleanest of performances – but it was very close to it. (I also understand the BBC Radio 3 broadcast cut out at one stage so a check might not be useful here.) But listening to Tsujii's performance I was sometimes reminded ­­– for complete contrast – of Walter Gieseking, one of music's legendary sight readers, but who also happened to leave behind two of the least accurately played performances of this concerto. Tsujii simply got the notes in the right order – and at a considerably fierier tempo than Gieseking's T.108 for the opening of the third movement, for example.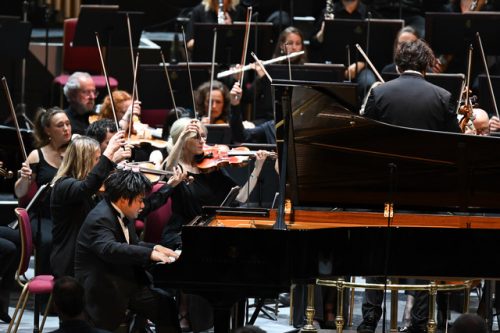 Nobuyuki Tsujii is interesting to watch. He has to measure the entire width of the keyboard with his hands so he knows where he needs to begin a concerto – and he needs to do this each time there is a pause in the piano writing. Similarly, he does not remain motionless during those moments when he is not playing but sways backwards and forwards with the beat of the orchestra, feeling the rhythms. Contrary to the architecture of this concerto – two fast movements and that massive first movement cadenza (and Tsujii chose to play the more challenging ossia) ­– it was the central Intermezzo which I think proved more difficult for him. Rachmaninoff's tendency to make colossal hand spans and stretches, especially working up towards the chordal climax, can be onerous – notably the extended over-hand low D-flat, which some pianists shorten to the D2 key (I suspect Tsujii would have done this – although just because I couldn't see it, it doesn't mean he did). He had a wonderful way with this movement, however, that made it sound both delicate and poetic and with a sensitivity to dynamics that is sometimes not emphasised enough. If there is one thing often forgotten about Rachmaninoff's Third it is that it's largely a Romantic concerto – not just a virtuoso one.
The enormous first movement, too, had been full of careful balances and nuances that I found missing in some recent performances – Yuja Wang, for example, seems to find neither Russianness nor the Romantic in the Third; indeed, it is hard to know what the 'third way' is in her recent performances. Tsujii doesn't make the keyboard bleed in the streams of heavy blood in the Allegro non troppo in that all too Russian way; but the sound runs like liquid around the notes with effortless ease, there is a graceful beauty to his playing that comes from hands that are much less inclined to be covered in armour and steel. His cadenza was not crushing; maybe it wasn't powerful either compared with some pianists (Freddy Kempf, for example) – but there was nothing opaque about the playing, there was nowhere to hide, either, because the phrasing was so clean – and it was delivered superbly. It has sometimes been suggested that his sound is not large; I do not think this is true. Rather, he is more aware of dynamics than most pianists and, I think, keeps his hands much closer to the keyboard than many pianists do (or would) which can scale back the sound. But it is effortlessly precise in sound and volume to meld with the orchestra to a perfect degree. I didn't struggle once to hear him.
The Finale had many wonderful things in it and was perhaps the best of the three movements. For me, much of this movement works best if pianists get close to what Rachmaninoff wrote – the further one moves away from the score, the less contrast there exists in any performance. Tsujii's strength here was his entire focus on sound – not just on what came out of the instrument, but on what the ear was telling him was in the score. I have rarely heard a pianist better play the accented notes after the central cadenza – they were done with pin-point accuracy, just nailed perfectly against the keyboard. Staccato notes that also needed an accent were dutifully given them (Reh. 62, for example). The cadenza before the coda was just superb – that molto marcato so incisive, precisely as it should be done. The coda itself was kind of jaw dropping in a way – the chances of pianists and orchestras falling out of sync here isn't exactly slim – but it was seamless.
I had found the entire performance gripping – in a concerto, which sometimes, with some pianists, seems a long experience. Nobuyuki Tsujii is unquestionably remarkable, and I certainly couldn't have been the only one who wondered how he could have played parts of this concerto with such ease and accuracy – the overhand parts, and the extensions are considerably more demanding than the span of the hands (which in any case is more of a problem in the Second Piano Concerto). He was fortunate, too, to have received superlative support from Domingo Hindoyan and the RLPO who were sympathetic to everything Tsujii needed. He was rarely, if ever, drowned out by the orchestra and Hindoyan encouraged his orchestra to engage in dialogue with their pianist in a concerto that shares similarities here to the great Brahms No.2.
I think a standing ovation was probably always going to be inevitable – and it was. The encore, Nikolai Kapustin's Eight Concert Etudes, Op.40 No.1, was as virtuosic as you would have wanted it – jazz inflected, delivered with breakneck speed and highly enjoyable. I suspect Nobuyuki's Tsujii's performance will be long remembered.
The concert had opened with a rarity – one not played at the Proms since 1932 – Arthur Honegger's Rugby. That nine-decade wait hardly seems surprising because the work is a bit of a drag, even though it is less than ten-minutes long. Works inspired by sports are quite thin on the ground – although Sibelius wrote one inspired by skiing, and Ives, at the turn of the last century, of a Harvard and Yale soccer match. I tried but couldn't see much 'rugby' in the Honegger – though fleeting glimpses of Paul Dukas kept appearing for some reason.
Honegger apparently found rugby more spontaneous than football – the first closer to nature, the second science (something my chemistry master would never have accepted as logical). Honegger's music, far from implying the anarchy of the former, seemed more often to achieve a rhythmic structuralism of the latter with its pace and energy often repetitive enough to suggest the volleying to-and-fro of rugby ball exchanges. But if the music hardly ever pauses then this is the kind of rugby match you wouldn't really want to be a part of; I am not sure this was an uber violent match, but it was certainly one to leave you thoroughly exhausted.
The performance was a fine one and gave us a first glimpse of what this orchestra and conductor partnership were like. The brass, in particular, were superb – brilliant, bright and bold and this is an orchestra with a rich tone, even a rather romantic sound. There was certainly no lack of colour in the playing – I just wish I had enjoyed Honegger's rugby match slightly more than I did some of those I played at school. This wasn't the bruising and bloody encounter for me Honegger's inspiration for the work (1930's French rugby – a merciless battlefield) was quite supposed to be.
The Albert Hall had emptied slightly for the second half of the concert – perhaps suggesting the wisdom of placing new works in the second half is not always a good idea. If we had already had a piano concerto, then Gabriela Ortiz's Clara is a work about a pianist – Clara Schumann and her husband, the composer Robert Schumann. Ortiz has largely based the work on the complex relationship and personalities between the two – this was a relationship at least as important historically as the one of Percy Bysshe Shelly and Mary Wollstonecraft, albeit with some of the feminist ideals of the time more heavily weighted towards the latter – but has set their intimate past in the present where conversations are with the composer, Ortiz, herself. The five sections of the work are a kind of thread with the oboe as the instrument defining Clara; but the music also attempts to bring them both into the modern world where they can have a different kind of conversation. Ortiz has in one way written a work of gender rebellion – a piece that answers Clara's question of whether a woman can, or should, ever be a composer and whether she should be the first one to ever attempt to be the one to break that historic barrier.
Ortiz's Clara is her attempt to acknowledge the difficulty women face in music – in all aspects of it – and to confront head on a response to it. There is certainly nothing quietly 'feminine' about her music here – despite the leitmotif that runs through the music. There is a kind of Bernstein-like excitement to the score early on, an energy and fizz to it that has inexorable pace. But it also touches on the acerbic – with chilling woodwind and ghostly percussion (the magical use of cymbals); it is almost oriental in some places. It can sound Second Viennese, uncomfortable, a little jarring sometimes. High strings and the punctuated singing of a xylophone lead into Clara's final theme.
The RLPO played it with superb concentration and skill. Instrumental solos – especially from the oboe – were superb, done with a genuine sense of character. Despite the convincing performance, however, I wasn't entirely persuaded by the work's narrative – but there's no question the music is impressively composed.
The final work on the program was Leonard Bernstein's Symphonic Dances from West Side Story. In 1957, when the work first opened on Broadway, critics rather disliked it – the New York Times, so often a newspaper to get things wrong, said it 'had no tunes'. That was rather wide of the mark then and remains so today – although it was an outlier work at the time much as some of the early Marlon Brando films were.
Perhaps Bernstein was trying to mirror Rachmaninoff (a composer he never really had much time for) in calling his arrangement, made in 1960, 'Symphonic Dances' but whatever the reason there is little in common between the two. Bernstein does, however, turn what was originally a rather smaller-scale orchestral (or small band) work into something vastly symphonic. The sheer size of it is impressively huge, especially percussion wise. Here Domingo Hindoyan gave an electrifying account, the scope of it superbly Latin (hardly surprising given his South American heritage). But there was no lack of melody either, with strings soaring with an unrestrained passion, and a sweetness in the music, not in the slightest cloying, but bending in a kind of emotionally touching way.
The RLPO were a brutally effective set of Sharks and Jets – with spellbinding brass and percussion as dark as they were superbly violent. It was thoroughly enjoyable.
As I have often written in my Proms reviews this year, London critics simply don't get out of the city often enough. The wonderful quality of this one, was just one reminder of the first-rate quality of British orchestras around the country. London critics might try, I suppose, to get around to hearing more of these orchestras rather than at their own usual annual visit to the Proms each year.
Marc Bridle