New Zealand Mozart, Bridge, Jennings, Dvořák: Ākarana Piano Quartet (Andrew Beer [violin], Robert Ashworth [viola], Chen Cao [cello], Sarah Watkins [piano]). Old Library, Whangarei, New Zealand, 2.9.2023. (PSe)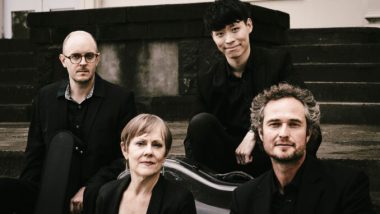 Mozart – Piano Quartet No.1 in G minor
Frank Bridge – Phantasy for Piano Quartet in F-sharp minor
Janet Jennings – Twelve Colours: Homage to Paul Klee
Dvořák – Piano Quartet No.2 in E-flat major, Op.87
I don't know what sent me rummaging through my past reviews, but I did – and found that a Whangarei Music Society recital, given in 2011 by the MELER Ensemble, featured exactly the same opening and closing works as this recital. Is that ever-so-slightly creepy, or simply – to use the proper technical term – a 'fluke'? Whatever, it is certainly not a complaint. Also, in a 2016 review I had observed that Chamber Music NZ was signally failing to furnish any performers that were less than first class, and this Ākarana Piano Quartet recital does not constitute an exception!
If you ask Google Translate what 'Ākarana' means, it willl tell you that it is Maori for 'Auckland'. And that makes perfect sense, because Andrew Beer, leader (I suppose I should say 'concertmaster') of the Auckland Philharmonia Orchestra and Sarah Watkins have joined forces with the principal viola and sub-principal cello of that orchestra to form this quartet, whose current NZ tour marks its debut on the public stage. Checking their biographies it is clear the four musicians are possessed of an embarrassment of talent and experience.
This quartet has a somewhat unusual platform deployment. Firstly, the string players are noticeably closer together, and secondly Chen Cao, rather than mirroring the violinist across the face of the violist, has his cello facing the audience. Whilst the first clearly relates to internal communication between the players, the second directly impacts the sound balance heard by the audience – and what a splendid difference it makes (see below). I should mention that WMS is presently experimenting with wooden 'sound boards' arrayed as reflectors behind the performers. For me this occasion furnished the first real test, because previous occasions involved 'non-standard' forces – a percussion duo and a jazz quartet. The main upshot is, in effect, to up the 'volume' a notch, without disturbing instrumental balance.
As Mozart's Piano Quartet No.1 got under way, I was immediately struck by the sound quality. The keynotes were warmth and clarity – over the entire spectrum. Accustomed – or perhaps resigned – as I am to the cello spending much of its time sounding like a 'continuo', here, even in its lowest notes, its part came through as bold and detailed as the violin's. Thus we could hear a whole lot more of Mozart's magical polyphonies. I am a bit long in the tooth to be flabbergasted by anything – but flabbergasted I was, although I did wonder how come the viola seemed to be similarly elevated in this egalitarian quartet?
Happily, these distractions wasted little time, because almost immediately the music – fully in four parts – commandeered my entire attention. The imposing Allegro ranged from boisterous and bustling to luxuriant, yet always tellingly phrased. In the absorbing Andante, the accent continually shifted, now pressing onwards, now pausing, or expanding lyrically – a truly moving experience culminating in a breathtakingly delicate conclusion. Mozart's Rondeau finale set off skittering, as playful as the Allegro was dramatic; in fact, it felt like a series of games, the Ākarana's mustard-keen dynamics and phrasing infusing the music with vim and vigour and capping it with a superbly wrought modulation to launch the coda.
To conclude the programme came Dvořák's wide-ranging Piano Quartet No.2, a work in which his formal skills and nationalism are both reconciled and fully matured, which consideration fired Ākarana Quartet's all-stops-out performance. Their first movement took both the form and the prescribed con fuoco fully into account, as well as illuminating Dvořák's inventive instrumentation – such as, early on, the startling impact of the piano's forceful high notes over solid, low-lying strings; or, in the furious coda, the sudden hiatus of whispering, tremolando strings. Their Lento maximised the stark contrasts, of intimate lyricism and massive, agonised  outbursts, lending great poignancy to their gently undulating last bars.
To me, the grazioso third movement's 'waltz' sounded somewhat saucy; probably it did, in view of the piano's momentary injection of an 'oriental' overtone and (not long after) lending a quaint 'music hall' air (did Dvořák have experience of such things?) – they even found in the upbeat trio section something of a 'martial' character. Their finale was a tour de force, rhythmically vital and exhilarating, with some terrific playing of often violently frenetic 'Czech dance', evolving into a 'cavalcade' of 'tunes from the show'. Having wound down to a brief whisper, cut short by a rowdy, rip-roaring race for the line.
I have left until last the two intermediate, short works, neither of which is known to me. As Frank Bridge wrote his one-movement Phantasy for Piano Quartet 113 years ago, the fault is entirely mine. The music is lushly late Romantic, its polyphony suffused with chromatic inflections that gratifyingly brought early Schoenberg to mind. In this, I imagine, the Ākarana Quartet's unusually ample bottom must have been a real boon, maximising the impact of the start – big, sweeping and impassioned. The quick passages bristled with sudden lurches, very intense and propulsive, the climaxes packed with power; slower parts lyrical, song-like, yet uneasy (here the bass weight really told). The later resurgence of the opening ardour washed over us in waves of glowing intensity, reaching a searing climax before fading regretfully. What an experience.
Kiwi Janet Jennings's Twelve Colours: Homage to Paul Klee was also unfamiliar. This time I was innocent of blame: the work had been written specially for this inaugural tour. It purports to be an analogue of Klee's New Harmony, a painting that looks like a 6 by 7 patchwork quilt made by an incompetent amateur, but a close examination of which reveals a subtly structured array built using 12 'non-complementary' colours. Janet says, 'Accordingly, the piano quartet features 12 musical "colours", each wholly distinct in musical language but creating a coherent whole.' This seems to ask more questions than it answers, merely the most obvious being, 'The painting is static, so I can analyse it at leisure; how can I manage that with the music, which is dynamic?'
Those with prodigious musical memories will have slept on it and awoken with the puzzle solved. The majority of us will at best recall a sequence of visions fugitives – the good news being that as such it is nonetheless both formidable and immensely enjoyable. To describe or even summarise it would take ages, so let these quotes from my notes give you a clue: 'Jagged, dissonant, slurs (Bartók?)', 'Short phrases whizzing between instruments, incredibly tangled', or this at around No.8, 'Suddenly v. loud, jolly, boisterous (boozing song?)'. Believe me, there was no room for boredom!
All in all, this was a superb and indeed revelatory evening's entertainment, fully deserving of the extended storm of applause from an end-of-season house packed literally to overflowing.
Paul Serotsky