United Kingdom Poulenc, La voix humaine and R. Schumann, Frauenliebe und -leben: Sofia Kirwan-Baez (soprano) and Alex Norton (pianist). Penrith Playhouse, Cumbria, 26.8.2023.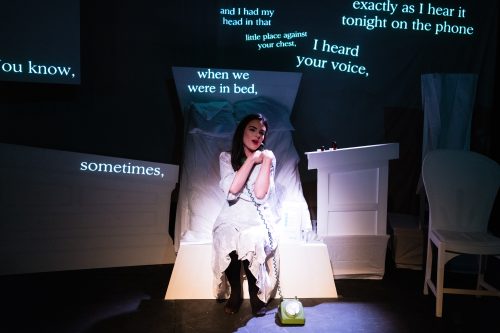 Elle/Singer – Sofia Kirwan-Baez
Producers – Joe Davies and Lucy Britton
Director/Technical designer – Jonny Danciger
Set designer – Emma Turner
The Cumbria Opera Festival 2023 was opened perfectly with a double bill of Poulenc's La voix humaine and Robert Schumann's Frauenliebe und -leben at the Penrith Playhouse. Since 2016, the Cumbria Opera Group have cemented themselves as a fixture in the county's music calendar. Their productions represent the pinnacle of performing arts in Cumbria. Sofia Kirwan-Baez excelled as Elle in La voix humaine: a 40-minute one-person opera that depicts a woman's last phone call before her suicide. In Frauenliebe und -leben – a song cycle about a 'Woman's Love and Life' – Kirwan-Baez again demonstrated why she is one of the UK's most exciting young sopranos. Accompanied serenely by Alex Norton, her interpretation was as enigmatic as it was exhilarating. The technical design of both shows – where the English subtitles floated around the stage and were a central part of the action – was the highlight: director Jonny Danciger and producers Joe Davies and Lucy Britton created an event to remember.
Robert Wilde
Mozart, Don Giovanni: Soloists, Chorus and Orchestra of Cumbria Opera Group / Joe Davies (conductor). Victoria Hall, Grange-Over-Sands, Cumbria, 2.9.2023.
Creatives:
Producers – Joe Davies and Lucy Britton
Director – Persia Babayan-Taylor
Set designer – Emma Turner
Costume designer – Megan Bowyer
Lighting designer – PJ Summers
Cast:
Don Giovanni – Patrick Keefe
Leporello – George Robarts
Donna Anna – Holly Brown
Donna Elvira – Holly Teague
Don Ottavio – Jack Dolan
Masetto – Samuel Snowden
Zerlina – Madeline Robinson
Il Commendatore – William Stevens
'A force of nature,' is how his university mentor described Joe Davies, Cumbria Opera Festival's artistic director, minutes before that abominable rake Don Giovanni succumbed to his comeuppance for the final time last weekend in Grange-over-Sands, a small town a few miles south of the world-famous Lake District National Park.
The Cumbria Opera Group, founded and run by Davies, refreshingly resists the more obvious forces of Lake District nature by embracing Cumbria as a whole, performing major operas – this year Don Giovanni and Poulenc's La voix humaine – in places as daringly non-World Heritage Site as St Bees, Dalton, Kendal and Appleby. As well as Grange itself, whose wave-less sands look out not over the riches of the Langdale Pikes but the less appreciated Morecambe Bay – mind you, Morecambe is literally the new Garden of Eden, now that Eden Project (North) is making its home there.
Set in surroundings perhaps more traditionally used to small-scale, local musical theatre and amateur dramatics, this was proper, grown-up opera, performed by highly trained artistic professionals, and all for no more than £20 (you would be very lucky to pay under at least £100 to see Das Rheingold at Covent Garden this month – more like £300+!).
Davies himself is a down-to-earth Cumbrian, even if his musical brilliance led him to the dizzy heights of Oxford's dreaming spires for his apprenticeship. But he has been back in his home county for the second summer running this year, pollinating small flowers like St Bees with all the operatic excellence and connections he has collected on his wings in the rich, warm South.
As he uttered his few festival-closing words (it ran for a week from 26 August) to the Friends of Cumbria Opera Group in Grange's Victoria Hall on Saturday evening, the festival founder warmed again to his admirable, evangelical theme of bringing opera not only to the eyes, ears and souls of people accustomed to words such as 'rich' and 'champagne' – but to 'everyone'.
'Hear, hear,' we all cheered, as we toasted Davies and the opera group's MD Lucy Britton with … er, champagne, or was it sparkling wine?
'Right,' said Davies abruptly, 'I must be off, I've got an opera to conduct.' A great line – and he had even done his own English translation of the opera's Italian libretto, so it was one of many great lines – and so began a great night, enjoyed by not far off a full house. Cumbria Opera Group delivered Mozart's masterpiece (here set in a corporate 1950s workplace) with wit, pathos and panache, as Davies and his ten-strong orchestra led their high-calibre chorus up, down and round the operatic emotional rollercoaster over the following few hours.
Whoever built the fin de siècle Victoria Hall gave it excellent acoustics, and it was amazing to see and hear how few instrumentalists there were at the front creating such an energetic and exciting accompaniment for all the fine voices on the stage. By far, the evening's highest points came in those transcendent second act ensemble moments when chorus and orchestra rang out in full-throated fortissimo.
Outstanding among the singers were soprano Holly Brown (as Donna Anna, another sexual target of you-know-who) whose intensely focused and physical acting projected her majestic voice even further and higher; and baritone Samuel Snowden, irresistible as a comically hapless Masetto (other half of Zerlina, yet another female victim of the predatory Giovanni).
Patrick Keefe did the Don Giovanni honours admirably, and though he strutted his 'charming' stuff as much as he could on such a small stage, it was Keefe's rich, brassy baritone that would have had all of us falling into the Don's loathsome Lothario's lap before the night was done.
As for an encore, wait till next year – a 'big premiere is on the horizon', apparently!
Follow the Cumbria Opera Group troubadours by clicking here.
Matthew Connolly