Germany Musikfest Berlin [4] – Xenakis, Illés, Hartmann, and Kurtág: Christian Gerhaher (baritone), Berlin Philharmonic Orchestra / Kirill Petrenko (conductor). Philharmonie, Berlin, 14.9.2023. (MB)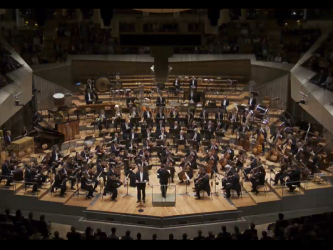 Xenakis – Jonchaies
Márton Illés – Lég-szín-tér (world premiere)
Hartmann – Gesangsszene
Kurtág – Stele
Now this is what I call a programme. To have Xenakis and Kurtág on the same programme from the Berlin Philharmonic and Kirill Petrenko was extraordinary enough, yet together with a new piece from Márton Illés and Karl Amadeus Hartmann's final work, the latter involving Christian Gerhaher as soloist, this would surely have been the envy of any hall and audience in the world; it certainly should have been.
Iannis Xenakis's Jonchaies, premiered in 1977 by the Orchestre National de France and Michel Tabachnik, may have been receiving its first performance by the Berlin Philharmonic, but it was a performance of security, commitment, and understanding belying any local novelty. The upward string sweep, not the last arresting string opening of the evening, sounded as if an aural concrete sculpture, turned by a giant butterknife. Loneliness and excitement in the landscape painted – I may as well continue this excess of metaphors – evoked not so much another world as a world in another solar system, even galaxy. As percussion joined, this seemed to be a Rite of Spring without spring, and perhaps even without a rite. Whatever it was, it mesmerised, complex yet above all stark and elemental. Wind entered almost imperceptibly, yet one knew when they were fully there. This was a performance that grabbed one by the throat and never let one go, to make Stravinsky and even the sirens of Varèse, here trumped by Berlin trombones in woolly mammoth mode, appear well-nigh fainthearted by comparison.
Illes's Lég-szín-tér, roughly a scene, setting or colour space for air, is the latest in a series of such 'scenes', this instalment commissioned by the Stiftung Berlin Philharmoniker and financed by the Ernst von Siemens Musikstiftung. In three short movements, it displayed an almost classical command of form. Not that there was anything formulaic or indeed backward-looking to it, but rather it sounded as natural and at home in itself, and indeed as concise, as a Haydn symphony (which might have made a splendid alternative bedfellow). In any case, the swarming string opening to this marked it out as a nice pairing with the Xenakis, though the strings were far more quickly joined by the rest of the orchestra in a first movement that was at times almost pretty, or at least delicate—though perhaps anything would be when compared with Xenakis. Accordion (Teodoro Anzellotti) here and elsewhere made its presence felt too. Indeed, at times, the string section almost sounded as if it were a giant version of that instrument. If there were something of the scherzo to that movement, that impression was still stronger in the second, which occasionally in texture, rhythm, and harmony suggested an affinity – I do not think it was more than that – to Messiaen. Throughout, the orchestra and Petrenko traced its contours as expertly as if it were a repertoire piece. The third movement opened with more string music, led by Amihai Grosz on slithering solo viola, from whom the lead was taken and dispersed. This was a movement of very different character, coming across as a necessary response to the first two, the pace of harmonic change considerably slower. Its understated, witty sign-off too was not the least virtue in a work and performance that again, albeit in different ways from Xenakis, never failed to hold one's attention.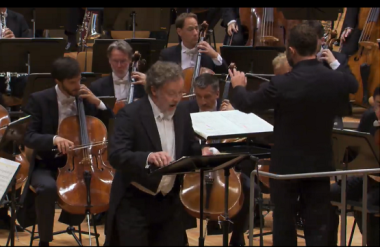 Hartmann's Gesangsszene was for me just as much a revelation. I suspect some readers will know it; I have the impression it is, or at one point may have been, more often heard in German- than English-speaking halls. If so, that is a great pity, for this setting of words from Jean Giraudoux's Sodom et Gomorrhe (in German translation) is unquestionably the real thing: powerfully moving, a fitting, if sadly incomplete, culmination to a career of honour as well as great compositional craft. I am not sure it is not the finest thing I have heard from Hartmann, though I have probably heard far too little in total. Certainly, it is difficult to imagine superior performances than those heard from Gerhaher, the BPO, and Petrenko, ideally paced and voiced. A lengthy introductory orchestral section opened with a flute solo of great quality (both as writing and in Sébastian Jacot's supremely involving performance). One might call it Schoenbergian or post-Schoenbergian, I suppose, yet it never sounded 'like' anything other than itself. The orchestral writing that developed again might have put me in mind of Berg, a veritable labyrinth, yet always clear of purpose, but it did not. Here was captivating drama without a stage and, indeed, to start with, without even a voice. When Gerhaher entered, recitative-like, my immediate thought, apart from following his crystal-clear diction and pitching, was that we really ought to hear him soon in Busoni's Doktor Faust. That moment is approaching, if someone will offer it; it came as little surprise to learn the piece was written for Dietrich Fischer-Dieskau. This is a different kind of warning, though, one for the atomic age, with a different, still more immediate sense of the apocalypse, and that shone through — as surely it did for Hartmann at the time of the Cuban Missile Crisis. Death unquestionably hangs over proceedings, yet there is no self-pity, but rather dignity, the dignity of a lifetime of resistance. When Gerhaher came to speak the final words, their setting prevented by Hartmann's death, it was a tribute to what we had heard that they seemed very much part of the same musical performance. If only our 'leaders' would learn; if only they would even listen.
György Kurtág's Stele was an earlier BPO commission, from the Claudio Abbado years (1994, when the composer was in residence), and it has been conducted by at least two others here in the meantime, Simon Rattle and Bernard Haitink, prior to this outing under Petrenko. Rattle once likened it to 'a gravestone on which the entire history of European music is written', and so it sounded here, a fitting aesthetic pendant to Hartmann, and just as moving in its way. In three short movements, like the Illés piece, its opening reference to the third (arguably to any) Beethoven's Leonore Overture was as unmistakeable as it was properly enigmatic. There is memorialisation here, to be sure, yet to what end? The path taken is certainly different, not un-Webern-like. The agitation of the second movement fairly terrified, like a Mahlerian nightmare fashioned by the ghost of Webern and quite without the vistas of a better world with which Mahler might have cruelly consoled and disappointed us. Perhaps Beckett, bearing in mind Kurtág's past and future, is present already, another ghost at the feast. For an almost dizzying array of paths opened up, without prejudice to the sole direction taken. Webern, if anything, seemed still stronger a presence in the third and final movement, without the slightest hint of imitation. Here the mode, as it were, was that of the Funeral March, though the sense of Klangfarbenmelodie sounded, if anything, more Schoenbergian. It was as simple as it was complex, returning us in a way to Xenakis, and vice versa. And how the rests, the silences, told, as musical as any sound.
Mark Berry