Italy Jonas Kaufmann at the 100th Arena di Verona Opera Festival 2023 [4]: Jonas Kaufmann (tenor), Sonya Yoncheva (soprano), Ludovic Tézier (baritone), Arena di Verona Orchestra / Jochen Rieder (conductor). Recorded at Arena di Verona (directed by Henning Karsten) on 20.8.2023 and released by CinemaLive to be shown in cinemas on 12 October (for information click here). (JPr)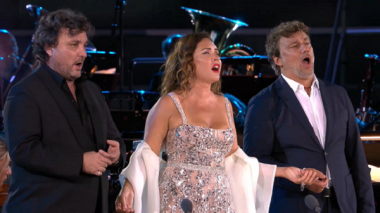 'In the magical setting of the Arena di Verona, celebrating its 100th season, the "King of Tenors", Jonas Kaufmann will take you on an unforgettable musical journey featuring the most beautiful opera arias, moving songs, and film classics, such as West Side Story. His unique voice, his naturalness, and his charisma have made him one of the most popular musical artists worldwide. He is joined by Sonya Yoncheva and Ludovic Tézier at this unique gala evening under the Italian summer sky.' This is how CinemaLive introduces this concert which can be seen soon in cinemas and it is not for me to put anyone off going. Indeed those wanting to see and hear three of this generation's finest opera stars in the mind-blowing Roman amphitheatre which pre-dates the Rome's Colosseum should book tickets as soon as possible. I have only been there for a couple of nights in 1980 (!) but will never forget sitting on its ancient limestone steps.
The biggest draw for me was realising that this was recorded as recently as late August and after the short hiatus in Jonas Kaufmann's career due to a persistent infection he could never seem to entirely shake off. Having recently returned to singing this demanding programme was an interesting way to assess his current vocal health. Sharing the stage with the German tenor were two other remarkable singers: Bulgarian soprano Sonya Yoncheva and French baritone Ludovic Tézier.
Congratulations to all concerned for an opera gala free of some of the usual 'staples', such as the overture from Verdi's La forza del destino which I have heard so many times on these occasions. In fact the only purely orchestral music was the irresistible scene-setting prelude to Bizet's Carmen which revealed – from their moment in the spotlight – that the Arena di Verona orchestra is on excellent form and indeed are from the first aria to the last duet. There are many beautifully sculpted solos from the virtuosic musicians who are alert to the expressive fluidity demanded by a variety of styles of music including verismo opera, operetta, a musical and popular song. They are decisively conducted by Kaufmann's regular collaborator German conductor Jochen Rieder who proves minutely sensitive to the constantly shifting dramatic temperature of the music we hear and the needs of his singers.
The setting is a simple but effective one with the huge orchestra spread across Verona Arena's vast stage and fringed by some very tall 'roses' and with just a few lighting effects to the rear; mainly some changing colours across what gave the impression of a starry night sky. Henning Kasten's camerawork loses no opportunity to remind us of where we are with his many cutaways to the admiring audience and overhead drone images of the arena. The first half sees all three singers formally dressed in evening wear with Yoncheva in a white gown with some sparkling silver embellishments. After the interval things are more relaxed with the men in dark open-necked shirts and Kaufmann wearing trainers. Yoncheva has changed too into something now more sparkly and silver than ivory.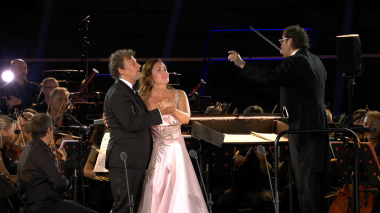 To be honest, Jonas Kaufmann doesn't choose an easy aria to begin with and he makes hard work of Puccini's 'Recondita armonia' and the worry might be that he is still not fully recovered from his recent vocal travails. The great news is that by the time he sings 'Nessun dorma' – the expected encore which is greeted with much acclaim by those thronging the arena – most doubts can be expelled; though the high note here and the top Cs during 'Nelle tue mani' (credited to Hans Zimmer from the movie The Gladiator) and the familiar tenor showpiece Leoncavallo's Mattinata were even more exhilarating because you can appreciate how challenging they are for Kaufmann. His true voice – baritonal with the familiar crooning head voice – comes to the fore when singing a rapturous love duet from Verdi's Otello with Sonya Yoncheva's resplendent soprano soaring equally aloft as Desdemona. There are a couple of oddities in the programme as, I suspect, Viennese operetta is only very rarely heard in the Verona Arena, nevertheless Kaufmann sings Lehár persuasively and idiomatically.
Ludovic Tézier begins by singing Iago's 'Credo' from Otello with a venomous expression of evil and throughout shows himself to be a refined baritone par excellence, and his stylish phrasing comes to the fore notably as he wrestles more demons in 'Nemico della patria' from Giordano's Andrea Chénier, Bizet's swaggering 'Toreador Song' and 'Scintille Diamant' (from Offenbach's The Tales of Hoffmann) is sung with subtle, suitably insinuating menace. (Is it just me but doesn't Tézier look rather like Kaufmann, and sound like him at times?)
Yoncheva is at her most seductive in more ways than one as the conductor becomes the focus of Carmen's attention during the 'Habanera' which she sings with a smoky, lustful voice. You will be impressed by her English diction during a wonderfully plaintive 'Somewhere' from West Side Story (where Kaufmann is her equal with his ardent 'Maria'). Of course you do not expect her to fail – and she doesn't – with another very recognisable aria, Puccini's 'O mio babbino caro' (aka 'Oh my beloved father'), which Yoncheva sings with exquisite, heartfelt simplicity.
Also with three singers like these more duets and trios are to be expected: 'Vicino a te' (from Andrea Chénier) will not have you exactly whistling along since the lovers, Chénier (Kaufmann) and Maddalena (Yoncheva) prepare to go to the guillotine but you will appreciate the poignancy. Yoncheva joins Kaufmann for a delightful rendition of De Curtis's 'Non ti scordar di me', whilst Tézier later joins them for Ennio Morricone's uplifting – and instantly recognisable – 'Nella fantasia' ('In my fantasy') from the movie The Mission which is a song where Chiara Ferraú's lyrics long for the better world we all hope for. Another old friend, the rousing 'Drinking Song' from Verdi's La traviata – with Kaufmann and Yoncheva in party mood and waltzing – brings a wonderful two hours to a most joyful conclusion. It was all highly uplifting and is absolutely recommended: so do go and see it soon in your local cinema.
Jim Pritchard
Programme as sung:
Puccini – 'Recondita armonia'
Verdi – 'Già la notte densa'; 'Credo'; 'Dio mi potevi' (from Otello)
Giordano – 'Nemico della patria'; 'Vicino a te' (from Andrea Chénier)
Lehár – 'Freunde, das Leben' (from Giuditta)
Bizet – 'Preludio'; 'Habanera'; 'Votre toast' (from Carmen)
De Curtis – 'Non ti scordar di me'
Offenbach – 'Scintille Diamant' (from The Tales of Hoffmann)
Lehár – 'Dein ist mein ganzes Herz' (from The Land of Smiles)
Bernstein – 'Somewhere'; 'Maria' (from West Side Story)
Morricone – 'Nella fantasia' (from The Mission)
Zimmer – 'Nelle tue mani' (from The Gladiator)
Encores:
Giordano – 'Come un bel di di maggio' (from Andrea Chénier)
Puccini – 'O mio babbino caro' (from Gianni Schicchi)
Leoncavallo – 'Mattinata'
Massenet – 'Venez! Anges du ciel!' (from Thaïs)
Puccini – 'Nessun dorma' (from Turandot)
Verdi – 'Libiamo ne'lieti calici' (from La traviata)