Spain Tchaikovsky, The Queen of Spades: Generalitat Valenciana Chorus, Comunitat Valenciana Orchestra / James Gaffigan (conductor). Palau de Les Arts, Valencia, 10.10.2023. (JMI)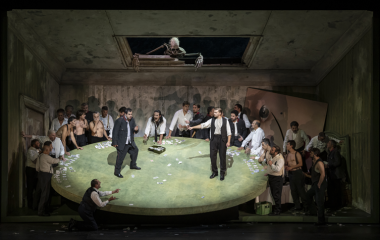 Production:
Director –Richard Jones
Sets and Costumes – John Macfarlane
Lighting – Jennifer Tipton
Choreography – Linda Dobell
Chorus master – Francesc Perales
Cast:
Herman – Arsen Soghomonyan
Liza – Elena Guseva
Countess – Doris Soffel
Count Tomsky – Andrei Kymach
Prince Yeletsky – Nikolay Zemlianskikh
Polina – Elena Maximova
Chekalinsky – Vasily Efimov
Surin – Alejandro Baliñas
Chaplitsky – Joel Williams
Masha – Laura Fleur
Valencia has inaugurated its new season with Tchaikovsky's The Queen of Spades (sung in Russian) which, together with Eugene Onegin, is the most often performed of his operas. This is not the first time that operas by the Russian composer have been put on at the Palau de Les Arts: Iolanta was staged four years ago, and Eugene Onegin could be seen here in 2011.
The production is by Richard Jones, and its premiere took place in Cardiff in 2000 and it is a co-production with opera houses in Bologna, Oslo, Toronto and Valencia opera. It could almost be considered ancient, considering the evolution that opera productions have followed in recent years. It is a traditional staging that, judging by the costumes, places the action in the 1930s. In Act I, Tomsky, Yeletsky and Chekalinsky are on a fairly bare stage with some benches in what could be a park. The second scene takes place in the Countess's rooms, with a large bed in the center.
Act II continues in her house, where Herman has access … through the ceiling! In Act III, we are back in the park, but it appears that the Neva does not flow here: Liza takes her life, not by jumping into the river but by putting a plastic bag on her head. The final scene returns to the Countess's room, now occupied by a large gambling table, where Herman loses and then commits suicide.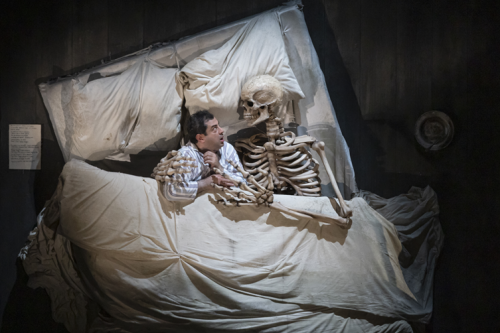 Overall, it is a production which narrates the action competently and moves the characters correctly on stage. My attention was drawn in particular to the scene of the Countess's appearance in Herman's dreams: she does so in the form of a moving skeleton.
American maestro James Gaffigan has once again proved that the Palau de Les Arts was absolutely right to hire him as music director. His conducting had both emotion and intensity, and the orchestra was excellent.
There were no great figures in the vocal cast, but it worked on the whole. Herman was sung by Russian tenor Arsen Soghomonyan, who gave a strong performance. He sings and expresses himself well, and his homogeneous voice is suited to the character's demands.
Russian soprano Elena Guseva as Liza gave a remarkable performance: her voice is more than adequate for the part and offers an attractive timbre in the middle, although it loses some brightness in the high notes. The Countess was played by veteran mezzo-soprano Doris Soffel, whose voice is still attractive. She was notable on stage, better than some colleagues of hers who have performed this role in their mature years.
Count Tomsky was baritone Andrey Kymach, who did well in his arias. Prince Yeletsky was sung by baritone Nikolai Zemlianskikh, whose voice seemed to me excessively clear for the character: more like a low tenor than a true baritone. Mezzo-soprano Elena Maximova in the part of Polina, Liza's sister, made a good impression, and was outstanding in her Act I aria.
Finally, my thoughts are of the late Stephen Gould, who was the interpreter of Tristan on my visit to Valencia last April.
José M. Irurzun