United Kingdom Humperdinck, Hänsel & Gretel: Soloists, HGO Orchestra / Thomas Payne (conductor). Jacksons Lane Theatre, London. 15.11.2023. (JR)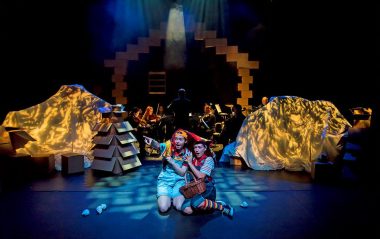 Production:
Director – Jeanne Pansard-Besson
Assistant Director – Finn Lacey
Set and Costume designer – Michelle Bradbury
Lighting designer – Sofia Alexiadiou
Movement director – Simeon Qsyea
Cast:
Hänsel – Alexandra Meier
Gretel – Felicitas Wrede
Gertrud / Witch – Mae Heydorn
Peter – Oskar McCarthy
The Sandman – Amelia Langley
The Dew Fairy – Marie Cayeux
Children – Lola Ajala, Louis Ajala, Isabella Artemiou, Elizabeth Berry-Roe, Robert Berry-Roe, Tianche Dong, Eleanor Ghassemi, Ceren Hazell, Ethan James, Polly Ostrovsky, Robin Strelitz, Sophia Sulkanishvili
HGO was founded in 1990 as Hampstead Garden Opera, originating from the opera classes at the Hampstead Garden Institute. It has steadily grown in reputation and competence. Originally intended to concentrate on Mozart operas, it has now branched out. HGO is regularly nominated for opera awards, this year winning the Off West End Opera Performance Award for its production of The Cunning Little Vixen. One of HGO's worthy goals is to promote and advance young singers.
Jacksons Lane Arts Centre, across the Archway Road from Highgate Underground Station in North London started life (in 1905) as the Highgate Wesleyan Methodist Church. Community-oriented work and programmes have taken place there since the 1960s. The church was closed by the early 1970s but local residents developed the building into its current shape as an arts centre. It currently has a seat capacity of 170; it has an intimate feel which lends itself perfectly to amateur performances. No-one in the audience is far from the stage.
Engelbert Humperdinck's masterpiece of an opera is the opera for children which Wagner didn't compose. It is full of sublime melody, rich orchestration: many a tune becomes an earworm. Small children are, sometimes, depending on the production, frightened by the witch.
HGO's production was fully staged, but in rather a spartan mode, colourful costumes from the 1950s. Director Jeanne Pansard-Besson was a finalist in the ninth European Opera-directing Prize and a semi-finalist in the Ring Award 2017. She has a long list of opera productions to her credit and has worked with many of the big names in opera production. Her production of Hänsel and Gretel for HGO is ingenious and cleverly inventive. Essentially, the central idea is to show Hänsel and Gretel as very small children, as teenagers and as adults. The opera opens with its sublime overture and adult Hänsel and adult Gretel in black funereal clothing attending the funeral of their beloved mother. They quickly change into teenager clothing for the first act. Those who see the opera for the first time will be confused, wondering who all these children are, as there is nothing in the text to help. Only the clothing hints at what the producer is trying to do. The set is basic, mainly an assembly of cardboard boxes (one of which doubles as the oven), a chest of drawers, a bookcase and a table. There was a great deal of fake pink candyfloss including, amusingly, on the Witch's beehive hairdo. However the magic and mystery of the forest and the beauty and allure of the Gingerbread House were utterly missing.
The singers were all a very good standard. Top of the bunch by a mile, for me, was German soprano  Felicitas Wrede, studying with Amanda Roocroft at the Royal Academy of Music. Her top notes, vocal and acting skills, clarity of diction were exemplary: I am sure we will be seeing more of her on more prominent stages in years to come. Swiss mezz-soprano Alexandra Meier is also based in London, and her career is clearly burgeoning. She has a strong voice with good intonation on the lower registers when singing duets with Gretel. There is only a vague hint of Swiss dialect in her German.
Oskar McCarthy as the Father had a strong baritone and looked relaxed throughout. Both the Sandman and Dew Fairy, both in spectacular costumes and make-up, accredited themselves.
The children at the close of the opera sang particularly well, in tune, together, none let their side down.
Swedish-German contralto Mae Heydorn was a mite disappointing as the Mother and the Witch. Her upper register was rather squally and screechy, only lower down was she comfortable with the tessitura. I read she was a fine Erda at Longborough: and is a comic lead in Gilbert & Sullivan in Harrogate and Buxton. Her German diction was surprisingly variable: acting was hammed up, with seduction her main asset: hardly appropriate for this opera, I thought.
Lighting was well executed apart from the moment we were all blinded by the lights whilst the stagehands carried out a scene change.
The orchestra, consisting of only thirteen young players, sounded fine, particularly the woodwind. The brass opened the evening less securely than I am sure they would have hoped but soon warmed up. Conductor Thomas Payne kept everyone together even if we were not always swept away with the beauty of the score. The reduced orchestration was more than satisfactory, by Jonathan Lyness, currently Associate Conductor at Longborough.
A pity that latecomers were noisily admitted at least twice (into the third row!) during the first act and, after the interval, numerous adults tucked in noisily into their popcorn and crisps.
Performances continue until November 19th. The production is well worth seeing for its ingenuity and hearing some extremely promising young singers.
John Rhodes