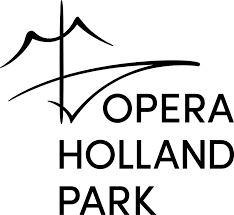 Introducing Opera Holland Park's 2024 Season, including current casting and booking dates
Comedies, tragedies and a cavalcade of deceptions and disguises
Characters from carnival, commedia dell'arte and classical myth tell stories of transformation, enchantment and revenge in Opera Holland Park's 2024 Season. A diva confronts a corrupt chief of police in the grit and glamour of 1960s Rome. A barber plays puppet-master in Seville, outwitting his clients in an attempt to prevent an unwanted wedding. A Flemish knight must choose between vice and virtue, while a sea nymph tries to elude an amorous Sicilian cyclops. In London and Calabria, the arrival of travelling players leads to chaos. And in an elegant villa in Piedmont, a newly married couple navigate their first falling out.
Opera Holland Park's 2024 Season opens to press and public on 28 May with a revival of Stephen Barlow's sharp and seductive 2008 production of Tosca, new productions of The Barber of Seville and Acis and Galatea, three semi-staged performances of Puccini's early romance, Edgar, a sensational double bill contrasting John Wilkie's stylish 2019 staging of Wolf-Ferrari's honeymoon comedy Il segreto di Susanna with Martin Lloyd-Evans's new production of Leoncavallo's true crime tragedy, Pagliacci, and a co-production with Charles Court Opera of The Yeomen of the Guard. The City of London Sinfonia returns for its twentieth year as resident orchestra. Launched in 2021, the recital series Opera in Song returns for its fourth year, including a celebration of the 80th birthday of Dame Kiri Te Kanawa.
Set in the turmoil of 1968, and designed by Yannis Thavoris, Stephen Barlow's production of Tosca (28 May-22 June) was the smash hit of Opera Holland Park's 2008 Season. In this revival, South African soprano Amanda Echalaz returns to the role and staging that launched her international career, having since played Floria Tosca in Berlin, Dresden, Santa Fe, Salzburg, Strasbourg, Sydney and New York. Matthew Kofi Waldren conducts in his fourteenth engagement with the company since he joined the inaugural cohort of Opera Holland Park Young Artists in 2012. Making his company debut, Portuguese tenor José de Eça plays Mario Cavaradossi.
Cecilia Stinton directs a new production of Rossini's comedy The Barber of Seville (4-21 June), working for the first time with conductor Charlotte Corderoy, alumna of the 2023 Opera Holland Park Young Artists Scheme and Assistant Conductor with the City of Birmingham Symphony Orchestra. Alumnus of the Accademia alla Scala, Milan, British baritone Paul Grant makes his company debut as Figaro, with Elgan Llŷr Thomas and Heather Lowe as Almaviva and Rosina, and Stephen Gadd as Bartolo. Legendary lyric soprano Janis Kelly makes her company debut as Bartolo's dust-allergic housekeeper, Berta. Supported by Viking, the world's leading exploration company, the production will be sung in Italian with English surtitles and will also be performed by the 2024 cohort of Opera Holland Park Young Artists on 14 and 16 June.
Following the runaway success of the 2022 production of Le Villi, we continue our exploration of Puccini's lesser-known operas and wider rarities in three semi-staged performances of his early romance, Edgar (2, 4 and 6 July) in its 1905 edition. Edgar must choose between vice and virtue, personified by two women, before achieving redemption. Last seen together at Opera Holland Park in Le Villi, Anne Sophie Duprels and Peter Auty play Fidelia and Edgar, with Gweneth Ann Rand as Tigrana and Julien Van Mellaerts as Frank. Ruth Knight, who directed English National Opera's semi-staging of Gloriana, directs this semi-staging.
The centrepiece of the 2024 Season sees a double bill of John Wilkie's stylish 2019 production of Il segreto di Susanna and a new production of Pagliacci from Martin Lloyd-Evans (17 July-3 August). Two stories of sexual jealousy lead to very different endings, with the first anticipating the screwball comedies of 1930s Hollywood and the second allegedly inspired by true crime. Clare Presland, Richard Burkhard, John Savournin and conductor John Andrews are reunited in Wolf-Ferrari's honeymoon comedy, while David Butt Philip leads the cast of Pagliacci in his role debut as Canio. Francesco Cilluffo conducts Leoncavallo's sophisticated and deadly score, with Alison Langer as Nedda, Robert Hayward as Tonio, Zwakele Tshabalala as Beppe, and Harry Thatcher as Silvio.
Louise Bakker directs the first work by Handel to be presented at Opera Holland Park, with designs by Alyson Cummins. Former Opera Holland Park Young Artist and Jette Parker Artist Michael Papadopoulos conducts the pastoral serenata Acis and Galatea (19 July-2 August), which was written for performance in the gardens of the Duke of Chandos's palace, Cannons, in 1718. Elizabeth Karani plays the sea nymph Galatea, with Anthony Gregory as Acis, South African bass-baritone Chuma Sijeqa as the lustful cyclops, Polyphemus, and Ruairi Bowen as Damon.
In their fourth collaboration since 2021, Opera Holland Park and Charles Court Opera present a new production of Gilbert and Sullivan's Shakespearean comedy, The Yeomen of the Guard (7-10 August) to close the 2024 Season. John Savournin directs the production and plays the role of Wilfred Shadbolt, Head Jailor and Assistant Tormentor, while David Eaton conducts the City of London Sinfonia.
Celebrating the art of the song recital and the ballet dancers of the future: A birthday celebration for Dame Kiri Te Kanawa, Kiri at 80, sees the esteemed New Zealand lyric soprano working with OHP Young Artists in a public masterclass on 20 June. This very special event is the centrepiece of the 2024 edition of the Opera in Song recital series, curated by the baritone Julien Van Mellaerts and pianist Dylan Perez, which will also include a concert by world class artists who have been supported by Dame Kiri and the Kiri Te Kanawa Foundation.
Young dancers from the Royal Ballet School return to Opera Holland Park on 26, 27, 28, 29 June at 7pm and 29 June at 2pm.
Nurturing emerging talent: Nine alumni of the Opera Holland Park Young Artists scheme return in senior and supporting roles in the 2024 Season, from conductors Matthew Kofi Waldren (2012), Charlotte Corderoy (2023) and Michael Papadopoulos (2018) to directors Cecilia Stinton (2021) and John Wilkie (2017), sopranos Alison Langer (2018) and Elizabeth Karani (2016), and baritones Jack Holton (2019) and Julien Van Mellaerts (2016). Founded in 2012 with the generous support of the late Christine Collins, the scheme has aided more than one hundred emerging conductors, directors, singers and répétiteurs at a critical point in their careers, and is supported today by individual donors and members of the Young Artists Circle. The scheme is not the only way to advance with the company. Both Louise Bakker and Ruth Knight have assisted on productions before being invited to make their directorial debuts in the 2024 Season.
Working closely with the community: Opera Holland Park will maintain its annual percentage of accessible and free tickets, including Free Tickets for Under 18s and Over 65s, and reduced tickets for NHS staff.
The 2024 Season sees the return of the Discovery Matinees. These performances are designed to welcome people who want to try opera out for the first time in a relaxed environment, and those who love opera but find the normal theatre-going experience inaccessible on 9 June at 2pm (Tosca), 16 June at 2pm (The Barber of Seville) and 10 August at 2pm (The Yeomen of the Guard). This year the annual Schools Matinee will be a full performance of The Barber of Seville on 19 June at 12pm.Workshops and supporting material will be made available to those schools joining us for the Schools' Matinee.
The award-winning Inspire Education and Outreach Programme continues to offer an enriching programme for all members of all ages in our community throughout the calendar year. Songs on the Steps, a series of seven free lunchtime recitals for picnickers and passers by, returns for the third year. Featuring artists from the company, the fortnightly concerts will be held every other Friday at 1pm, from 10 May. Our wider community work continues with regular recitals in partnership with Age UK and Open Age and in venues including Chelsea and Westminster Hospital and Westbourne Park Day Centre.
The venue: Redesigned to accommodate social distancing in 2021, and constructed from reclaimed and sustainable materials to reflect the natural beauty around the theatre, Opera Holland Park was named 'London's greenest theatre' by the Evening Standard. Since that year, the space has hosted performances of operas, song recitals, spoken word and family events by resident and guest artists and ensembles. Sightlines and seating were improved in 2022 and in 2023, when traditional theatre seating was reintroduced in three quarters of the auditorium, retaining individual seating at floor level that is upcycled from previous productions at this and other theatres. The space continues to evolve alongside the bars and hospitality areas. Sustainability informs every aspect of the theatre, with food and drink sourced from independent companies within a 50-mile radius of Holland Park. For the 2024 Season, capacity will be increased to 830.
Booking information:
Priority booking for Jubilee Society and Major Donors – 29 November, 10am
Priority booking for Founders and Benefactors – 6 December, 10am
Priority booking for Ambassadors – 13 December, 10am
Priority booking for Envoys – 17 January, 10am
Priority booking for Gold Members – 14 February, 10am
Priority booking for Silver Members – 21 February, 10am
Priority booking for Friends – 4 March, 10am
General booking – 6 March, 10am
INSPIRE £24 tickets – 10 April, 10am
Free Ticket Scheme: Applications for free tickets for Over 65s open on 3 January. Deadline for applications is Monday 8 April. Booking for Free Tickets for Under 18s opens on Thursday 11 April at 10am.
Since 2017 we have offered half price community tickets to staff of the NHS, London Ambulance Service, London Fire Service, Metropolitan Police and Armed Forces as well as teachers, social workers and carers from the Tri-Borough of Hammersmith & Fulham, Westminster, and Kensington & Chelsea. Employees are eligible for half price or two-for-one tickets for all of our 2024 Season productions.
For more information click here.