22/12/2015
REFLECTIONS ON THE 2015 CHOPIN COMPETITION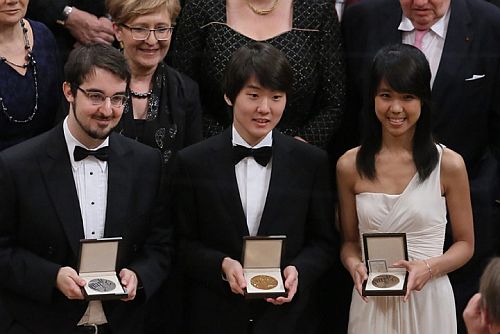 21/12/2015
The UK première of The Pianist of Willesden Lane opens at the St. James's Theatre London on 20 January 2016 and runs until 27 February.
10/12/2015
'BETWEEN TWO WORLDS': AN INTERVIEW WITH VIOLINIST TIANWA YANG
The dramatic growth in the number of talented artists of Asian origin has been one of the outstanding features of classical music today, indeed sufficiently important to influence the focus of major recording companies and media. Traditionally, the road to exposure for young Asian artists, and violinists in particular, has been straightforward: move to America, gain entrance into Juilliard or Curtis from an early age, and let their budding musical and technical skills be honed by the great teachers. This was the route taken by Kyung Wha Chung originally, and later Cho Liang Lin and Sarah Chang, among many others.
If one looks at the career of 28-year-old Chinese violinist Tianwa Yang, one would think that she must be cut from standard cloth. After all, her virtuoso skills are pristine and her recordings for Naxos, the most enterprising being the complete violin compositions of Pablo Sarasate, have received the highest praise. They have often been cited as a model of 'the art of the violin' for their technical accuracy, perception and emotional commitment. Of her more than 20 recordings, she has also received the ECHO Klassic 2015 award as Violin Instrumentalist of the Year for Ysaÿe's Sonatas for Solo Violin. Yet Ms Yang did all her early studies in China, and in fact did not want to study in America. She recoils at the term 'virtuoso' being used to describe her talents, showing almost no interest in the 'International Violin Olympiad', as she aptly calls it.  Rather, her dream from her teens was to study German chamber music in Germany, and that is eventually what she did. It is a long jump from Schubert to Sarasate or Paganini, so when she visited Vancouver to play Paganini's 2nd Concerto, I was more than a little intrigued, especially since she apparently had not touched the work for over a decade. Read more
09/12/2015
KASPER HOLTEN, DIRECTOR OF OPERA AT THE ROYAL OPERA, TO LEAVE IN MARCH 2017
Alex Beard, Chief Executive of the Royal Opera House, announced this morning that Kasper Holten, Director of Opera at The Royal Opera, will be leaving the Company at the end of March 2017. The search to find his successor will begin in the New Year.
01/12/2015
Three Choirs Festival Tercentenary Concludes at Buckingham Palace
2015 marked the 300th anniversary of what is almost certainly the world's oldest music festival, the Three Choirs Festival. The anniversary has been celebrated in style. In June members of the Festival Chorus travelled to Hamm in Germany to sing The Dream of Gerontius. The Festival itself was held in Hereford during the last week in July and many of the major events of a very successful week were reviewed by MusicWeb International Seen and Heard. The final event in the celebratory year occurred on 24 November with a gala performance in the Ballroom of Buckingham Palace, attended by HRH The Prince of Wales, President of the Three Choirs Festival. Read more
18/11/2015
Saffron Hall and Britten Sinfonia Announce New Partnership
Read more
18/11/2015
Saffron Opera Group to perform Wagner's Ring Cycle
A heroic project of extraordinary ambition is soon to be realized when Saffron Opera Group performs Wagner's Ring Cycle in Saffron Hall.
17/11/2015
NCEM Hosts First Major Emerging European Ensembles Residency in the UK
The National Centre for Early Music (NCEM), one of the eight major partner organisations from across the European Community, welcomes the innovative young French ensemble, Les Contre-Sujets to York in November 2015 for the first residency in a four year programme funded by Creative Europe – the EEEmerging: Emerging European Ensembles project.