24/08/2019
Matthew Bourne's Romeo and Juliet Comes to Cinemas
in the UK and Ireland in October
Running time 93 mins / BBFC TBC / Released in cinemas nationwide
22 October 2019
Matthew Bourne's Romeo and Juliet – to be screened in cinemas across the UK and Ireland from Tuesday 22 October (running time 93mins): Dancers and Orchestra of the New Adventures company / Brett Morris (conductor). Directed for the screen by Ross MacGibbon and filmed live at Sadler's Wells, London. Reviewed by Jim Pritchard.
21/08/2019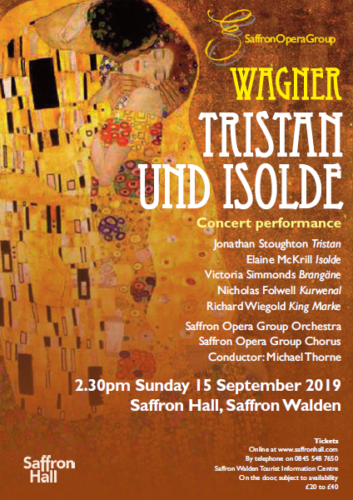 SAFFRON OPERA GROUP PRESENTS TRISTAN UND ISOLDE
FORMER TRIUMPHS INCLUDE THE RING CYCLE, PARSIFAL, DIE MEISTERSINGER
THRILLING CAST OF ESTABLISHED AND EMERGING ARTISTS IN OPERA'S GREATEST LOVE STORY
'A most remarkable concert performance… superb'
(Simon Heffer, Daily Telegraph, on Parsifal)
Saffron Opera Group intends to build on its critically-lauded run of Wagnerian triumphs with the composer's sublime hymn to the agonies and ecstasies of love, Tristan und Isolde. The concert performance takes place on 15 September in Saffron Hall. Read more
16/08/2019
19/07/2019
The 26th International Gilbert & Sullivan Festival
Buxton Opera House 24-29 July 2019
Royal Hall, Harrogate 7-18 August 2019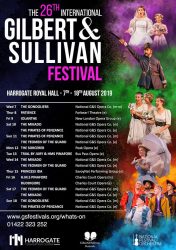 26/06/2019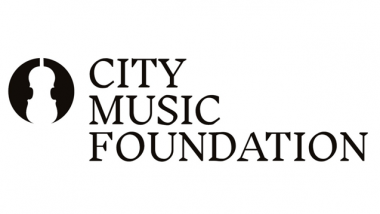 City Music Foundation
Return to The Wallace Collection for Fourth Year
Monday 22nd – Friday 26th July 2019 Read more
14/06/2019
Bird & Carrot presents

THE MOTHER
Avant-garde dance theatre by choreographer/director ARTHUR PITA

Performers: NATALIA OSIPOVA and JONATHAN GODDARD
June 20th, 21st, 22nd – London, Southbank Centre's Queen Elizabeth Hall
Tickets: www.southbankcentre.co.uk £30-£70 Read more
02/06/2019
Edinburgh Sunday Classics 2019-2020
For some years, the series of international orchestral concerts, traditionally held on Sunday afternoons, has been a highlight in Edinburgh musical life. The season follows the Edinburgh International Festival maintaining a cultural level emphasizing the status of Scotland's capital as the center of Scottish arts and music.
The series allows an opportunity for Edinburgh music lovers to compare the standards of the nation's national orchestras with the best international ensembles. In the season starting in October are several well-known 'friends' who have visited in past years, and several orchestras who offer something quite fresh for Edinburgh audiences. Read more
30/05/2019
REVIEWED BY JIM PRITCHARD Read more