Germany R. Strauss: Ariadne auf Naxos, Philarmoniker Hamburg, Axel Kober (conductor), Staatsoper Hamburg, 14.11.2013 (JMI).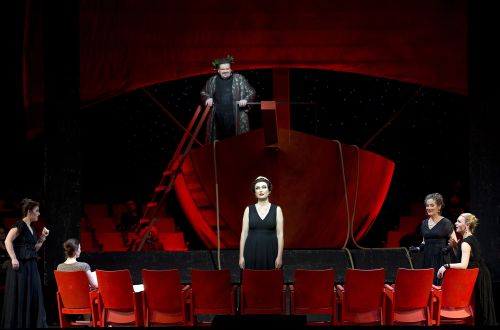 Cast:
Ariadne: Karine Babajanyan
Zerbinetta: Olga Peretyatko
Bacchus: Peter Seiffert
Composer: Maria Markina
Harlekin:Christoph Pohl
Music Master: Franz Grundheber
Dance Master: Jürgen Sacher
Najade: Katerina Tretyakova
Dryade: Ida Aldrian
Echo: Gabriele Rossmanith
Scaramuccio: Chris Lysack
Truffaldin: Alin Anca
Brighella: Jun-Sang Han
Production:
Direction: Christian Stückl
Sets and Costumes: Stefan Hageneier
Lighting: Michael Bauer
This production of Ariadne auf Naxos, which premiered last year, is by Christian Stückl, who unfolds the plot as a play within a play. For both prologue and opera, the sets consist of a series of theatre seats in a semicircle around a bare stage.
The interesting stage direction calls for the Composer, the Music Master and even the Majordomo to remain on stage during the opera. When the real opera starts, the guests are taking their seats, including three ladies who will become the three nymphs. Mr. Stückl places them in the front row on the stage, and they give much life to the performance: they rise from their seats, ask for autographs and are excellent in their job. The Majordomo is friendlier than usual, always insisting that the opera must end on time for the fireworks to start. Bacchus enters on a boat with red sails that appears at the back of the stage and advances to the small revolving stage where Ariadne lies. The performance of Zerbinetta's troupe is quite conventional and far from Robert Carsen's imaginative production in Munich. In short, this was a satisfactory production, with the nymphs playing a very important and funny role.
This is an opera that requires a great musical director. The score is full of wonderful moments that can become much less so if the conductor is not up to the task. I expected more from Axel Kober, a very experienced conductor in this repertoire, whose career has taken place mostly in Germany, including Bayreuth. In his reading I missed life and inspiration and, above all, a greater delicacy. The truth is that I missed Simone Young, who conducted the premiere last year.
Ariadne was played by soprano Karine Babajanyan, who replaced the previously announced Katja Pieweck. Her performance was good but not outstnding. Her voice is suited to the role, although it comes through as rather small in size and a little tight at the top.
Soprano Olga Peretyatko has been a big hit in Hamburg. The day before she gave a concert in the small auditorium of the theater, and today she  was signing autographs. There is no doubt that she is a light soprano who is making good progress once she focuses on her natural repertoire. Her Zerbinetta was good both in terms of singing and acting, even if she is still far from what Diana Damrau did in this character until very recently. Her voice is attractive, agile, easy at the top, and she has a nice presence on stage.
Peter Seiffert gave life to Bacchus, a character who is considered almost impossible to sing. It requires a dramatic tenor who is easy at the top, and Mr. Seiffert proved that he can sing the score of Bacchus and not just throw out notes. What I found totally bizarre was the fact that he wore glasses. It's the first time I've seen a singer on stage using them, unless it is a buffo character. I don't know the reason for it, but Seiffer took his bow without them, and Johan Botha didn't used them in last year's production.
Maria Markina was not totally convincing as the Composer. Her voice is OK, but her high notes are too metallic and there is an excess of open sounds in her singing.
The three nymphs were excellent: Katerina Tretyakova (Najade), who left a very positive impression; Ida Aldrian (Dryade); and the always interesting Gabriele Rossmanith (Echo) .
In Zerbinetta's troupe Christoph Pohl replaced Moritz Gogg as Harlekin. I should also mention Franz Grundheber, a real institution, whose Music Master was faultless. He is a true miracle at 75.
The Staatsoper was at about 70% of capacity. The audience was warm, and there were cheers at the final bows for Olga Peretyatko and Peter Seiffert.
José Mª. Irurzun