United Kingdom  Verdi, Otello: Soloists, Chorus and Orchestra of English National Opera / Edward Gardner (conductor), London Coliseum, London, 16.9.14. (JPr)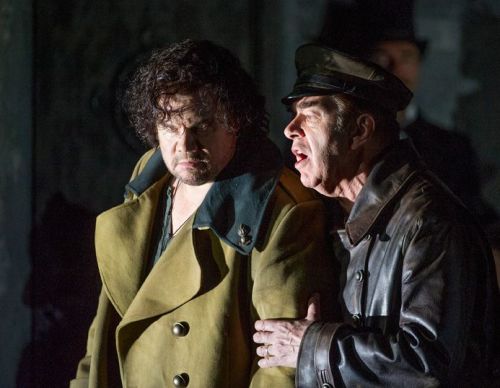 Cast:
Otello: Stuart Skelton
Desdemona: Leah Crocetto
Iago: Jonathan Summers
Cassio: Allan Clayton
Roderigo: Peter Van Hulle
Lodovico: Barnaby Rea
Montano: Charles Johnston
Emilia: Pamela Helen Stephen
Production
Director: David Alden
Designer: Jon Morrell
Lighting Designer: Adam Silverman
Movement Director: Maxine Braham
Translator: Tom Phillips
Production: ENO Orchestra
ENO Chorus
Conductor: Edward Gardner
After the success of Aida in 1871 and his Requiem three years later, Verdi seemed impossible to coax from his Sant' Agata country estate which his triumphs had afforded him and back into the theatre. Several years passed until his penultimate opera and when he eventually composed it he used far richer instrumentation than in any of his earlier works: Otello is very nearly a music-drama, though clearly isn't one. When Otello is compared to Verdi's earlier compositions, he can seem somewhat Wagnerian, though compared to Wagner he still remains what he actually is … characteristically Italian.
We can thank Verdi's publisher, Giulio Ricordi, for this wonderful work and he explained how the idea arose during a dinner with friends: '… by chance, I had the conversation turn to Shakespeare and Boito. At the mention of Othello I saw Verdi stare at me with mistrust, but with interest. . . . The next day when, on my advice, Faccio [a conductor and associate of Boito] took Boito to Verdi with the plan for the libretto already outlined, the Maestro, after examining it and finding it excellent, would not commit himself. He said: "Now you write the poem. It will always be good, for me … for you … for someone else." '
Arrigo Boito was a distinguished poet and musician and as the composer of Mefistofele was considered one of the most talented figures working in Italian opera at that time. Ricordi encouraged Boito to finish the Otello libretto and eventually Verdi agreed to work on it with him. There was much discussion over different drafts, they cut out entire parts of Shakespeare's play (primarily the first act), changed lines, altered the use or motivation of characters, such as  including women in the drinking scene and having Iago (as in the opera) give voice to Boito's own metaphysical beliefs in his Act II 'Credo'. Finally they had to decide on the title for the opera as Verdi had originally wanted to call it Iago but in a letter in 1886 to Boito, the composer wrote: 'It's true that [Iago] is the demon who sets everything in motion: but it is Othello who acts: he loves, is jealous, kills and is killed. For my part I would find it hypocritical not to call it Otello'.
It is difficult to explain the relative lack of public success of Verdi's last two operas, Otello and Falstaff; the latter has another Boito libretto and is considered one of the greatest achievements in the history of opera. A new production of Otello is a rare event, yet Rigoletto (currently on at Covent Garden), Il trovatore, La traviata, among a few others such as Aida, are staples of the repertory. Of course, the rareness of Otello performances, in the UK particularly, will be due to other reasons these days such as the libretto's racism and the un-PC possibility of having to put make-up on a white singer to hint, at least, that he is supposed to be a Moor. Tom Phillips's translation diluted some of the more contentious lines and director, David Alden, explained about how his Otello was 'an assimilated Muslim, who's converted to Christianity.'
English National Opera needed a successful start to the season that has to be uncontroversial yet strong on ticket sales. Its commercial partnership with West End producers to put on musicals may be a compromise but can only help attract audiences to the rest of its work. The company's new Otello production is a great start and something of a throwback to its halcyon days of the final quarter of the twentieth century. Very well conducted, convincingly staged and generally very well sung, it is just a pity that unlike former times three leading roles are sung by overseas singers rather than home-grown ones – even though two of them are regular performers at the London Coliseum.
David Alden who celebrates his thirtieth anniversary working with English National presents an Otello that is indeed uncontroversial compared to some of his other stagings. Much is familiar from his previous work; his love of distressed brickwork, alcoves, minimal stage furnishings, chiaroscuro lighting and choreography for the chorus involving semaphoring arm movements. Alden and his designer, Jon Morell, set the opera in Famagusta, Cyprus, in what might be the ruined chapel of Othello's Castle that, obviously, gets its name from Shakespeare's play. When is less certain as some costumes suggest 1887 the year of the opera's première whilst others hint at the 1920s or 1930s. It is a rather grey and circular set and the stage pictures are relatively unchanging over the four acts. There is a small painting of the Madonna that is either shown reverence or used as a dartboard, a couple of armchairs, a few ordinary ones, a trestle table and a convenient pillar for Otello to hide behind it Act III … and that's about it. A brief glimpse of some religious iconography in a cupola confirms that this is a Christian community. This all is quite atmospheric and works well until Act IV where money must have run out before the production team could get to a charity shop to find some bedding for Desdemona so she does not have to sleep out in the open.
Alden's Otello as portrayed by Stuart Skelton is slightly dusky, shambling and dishevelled. (His bulk and hair made him look as if Bryn Terfel had wandered on stage forgetting that his Sweeney Todd performances are not until next year.)  There was no sense of the authority an army leader should innately show, he was not a hero brought to his knees by jealousy but a gullible, conflicted introvert too easily manipulated, and an ancestor, it appeared, of Peter Grimes. He was more prone to chair throwing tantrums than real rage. Stuart Skelton, ENO's go-to tenor for big roles, can trumpet some top notes effectively from time to time but his voice was very uneven veering from huskily baritonal to a more refined – rather than securely ringing – head voice. I suspect he has been listening to too many recordings and wasn't sure what approach to take to singing Otello. He never spoilt anything – and I am sure he will settle more into the role as the run continues – but I have many other tenors I have heard live to compare him with such as Charles Craig, Vickers, Domingo and Jeffrey Lawton.
American soprano Leah Crocetto is making her UK debut as Desdemona and reminded me physically and vocally of a young Rita Hunter. Her voice is not the finished article yet, however it was quite appealing at times and certainly the 'Willow Song' and 'Ave Maria' were plaintively sorrowful and poignant though she is clearly destined for Strauss and Wagner, in the not-too-distant future, rather than Puccini or Verdi. Her Desdemona was a bit of a cypher and there was not much chemistry between her and Skelton's Otello; both moved a little awkwardly on stage and ultimately their fate failed to move me as it should
It was veteran Jonathan Summers's Iago that truly commanded the proceedings with his brooding, baleful, conniving presence. He demanded attention even when just sitting still on the side of the stage. It is too easy to say the voice is not what it was but that could be applied to John Tomlinson at each of his performances over that last couple of decades. Like that great singer in all he does, Summers brings a wealth of experience to his Iago and every word he uttered was that of the evil manipulator and we did not need a chilling 'Credo' to reveal what he was really like. So what if there is more gravel than Verdian line when someone can give such a compelling performance such as this. Allan Clayton caught the eye as Cassio and seems destined for bigger things, Peter Van Hulle was also good as Roderigo though gets little to do, I suspected in his white suit and fedora he is supposed to be Boito himself. Pamela Helen Stephen made probably more of Emilia than there is in the role and seemed to have come straight out of an Agatha Christie TV adaptation. Charles Johnston's Montano and Barnaby Rea's Lodovico completed the fine ensemble whose careful diction nearly made the surtitles superfluous.
Under Edward Gardner the English National Opera orchestra and chorus were as good as anything Covent Garden could currently manage and if he is leaving, as is believed, to concentrate on the symphonic repertoire he will be a loss, if only temporarily, to opera. The momentous opening was as stormy as it must be and the accompaniment to the deaths of Desdemona and Otello was deeply tragic yet he ensured that the orchestra never lacked definition during the more intimate exchanges; for instance, the cello that introduced the Act I love duet had an especially expressive presence. This Otello is a great start to ENO's new season -the wonderful music, intense drama and solid singing is indeed in the very best tradition of its long and proud history.
Jim Pritchard
For information about ENO's performances for this new season visit www.eno.org.