United Kingdom Walton, George Butterworth, Vaughan Williams, Beethoven: James Clark (violin), Royal Liverpool Philharmonic Orchestra/Andrew Manze, Guild Hall, City of Preston, Sunday 7.12. 2014  (MC)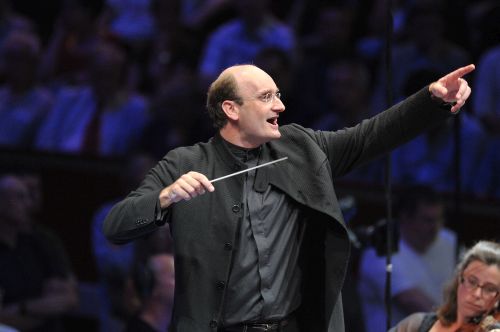 Walton: Façade, Suite No. 1
George Butterworth: Two English Idylls
Vaughan Williams: The Lark Ascending
Beethoven: Symphony No. 6 'Pastoral'
A number of long standing regulars at the Liverpool Phil series of concerts in Preston were passionately explaining how the orchestra used to play eight concerts in a season at the Guild Hall, a number reduced this season to a mere three with their much adored chief conductor Vasily Petrenko to conduct just a single concert. Those Liverpool Phil concerts were sell outs at the Guild Hall but sadly that is not the case today. However any collateral gloom hanging over Preston was soon lifted by the admirable conducting from Andrew Manze, returning to the Guild Hall as conductor almost a year to the day since his last appearance here with the Phil. Formally an acclaimed baroque violin soloist and early music specialist Manze has been making quite a name for himself in recent years, enjoying great acclaim for a number of stunning performances of Vaughan Williams symphonies.
 The first half, a programme of works by English composers, got off to an entertaining start with William Walton's Suite No. 1 the composer's own purely orchestral arrangement of his successful 'Façade – An Entertainment' in which Edith Sitwell poems are recited over instrumental accompaniment. With Walton's jazzy melodies coming thick and fast the players were in their element providing exuberant and uplifting playing of this often madcap romp. George Butterworth aged only thirty-one was killed in action on the Somme a victim of the horrors of the First World War and left only a small output of works. Manze and his Liverpool players performed the charming Two English Idylls with all the sensitivity and integrity that Butterworth's folk infused music deserved and the string and woodwind sections excelled with glorious oboe solos from Jonathan Small. One of the most enduringly popular works in all English music, Vaughan Williams The Lark Ascending was beautifully played by orchestra leader James Clark. Possibly as a result of the conductor's period performance background Clarke's use of vibrato was slightly more judicious than I expected but it was none the worse for that.
 Beethoven's Symphony No.6 'Pastoral' may be one of the most frequently encountered symphonies in the whole repertoire but it's a difficult work to pull off in the concert hall. Manze's thoughtful and engaging interpretation required a clean, clear string sound without overdoing the vibrato and beautifully blended woodwind with unruffled, colourful brass all combining to illumine the writing. Manze kept things simple eschewing any demanding challenging tempo selection and outlandish interpretative liberties. Especially notable was the opening movement 'Awakening of cheerful feelings of life upon arrival in the countryside' that felt as if Manze had opened the door to a bucolic Tyrolean vista. Compellingly evocative the 'Scene by the Brook' flowed genially and created an enchanting near dreamy mood. Throughout the silvery high strings excelled together with impressive individual and collective woodwind and brass contributions notably once again from oboist Jonathan Small and principal horn Timothy Jackson. I'm sure to hear more exciting performances of the 'Pastoral' Symphony but few as fresh and beautifully phrased with everything feeling so cohesive under Manze.
Michael Cookson