United Kingdom Léo Delibes, Coppélia: Russian State Ballet and Orchestra of Siberia/Alexander Yudasin (conductor) – Grand Theatre, Blackpool, 9.1.2015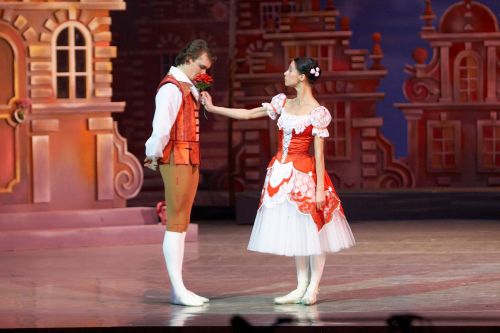 Principal Dancers:
Alexander Kuimov (Doctor Coppélius)
Yury Kudryavtsev (Franz)
Anna Fedosova (Swanilda)
Yana Tugaeva (Coppélia doll)
Daniil Kostylev (Burgomaster)
Anastasia Terenteva (Town celebrity)
Marina Volkova (The Fairy)
 
Production:
Choreography: Alexander Gorskey and Gennady Malkhasiants
Synopsis: Alexander Gorskey, revised by Gennady Malkhasiants
Sets and Costumes: Dmitri Tcherbadzhi
Artistic director: Sergei Bobrov
Music director: Anatoly Tchepurnoi
Technical director: Vitaly Mikhailov
I have seen ballets on various British stages but never at the renowned Grand Theatre, Blackpool – a theatre designed by Victorian theatre architect Frank Matcham. Of course there are far bigger stages than the Grand Theatre where ballets are regularly staged but having seen the musical 42nd Street there a few years ago I knew the stage would be perfectly adequate for the standard ballet troupe required for Léo Delibes's Coppélia.
Led by determined artistic director Sergei Bobrov the celebrated Russian State Ballet of Siberia has toured Britain around a dozen times. Not surprisingly on this 2014/15 tour the company is presenting four core works of the repertoire: The Nutcracker, Swan Lake and La Fille mal gardée and of course Coppélia. Formed in 1978 the Russian State Ballet of Siberia is based at the Krasnoyarsk State Opera and Ballet Theatre, Siberia. As well as the evergreen classics the Krasnoyarsk company has been the recipient of over 100 opera and ballet productions and under Sergei Bobrov is determined to continue expanding its repertoire.
From the option of a different ballet available at Blackpool on three consecutive nights I chose to attend Delibes's masterpiece Coppélia a ballet as magical today as it was when I first saw performed some decades ago as a child. Delibes based the score on a tale The Sandman by E.T.A. Hoffman and the ballet received its premiered at Paris in 1870. It's a comedy ballet full of amusing incidents, thrilling dance and adroit mime. Providing an escape from the serious rather melancholic romantic offerings of the day the Parisian audiences loved Coppélia and its popularity has rightly endured up the present day.
Cast in two acts the ballet centres around Franz who falls in love and wants to marry Coppélia who he sees reading all day on her balcony. Coppélia is actually a mechanical doll created by Doctor Coppélius who wants to bring her to life. Swanilda the fiancé of Franz is dismayed to see him throwing kisses at Coppélia. In an attempt to win the love of Franz, Swanilda decides to impersonate Coppélia, a ruse that is successful in the end.
Artistic director Sergei Bobrov kept the Coppélia staging simple, relying on a couple of colourful backdrops which in truth was all that was needed to function wonderfully well. Only the barest number of props was used on stage which again didn't seem to seem to matter a jot allowing the eye to focus solely on the fast moving action. It would be hard to imagine more vividly colourful costumes with designs so brilliantly detailed too.
Judiciously prepared the cohesive unison of movement and expression of the troupe was admirable throughout. Charmingly handsome and athletic looking the confident Yury Kudryavtsev gave a dazzling display in the role of Franz throwing off some expertly controlled leaps. It's a while since I saw a mimed performance as fine as that from Alexander Kuimov who played a decidedly stylish if somewhat creepy Doctor Coppélius. Exuding a natural confidence with a decidedly strong stage presence Kuimov's subtle yet highly effective hand and body movements, and facial expressions were quite compelling. Dancing with understated grace and elegance Anna Fedosova as Swanilda relished the part as did the assured Yana Tugaeva making an affectionate Coppélia doll. Conducting with assurance Alexander Yudasin's Siberian players gave their all with satisfying performance of Delibes's gloriously memorable score. Assisted by the theatre's impressive acoustic I especially enjoyed the wind playing and vibrant percussion even if the intonation of the strings seemed a touch awry.
In Coppélia the Russian State Ballet of Siberia provided many treasurable moments maintaining an elevated standard of performance. In short this was a wonderful winter evening's entertainment at the Grand Theatre, Blackpool and time just flew by.
Michael Cookson