United Kingdom Nicol and Stoll, The Drummer Boy of Waterloo: Jubilee Opera, Jubilee Opera Orchestra / Lee Reynolds (conductor), Jubilee Hall, Aldeburgh, 7.11.2015 (MH)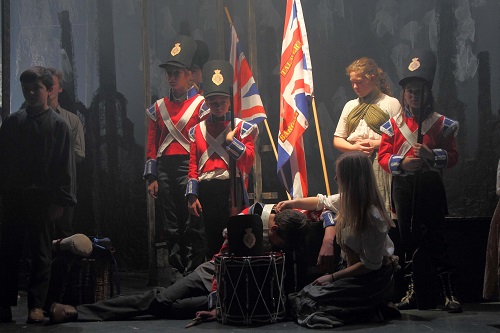 Nicol and Stoll, The Drummer Boy of Waterloo
Cast:
Young Edward: William Gidney (treble)
Older Edward: Theo Christie (treble)
Eldest Edward: Lucas Evans (treble)
Mr. Penny: Toby Garrington (treble)
Mary Drew: Madeleine Salter (soprano)
Mr. Lancashire: Peter Braithwaite (baritone)
Minor roles and Chorus : Jubilee Opera
Production:
Director: Lucy Bradley
Choreographer:  Kieran Sheehan
Designer: Claire Lyth
Lighting Designer: Ian Scott
The Jubilee Hall in Aldeburgh, Suffolk has become well known for staging the first performances of some well known operas. The premières of Britten's opera A Midsummer Night's Dream and The Little Sweep, William Walton's opera The Bear and Harrison Birtwistle's  Punch and Judy. Appropriate then, that the première of Jubilee Opera's  Little Drummer Boy of Waterloo by Megg Nicol and David Stoll should also première in this theatre. Marking the bi-centenary of the Battle of Waterloo, the opera was written for Children, with one adult in the cast. The first performance staged on Saturday 7th November, 2015.
Jubilee Opera is "An opera company dedicated to involving children and young people in the world of opera & music theatre".  Artistic Director, Jenni Wake-Walker enthusiastically steers this company in productions of the highest quality, where children work in a  professional environment where they may experience the best of music theatre & opera by participating.  Children from 12 Suffolk schools were involved in this production and musical preparation was undertaken in their out of school time with skilful tutoring by Jenni Wake-Walker, Ann Barkway, Mish Kelly and vocal coach Helen Cannell with Repétiteur Jonathan Rutherford.
The Company was originally formed in 1987 as a result of a production of Britten's Noye's Fludde in Aldeburgh Church. The local community were very enthusiastic and by 2007 the Jubilee Opera Chorus was launched to help  counteract the reduced importance placed on music in schools. The chorus has been able to provide a supporting role on several occasions at Snape Maltings, when visiting productions require a youth chorus; most recently in Massenet's Werther for English Touring Opera.
Originally built in 1887 and re-opening after refurbishment in 1960, the Jubilee Hall is surprisingly spacious and  provides excellent stage sight lines throughout. The under-stage orchestra pit is an added bonus. This production was open stage and set design (Claire Lyth) initially suggested a townscape ravaged by battle, using various gauzes and cut-outs, effectively lit (Ian Scott) with the use of hazers to enhance the atmospheric battlefield impression.
Essentially an ensemble opera, members of the chorus took on minor roles and even principal performers returned to the chorus after their scene, working together in telling the story of Edward Drew – The Drummer Boy of Waterloo. Having been indentured to a northern Mill owner when orphaned, Edward toiled for lengthy hours. However, he heard a musical beat in everything around him. He escaped the Mill to join the army as a drummer boy where he died serving King and Country under Wellington. A touching story of historical events in days gone by, most affecting when acted out here by a cast portraying mill children of their own age.
As an ensemble, the cast worked together well and were particularly effective chorally when set in static tableaux.  They handled scene changes and large props with aplomb  having obviously been well drilled by director – Lucy Bradley.
The principal role of Edward Drew was played by three children in succession, representing the young, older and eldest boy. Particularly memorable was  the cheeky chappie of Theo Christie who charmed with his full treble voice and boisterous portrayal; crisp of diction and clarity of tone.  This contrasted well with the more mature, melancholy Edward from Lucas Evans, whose skill on the drum carried him off to war, only to die on the battlefield. Mary Drew played by Mary Salter, was touching in her sentimentality as the Mother, touchingly using her youthful soprano.
The Mr. Penny of Toby Garrington was an appropriately rotund Mill Manager terrifying his young workers; very strong characterisation. There were a number of other cameo roles taken by members of the company and each gave a clear reading of their involvement in the story. The one performing adult in the production was impressive baritone Peter Braithwaite, playing mill owner Mr. Lancashire.  Clear diction and physical presence made him a fearful character who worked well with his youthful sidekick – mill manager Mr. Penny.
Additional praise must be given to those producing the numerous props and costumes, particularly the large cotton looms, the cart and soldier's uniforms . The cost of individual items being funded by local sponsors, was an ingenious way of involving the local community. The overall enthusiasm of all involved was apparent and certainly fulfilled the company remit to bring good quality performance opportunities to young people.
The music of  Nicol and Stoll was easy on the ear and very evocative of the action. The use of some folk melodies and dance rhythms ingeniously interwoven into what was essentially a sung through score. Both singers and orchestra were under the experienced baton of Lee Reynolds, who sympathetically guided the young singers through the changing emotions of the piece.
Opera in a theatre, traditionally, does not use any form of amplification. However, some of the young voices in this production were occasionally overpowered by the orchestra which was a pity. Treble voices on the point of breaking were especially susceptible in some solo sections. The use of plate or float mikes would have given some helpful ambient amplification making the enjoyable singing more audible. Costumes were impressive throughout, but most girls and women in the mill would have been wearing head scarves. However, it seems churlish to nit pick in what was a thoroughly enjoyable and worthwhile project.  Happily, the score has been taken by Novello & Co Ltd. and so both young performers & audiences across the country may soon have a chance to see The Drummer Boy of Waterloo. 
Martyn Harrison
Ed – We apologise for the delay in posting this review.