Germany Prokofiev, The Fiery Angel: Bayerisches Staatsorchester, Chor der Bayerischen Staatsoper, Vladimir Jurowski (conductor), National Theatre, Munich, 16.7.2016. (JMI)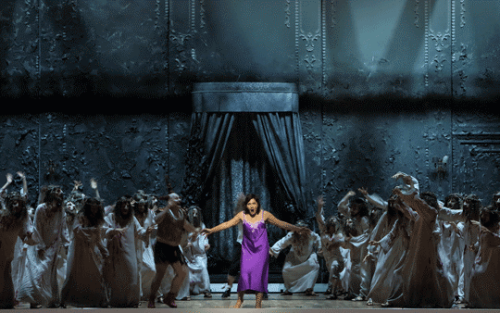 Production:
Direction: Barrie Kosky
Sets: Rebecca Ringst
Costumes: Klaus Bruns
Lighting: Joachim Klein
Cast:
Renata: Svetlana Sozdateleva
Ruprecht: Evgeny Nikitin
Inquisitor: Goran Jurić
Mephistopheles: Kevin Conners
Agrippa: Vladimir Galouzine
Hotel Manager: Heike Grötzinger
Fortune Teller: Elena Manistina
Abess: Okka Von Der Damerau
This Prokofiev work appears infrequently in opera house repertoires, and yet it always meets with success. That has definitely been the case in Munich, where The Fiery Angel had never been performed until this new production premiered a few months ago. The same thing occurred in Berlin a couple of years ago at the Komische Oper,
Barrie Kosky's works are always a guarantee of quality and imagination. If Benedict Andrews' production in Berlin seemed to me a real find, something similar can now be said of Kosky's. It's not easy to produce this opera with its mix of fantasy and reality, but Kosky's imagination overcomes any difficulties. The stage is basically the same for all five acts: a hotel suite, where the ceiling, furniture and walls move in each act to conform perfectly to the plot. The costumes are modern for the main characters and strange, imaginative and often fantastic for the others; in the last act, the nuns, somewhat shockingly, are dressed in white robes and wear beards and crowns of thorns, as if they were Jesus Christ. The lighting provides a good complement to the production.
Barrie Kosky's direction was magnificent. His work with Renata was outstanding (she doesn't leave the stage during the entire performance), and the Mephistopheles scene in particular was imaginative and amusing. In a period of so many staging abuses, it is all the more remarkable to have a director with a great imagination who still serves the music and text. No wonder that, breaking with the current trend, the production was received with loud bravos at its premiere.
The other outstanding asset of this production was Vladimir Jurowski's conducting. It is evident that Mr. Jurowski loves the music, and he gave us a spectacular performance, drawing a great sound from the orchestra, one of the brightest ever. The work of the chorus should also be highlighted: it was superb in the last act.
As in Berlin, Renata was sung by Russian soprano Svetlana Sozdateleva, whose stage incarnation was impressive, and marked by a rare identification with the character. She basically doesn't leave the stage and has a great deal to sing in a part that is far from easy. Ms. Sozdateleva was admirable, although vocally she is often tight and her voice does not have a great beauty.
The other main character of the opera, Ruprecht, was played by Russian baritone Evgeny Nikitin, who was quite convincing on stage. I did have the impression, as happened when he sang Telramund in Lohengrin, that he is not at his best in vocal terms. .
The other characters are less important but were very nicely covered. Goran Jurić was a sonorous and well-cast Inquisitor; Kevin Conners was a fun Mephistopheles, a remarkable actor and singer. Vladimir Galouzine portrayed Agrippa, and his voice does not flow with the ease of earlier times. There were strong performances from Heike Grötzinger as Hotel Manager, Elena Manistina as Fortune Teller, and Okka von der Damerau as Abbess.
José M. Irurzun