Spain Various composers: Bryan Hymel and Irini Kyriakidou, Julius Drake (piano), Iglesia del Carmen, Peralada, 5.8.2016. (JMI)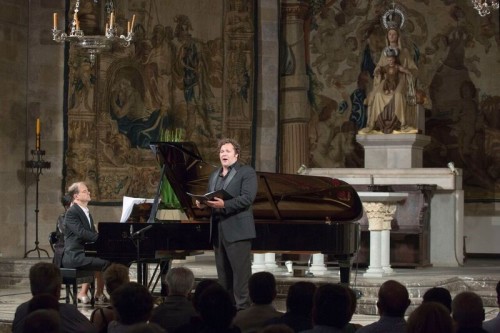 Now in its 30th year, the Festival de Peralada continues its successful programming of concerts, one or two operas with international figures, and some modern music. It has become a kind of must-see event in this part of the country and draws large numbers of spectators to the Peralada Castle gardens. The festival began a few weeks ago with an opera gala full of stars, followed by concerts in the church that have featured famous singers, such as Olga Peretyatko and Anita Rachvelishvili.
This concert was not particularly successful. It had been announced as a concert by Bryan Hymel, and it was only upon reaching the church that one discovered the program included Hymel's wife, Irini Kyriakidou. Nowadays, singers often include their partners in programs, as in the case of Anna Netrebko and her husband, Yusif Eyviazov, or Diana Damrau and her husband, Nicolas Testé. Obviously, one understands the desire of the artists to do so, but it's not always is easy to understand why organizers accept it. Generally these pairings don't add any special appeal for the opera lover, and this occasion was no exception.
The concert consisted of two parts. The first was too short, and the choice of pieces by the singers was unfortunate. Bryan Hymel began with 4 Hymns for Tenor by Ralph Vaughan Williams, and his interpretation was somewhat bland. It wasn't helped by the fact that he performed with the score which always lessens a singer's expressiveness. Irini Kyriakidou then sang three poems from Les Nuits d'éte by Hector Berlioz, rather monotonously and in hard-to-understand French.
The second part was devoted to opera, and the audience seemed more pleased although there was not great enthusiasm. Bryan Hymel sang "Ah, lève-toi, soleil!" from Gounod's Romeo et Juliette and "Addio alla Mamma" from Mascagni's Cavalleria rusticana. In both arias he showed an attractive but not particularly large voice and somewhat monotonous singing. He ended with a pleasant rendition of the "Flower Song" from Carmen. Ms. Kyriakidou offered a rather unconvincing version of "Song to the Moon" from Dvořák's Rusalka.
Finally, the two performed the duet of Don José and Micaëla from the first act of Carmen, where they did not particularly shine.
As encores, Hymel sang Jean's aria from Massenet's Hérodiade, where he exhibited some dirty sounds at the bottom of the range and an endless final note. He finished the concert with a correct "Nessun Dorma." As for Irini Kyriakidou, she sang an impersonal "O mio babbino caro."
They were very nicely accompanied on the piano by Julius Drake.
José M. Irurzun