United Kingdom Bizet: The Pearl Fishers (Les pêcheurs de perles): (sung in English, with surtitles): Cast, Chorus & Orchestra of English National Opera / Roland Böer.(conductor), London Coliseum, 19.10.2016. (CC)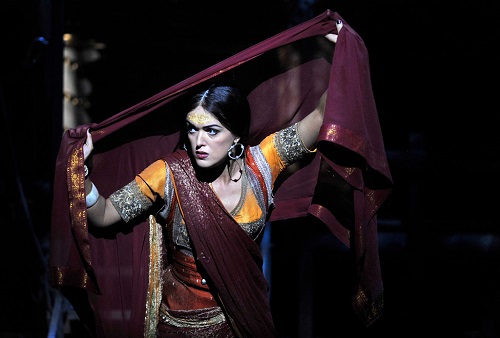 Cast:
Zurga – Jacques Imbrailo
Nadir – Robert McPherson
Leïla – Claudia Boyle
Nourabad – James Creswell
Production:
Director – Penny Woodcock
Set Designer – Dick Bird
Costumes – Kevin Pollard
Lighting – Jen Schriever
Revival Lighting – Ian Jackson-French
Movement Director – Andrew Dawson
Video design – 59 Productions
Returning for its second revival, Penny Woodcock's production of Bizet's The Pearl Fishers continues to impress for its sheer theatricality, despite a surfeit of dry ice towards the close. The score is so much more than the famous duet ("Au fond du Temple saint" in the original French, and what it is mainly known for) and, once heard, it continues to come back over and over again – including in one's own head long after the opera has actually finished. For it, you need three things: great singers and a great orchestra. Actually it was the orchestra that came closes to that requirement: ENO's pit band was in fine fettle throughout the evening, with German conductor Roland Böer, last seen in charge of Peter Konwitschny's Traviata in 2015. The ENO Chorus, the jewel of ENO's crown, was likewise on top form, lusty when needed, prayerful and supplicatory at others. After all, this "Sri Lankan" settlement with Hinduist leanings is completely at the mercy of the elements, and the attendant weather deities. The opening of Act 3 is rather surprisingly set in what might be a warehouse.
And it is the portrayal of the elements where the production is at its finest (with the exception of that dry ice). The balletic divers of the opening, the tsunami-like, village-destroying catastrophes projected between scene changes, were magnificent, all of them. Water plays a huge role in this opera; a roiling sea is at one point depicted onstage by surprisingly effective sheeting, while it dominates the video trickeries. Poor old Princess Leïla (here Claudia Boyle, a singer who made her debut as Mabel in Mike Leigh's 2015 Pirates of Penzance). Leïla is drafted in to sort out the demons of the deep and ward off the spirits of the storm, no easy job in this particular climate. Not least because she is one third of a distracting love triangle, with Zurga (baritone Jacques Imbrailo, making a memorable ENO debut) and Nadir (tenor Robert McPherson, last seen as Tamino in ENO's 2012 Magic Flute).
There are, in fact, only four main roles here (the fourth being the High Priest Nourabad, played by the experienced American bass James Cresswell). Four equally strong singer/actors is what is required, but in the event they were rather uneven. Clear top of the pile was South African Jacques Imbrailo's strong voiced and strongly-characterised Zurga. A former Jette Parker Young Artist at the Royal Opera House (and winner of the Audience Prize at BBC Cardiff Singer of the World), Imbrailo has a voice full of heft coupled with great dramatic presence. In short, he is believable, and that is saying something in this opera. James Creswell's experience showed through without doubt for this wonderfully focused (in a vocal sense) assumption of the High Priest Nourabad.
There seemed to be something of a dividing point here as far as the casting was concerned. Robert McPherson's Nadir was vocally uncomfortable, and his stage presence and acting were approximately equivalent. The pronounced feeling that this was more of a provincial, bleaty voice rather than one destined for the international stage was undeniable at every juncture. Unfortunately. Irish soprano Claudia Boyle began rather shakily; there seemed, initially at least, to be a direct correlation between McPherson's vocal reediness and her instability. But she found her feet as the opera progressed and she looked the part of pined-for Princess, too, beautiful and mysterious.
Böer kept the chorus and orchestra wonderfully together for the most part; they both clearly admire him. In terms of sheer beauty of orchestral; sound, there was much to enjoy here, so much so that in Act 2 he nearly stole the show from Boyle. Jan Schriever's lighting (revived here by Ian Jackson-French) is particularly impressive in the nocturnal scenes.
There was a worrying exodus at the interval, as the auditorium was decidedly more sparsely populated for Act 2 onwards. Also, I do wonder when ENO decided to allow drinks into the auditorium? In Act 1 the smell of red wine from the person next to me's glass was rather overpowering, while in Act 2, the lady in front's heavily iced G&T or whatever was tinkly at every randomly-timed, and quite frequent, swig. Exotic percussion makes sense in this opera, but not this type, surely. …
That aside, a decidedly mixed evening, musically and dramatically. Bizet's score is far finer than received wisdom might imply, but it might have been difficult to fully appreciate that if this was one's first acquaintance with the score.
Colin Clarke