United Kingdom Arnold, Brahms, J.S. Bach, Shostakovich, Howells, Horowitz, Nightingale – Onyx Brass: Niall Keatley, Alan Thomas (trumpets), Andrew Sutton (horn), Amos Miller (trombone), David Gordon-Shute (tuba), plus RWCMD Brass: Joshua Barber, Benjamin Day, Corey Morris, Jac Thomas (trumpets), Fiona Bassett, Matthew Jackson, Victoria Scanlon, Alys Jones (horns), Amy Harding, Joseph Arkwright, Nicholas Macdonald (trombones), Lloyd Pearce (bass trombone), Iolo Edwards, James Harrison (percussion), Jemma Sharp (timpani), The Dora Stoutzker Hall, Royal Welsh College of Music and Drama, Cardiff, 7.10.2016. (GPu)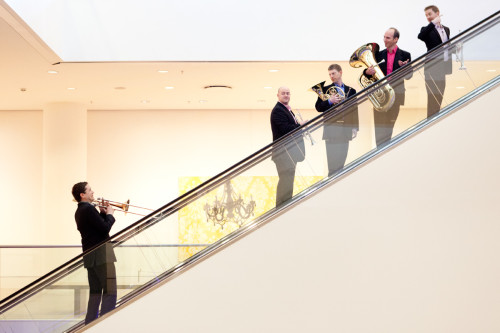 Malcolm Arnold: Farnham Festival Fanfare
Johannes Brahms, arr. James Maynard: Intermezzo in E flat No.1. Opus 117
J.S. Bach, arr. David Gordon-Shute: Fugue in A flat major BWV 862
Shostakovich, arr. Brian Thomson: Fugue No. 17 Opus 87
Herbert Howells: Fanfare for Schools
Joseph Horowitz: Music Hall Suite
Mark Nightingale: Song for Rosie
 This was a Friday lunchtime concert. The days immediately before had given me two profound musical experiences – searing performances of Shostakovich's Eighth Quartet and the Grosse Fuge by the Brodsky Quartet in the Swansea Festival and Llŷr Williams' all-encompassing account of the Diabelli Variations in this same hall in Cardiff. But there is room (and perhaps a necessity?) for other kinds of musical experiences too. Of, for example, a concert like this one, in which the musicianship was of a similarly high order, but the emotional intensity was rather less, where there is a simpler joy, a sense of sheer 'fun', but in which the mind finds serious engagements too. Onyx Brass provided the perfect experience to round off a well-nigh perfect musical week for me.
Here was accomplished musicianship which offered sophisticated 'entertainment' (let's not be embarrassed by the word), presented in a relaxed and engaging manner which, at one and the same time, stimulated the foot to tapping and the mind to thinking.  There was 'public', oratorical music (Arnold, Howells), there was emotionally involving music (Brahms), elaborately structured music (Bach, Shostakovich), witty music (Horowitz) and a world premiere (Nightingale).
The five musicians who make up Onyx Brass are not only gifted and accomplished musicians – the group having existed for some 23 years it is not surprising that their ensemble work is perfect. But, as a group, they also have an immediately engaging stage presence, serious but also humorous and unpretentious. (Why is it that, as a class, brass players have a much better sense of humour and superior comic timing when talking to an audience than, any other kind of instrumentalists?). Onyx Brass clearly care passionately about the repertoire for their instruments, constantly commissioning new works (such as the piece by the jazz trombonist Mark Nightingale, which is one of a number commissioned from jazz composers for a forthcoming CD) and also reviving older 'forgotten' works. But for all that, one's sense is that this is an ensemble committed to music, not just to any specific genre or narrow area of repertoire.
We began with a fanfare by Malcolm Arnold, written for the first Farnham Festival in 1961 and then lost and forgotten about. It was only rediscovered a few years ago and we were told that this was "the first performance … for well over fifty years". Onyx Brass have assembled a number of such 'lost' fanfares and in 2017 will be putting together a CD for Chandos. The fanfare by Herbert Howells later in the concert programme forms part of the same recording project. For the performance of these two pieces, the Quintet were joined on stage by fifteen students from the Brass department of the Royal Welsh College – and what rousing and enjoyable performances they were! I don't know how much rehearsal time the resulting 20 strong ensemble had had before performing this unfamiliar music, but the results were impressively professional (and testimony to the good work going on in the College).
After the declamatory music of Arnold's Fanfare, the mood and manner shifted. The student musicians left the stage and Onyx Brass played an arrangement of an intermezzo by Brahms in a beautiful arrangement by James Maynard, especially lovely in its tender middle section and its conclusion full of mounting tension. More 'intellectual' (though not in any forbidding sense) were the fugues by Bach and Shostakovich, in arrangements by, respectively, tuba player David Gordon Shute and trumpeter Brian Thomson (both associated with Onyx Brass). Both arrangements were recorded by the group on their CD Bach and Shostakovich: Fugues (Chandos 10462). Both arrangements are thoroughly attractive. That of the Bach, in which the first trumpet has a prominent role, entertains and stimulates the mind in the way instruments drop out and return (not always at points one had expected). I mean no disrespect to a great composer when I say that I enjoy listening to Brian Thomson's arrangement of Shostakovich's Opus 87 No. 17 more than I do to the original for piano; the greater variety of timbres makes the fugal structure easier to follow, and there are some delightful passages of interplay between the two trumpets and the horn.
After Howells' brief Fanfare, the concert closed with two more works, one 'old' and one new. The Music Hall Suite by Joseph Horowitz (born 1926), in five movements, was written c. 1963/4. Onyx Brass had in their repertoire when they started out but had not played it for some time. It was a nice gesture to revive it in honour of the composer's 90th birthday – and for the pleasure of their audience. From the playfully ironic 'Soubrette's Song', through the flashy risk-taking of 'Trick-Cyclists', the loucheness of 'Adagio Time' and the subtle  rhythms of 'Soft Shoe Shuffle' to 'Les Girls', bright and sassy music for a chorus line, this suite offers delight after delight. Anyone who has encountered other works by Horowitz will know how well-crafted and wittily elegant his writing is (I am thinking of his Jazz Harpsichord Concerto and his Dong With A Luminous Nose for brass band) and they would have found the same virtues in this captivating suite. We ought to hear more of Horowitz (outside Brass Band circles) and more of his music ought to be available on CD.
Mark Nightingale, who belongs to a much younger generation than Horowitz (he is, I think, in his late 40s), is widely recognized as one of Europe's finest jazz trombonists –  if you haven't heard him, try his CD What I Wanted To Say (Mons MR 874-763), a quartet recording with Dado Moroni, Ray Brown and Jeff Hamilton. He is also a skilled composer and arranger for many different kinds of ensemble. For Susie is dedicated to Nightingale's daughter and the writing oozes affection as it celebrates youthful beauty and innocence. It is a very well-made piece, with fine writing, especially, for muted trumpets in its opening pages and a charming solo for the horn. When Onyx Brass produce their promised CD of compositions by jazz musicians, For Susie will, I am confident, stand up well alongside works by such as Gwilym Simcock, Jason Rebello and the late Kenny Wheeler. (I wonder if the late John Taylor also contributed a piece to the collection?)
So, for me, a perfect conclusion to a wonderful week of music. And, I should add, clearly very much enjoyed by the rest of the audience too. Indeed with musicianship of this quality, well-chosen and various repertoire and warm engagement with the audience, it would be a mean-spirited listener who didn't enjoy a concert such as this by Onyx Brass.
Glyn Pursglove