Germany Puccini, Tosca: Orchestra, Chorus and Kinderchor of the Deutsche Oper / Ivan Repušić (conductor), Deutsche Oper, Berlin, 15.11.2016. (JMI)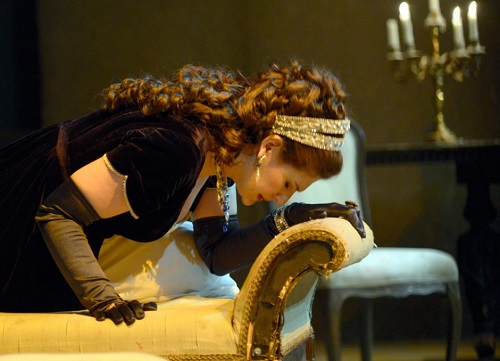 Cast:
Tosca – Anja Harteros
Cavaradossi – Jorge De León
Scarpia – Lucio Gallo
Sacritan – Seth Carico
Angelotti – Ben Wager
Spoletta – James Kryshak
Sciarrone – Alexei Botnarciuk
Jailer – Dong-Hwan Lee
Shepherd – Wiebke Friedrich
Production:

Director – Boleslaw Barlog; Gerlinde Pelkowski (revival)
Sets and Costumes – Filippo Sanjust
My trip to Berlin has come to an end with this Tosca starring Anja Harteros. It has to be difficult to always perform at an exceptional level, like the one offered by Ms. Harteros as Tosca in Munich last July. The rest of the Munich cast and the conductor were truly superb, and this always helps a singer give the best of herself. That was not the case here: it was a good Tosca but not the extraordinary evening that one expects from a great singer like Anja Harteros.
The Deutsche Oper once again staged the Boleslaw Barlog production, which has now been performed an impressive 381 times. I've reviewed it several times, and my opinion is basically unchanged (review).
The musical direction was under the baton of Ivan Repušić, a frequent presence in the Deutsche Oper pit. Unfortunately, his conducting had to fight with my memory of Kirill Petrenko leading Tosca so brilliantly last summer. Ivan Repušić's reading was adequate and perfectly correct, although there was some excess volume. The Deutsche Oper Orchestra, Chorus and Kinderchor all performed well.
Anja Harteros made her debut in this role at the Deutsche Oper almost four years ago. I was fortunate enough to attend those performances, and was dazzled by her Tosca in every possible way. I was even more taken by her Tosca in Munich a few months ago. But this time, although she gave a remarkable performance, she didn't reach the amazing heights of the earlier occasions. She lacked chemistry with her Cavaradossi, didn't relate as well to the audience, and even vocally was less sensational, but she is still a great Tosca. Although my comments are subjective, I noted that the applause after her 'Vissi d'arte' lasted half as long as in 2013.
Jorge de León was Cavaradossi, and his voice could not be more appropriate to the character: attractive and bright, as few tenors are nowadays. However, his interpretation could have used more nuance, and he took refuge in open sounds. I was surprised with the wide vibrato he exhibited at the beginning of the opera, especially in 'Recondita armonia', which was then partially corrected. His interpretation of 'È lucevan le stele' was unconvincing, but he was at his best in 'Vittoria, vittoria' in Act II.
Baritone Lucio Gallo replaced Falk Struckmann at the last minute. Gallo was an excessively vociferous Scarpia, the opposite of what Bryn Terfel offered earlier in the part. Obviously, he has a voice well suited to the character, but the evil Scarpia needs more elegance and nuance.
The Sacristan was again played by Seth Carico, who has a rather light voice for the role. Ben Wager also repeated as Angelotti and, as earlier, he was somewhat modest in vocal terms. James Kryshak as Spoletta was appropriate vocally but extremely exaggerated on stage.
José M. Irurzun