United Kingdom Beethoven – Fidelio (semi-staged performance): Soloists, Simon Williams and Helen Ryan (narrators), London Voices, London Philharmonic Orchestra / Vladimir Jurowski. Royal Festival Hall, London 21.1.2017. (JPr)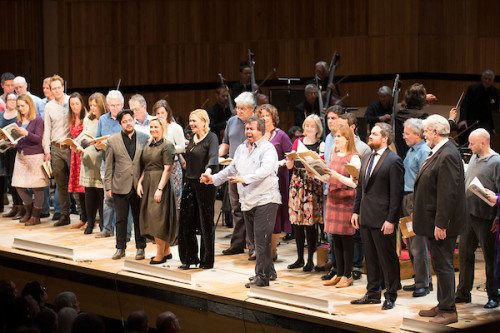 Cast:
Leonore – Anja Kampe
Florestan – Robert Dean Smith
Marzelline – Sofia Fomina
Jaquino – Ben Johnson
Rocco – Kristinn Sigmundsson
Don Pizzarro – Pavlo Hunka
Ronan Collett – Don Fernando
Staging:
Daniel Slater – Director
Max Johns – Designer
Malcolm Rippeth – Lighting Designer
The Southbank Centre launched its new year-long Belief and Beyond Belief festival with this performance of Beethoven's only completed opera, Fidelio. There seems no great evidence that the composer was devoutly religious however he lived through the time of the European Enlightenment and the Industrial Revolution and – more significantly for him – the American and French ones. I suspect he was in favour of the ideals of both of these but would have deplored the loss of life involved. The French revolutionary leaders encouraged a direction for opera towards telling the stories of heroes resisting oppression – they were called 'rescue operas' – and Fidelio is one of those. In Beethoven's Heiligenstadt Testament – the 1802 letter to his brothers – he writes about deafness, solitude and that he may never fulfil his artistic destiny. Following on from this, Fidelio could be considered a musical 'testament' by the composer of his personal philosophies about moral behaviour, human freedom and the struggle against oppression and corruption in society, as well as the faithfulness (possibly imaginary) of a woman – his 'immortal beloved'. Just like the Heiligenstadt Testament a few 'love letters' were only discovered after Beethoven's death in 1827. It took Beethoven almost 10 years to complete Fidelio and it encompasses everything he believed in and wanted to fight against and so was perfect for this festival.
Fidelio has its origins in a French libretto Léonora, ou L'amour conjugal and tells the story of Leonore, and her husband, Florestan, who is being illegally held in a prison. She disguises herself as a man, Fidelio, in order to get a job there in an attempt to save him. This depiction of a woman's faithfulness, courage and resilience is also a potent image for 2017. In its various versions it went from three acts to two, its title was changed and it had four separate overtures. We are left with what should be something one step beyond Mozart's masterpieces on the operatic road to Wagner. That it should be considered 'proto-Wagner' is also confirmed by that composer's own fiction (which seemed to be accepted as fact in a programme note) that he once saw the soprano Wilhelmine Schröder-Devrient as Leonore when he was just 16! Whatever Wagner saw her in first, she became his muse from then on and went on to create a number of roles for him.
It is clear that Beethoven was never quite satisfied with Fidelio, and what he left us is probably more of a cantata than a fully-fledged opera. There are many clunky transitions in the piece which segment the drama into individual 'numbers' cemented by the use of dialogue. In Act I for instance we find the Jaquino/Marzelline duet, Marzelline's aria, a quartet, Rocco's 'gold' aria, a trio, a march, Don Pizarro's 'vengeance aria', another duet, Leonore's big scena, a chorus for the prisoners ('O welche Lust') and the finale. In Act II, there is Florestan's scena, Fidelio and Rocco's gravedigging duet, another trio and finally a dramatic quartet when Pizarro nearly despatches Florestan. All this is followed by a trumpet call after which our hero and heroine are saved when Minister of State, Don Fernando, arrives to joy and relief all round and the chorus sings Leonore's praises. It is actually Beethoven's vision of love and justice that triumphs in the end, pointing as it does – if a tad optimistically – to a much better future in a much better world. This was perfect to experience again given the current state of the world!
Dialogue always seems to be an issue in concert performances of opera and is more often left out or – as here – replaced by a narration. I was intrigued to learn by reading the programme that Arturo Toscanini once conducted a Fidelio in 1951 without any spoken text. Hindsight being the wonderful thing it is, how much better it would have been if Vladimir Jurowski had replicated that and not – I assume – collaborated with the director, Daniel Slater, on his 'kind of narrational dialogue'. What is intellectually engaging to one person can be meaningless twaddle to someone else. I know what I felt about what we heard somewhat hesitatingly delivered by two veteran actors, Helen Ryan and a rather croaky Simon Williams. There was much initially about 'hope', 'castles in the air', 'love', 'hate', 'man', 'women' etc. Don Pizzarro is as nasty as he is because he was not loved as a child and was compared to Napoleon, Stalin, Saddam Hussein and Adolf Eichmann. Rocco's 'Well said, my son' which we read in the surtitles had been preceded by a discourse about how Leonore was 'in her dark room' after Florestan's disappearance 'with walls closing in'. Those in the audience who had not read the synopsis or knew the opera would have had no idea what was going in in between most of the musical numbers. By the time there was a lengthy passage about 'hopian' – the Anglo-Saxon derivation of the word 'hope' – I was beginning to lose the plot in more ways than one!
Daniel Slater's semi-staging was also rather strange as Act I saw us watching a 'rehearsal' of Fidelio with musicians and singers in their ordinary clothes. A production team table and a rack of costumes were to the rear of the orchestra with all the singers involved sitting on chairs. A further table was at the front to sit at and for Marzelline to do her ironing on! While Marzelline was singing her aria 'O wär ich schon mit dir vereint', Anja Kampe ('Fidelio') was distracting us at the back by putting a waistcoat on, tying her hair back and donning a cap before meandering forward to sing. Then for some reason after the interval all this extraneous paraphernalia was removed, the orchestra and narrators were in their formal concert wear and Florestan was in full costume with handcuffs. I totally agreed with 'everyman' I overheard at the bus stop at the end of the evening who loudly said 'The second half was a vast improvement on the first!'.
Ben Johnson was ideal for the lovelorn Jaquino, though Sofia Fomina did not sound entirely at ease as Marzelline. Kristinn Sigmundsson was a fine – and particularly avuncular – Rocco; he negotiated the part with great musical skill and with some wonderful sonority from his bass voice. I don't think he has ever sung Hans Sachs but when he sang about the King's name day in Act II it sounded as if the role would be in his voice. As Don Pizarro, Pavlo Hunka was the late replacement for an indisposed singer so cannot be criticised too much, but he sounded rather uncomfortable and lacked dramatic authority. Ronan Collett was benign and noble as Don Fernando and Richard Edgar Wilson – a member of the excellent London Voices who sang with great feeling – was a notably refined First Prisoner.
As Fidelio/Leonore we heard Anja Kampe in what is one of her signature roles. She is a compelling performer and throughout this staging was totally involved with the 'arc' that her character goes through. She can colour her voice with considerable expressivity, but it seems more dramatic mezzo than soprano. Her key aria 'Abscheulicher! … Komm Hoffnung' was approached very carefully and the top of her voice was tight and constricted. I am surprised to see she will be making her debut as Brünnhilde at the forthcoming Salzburg Easter Festival.
The whole evening was raised to another level with Florestan's first utterance 'Gott! Welch' Dunkel hier!' from Robert Dean Smith – another who was stepping in for a previously announced singer – this was exactly the cry of anguish it should be as Florestan bemoans his likely fate while putting his trust in God that Leonore may yet come to save him. This is a fiendishly demanding role and I have been present when it has challenged some of the greatest heroic voices over past decades. Robert Dean Smith had commendable power, heft and lyricism and his Florestan was more riveting and illuminating than any I can remember.
The London Philharmonic Orchestra – as they always do – played well, but nevertheless sounded as though they might have benefited from one more rehearsal. Under Vladimir Jurowski there was a lack of dramatic impulse at times to Act I but this improved after the interval. Their playing got better and better, with Julliette Bausor's eloquent flute particularly prominent. The LPO gave such a highly-charged account of Leonore No.3 between the scenes in Act II that its triumphant conclusion deservedly drew thunderous applause from the audience, many of whom, I'm convinced, believed it was the end of the opera.
Jim Pritchard
For more events at the Southbank Centre visit https://www.southbankcentre.co.uk/.