United States Tchaikovsky, Eugene Onegin: Soloists, Lyric Opera of Chicago / Alejo Perez (conductor), Civic Opera House, Chicago, 4.3.2017. (JLZ)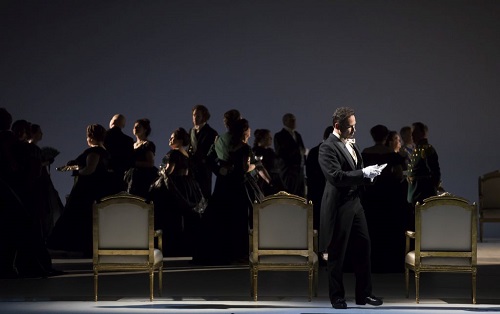 Cast:
Onegin – Mariusz Kwiecień
Tatiana – Ana María Martínez
Lensky – Charles Castronovo
Olga – Alisa Kolosova
Larina – Katharine Goeldner
Filipyevna – Jill Grove
Gremin – Dmitry Belosselskiy
Triquet – Keith Jameson
Captain – Takaoki Onishi
Zaretsky – Patrick Guetti
Production:
Conductor – Alejo Perez
Original Director – Robert Carsen
Revival Director – Paula Suozzi
Designer – Michael Levine
Lighting Designer – Christine Binder
Chorus Master – Michael Black
Choreographer – Serge Bennathan
For its final opera of the 2016–2017 season, Lyric Opera of Chicago revived a Robert Carsen production mounted in the 2007–2008 season, and with its outstanding cast, this Eugene Onegin is even more powerful than the previous one.
In the title role, Mariusz Kwiecień embodied the character, and even though it was announced that he was ill, Kwiecień's rich baritone was focused and precise. In the first-act Finale with Tatiana, Kwiecień gave a note-perfect reading, and in the second-act argument with Lensky was realistic in Tchaikovsky's short melodic fragments, with a similar touch to the final scene. His Onegin was truly a tragic figure, full of musical intensity.
As Tatiana, Ana María Martínez brought elegance, lyricism, and passion, including an outstanding first-act "letter aria." The impetuous and hesitant adolescent manners she used in her acting were evident vocally, in her increasingly stronger emphases, revealing her character's resolve. Martínez made the metamorphosis implicit in the libretto palpable in sound and gesture – a masterful performance. In the third act Martínez exuded polish and grace as Princess Gremin, with nuanced vocal asides that showed her apprehension in dealing with Onegin. The final scene with Kwiecień was a tour-de-force.
Charles Castronovo was similarly convincing as Lensky, and made the second act his own. A polished exchange with Kwiecień (arguing over Olga) was followed later by the soliloquy before the tragic duel, the latter with consummate energy. Castronovo built the scene phrase by phrase, an extraordinary interpretation that produced spontaneous and sustained applause.
Lyric had strong performers for each of the other roles. In her American debut, Alisa Kolosova was a strong Olga. Likewise, Katharine Goeldner was engaging as Madame Larina, and Jill Grove made Filipyevna a robust presence in all her scenes. As Prince Gremin, Dmitry Belosselskiy was commanding in his aria in praise of his wife Tatiana. (Chicago audiences may recall Belosselskiy as Zaccaria in Verdi's Nabucco during the 2015–2016 season.)
Beyond the principals, the Lyric Opera Chorus was a hearty part of this production, with the first-act harvest scene resonantly articulated. The second-act polonaise was equally memorable, with the choral timbre shifting to reflect the more elegant ball scene. Michael Black's leadership is evident in the polished singing that made these scenes linger in memory.
Supporting all of this, Lyric's Orchestra gave a polished reading of the score, with acclaimed Argentine conductor Alejo Perez in his first appearance in the United States. Perez allowed dynamic interplay between the instrumental passages and the vocal ones, with seamless transitions. Potent brass and rich string sonorities were just some of the highlights in one of the finest productions Lyric has offered in recent years.
James L. Zychowicz