United States Mozart, Le nozze di Figaro: Soloists, Chorus, and Orchestra of Opera Philadelphia / Corrado Rovaris (conductor), Academy of Music,, Philadelphia, 7.5.2017. (BJ)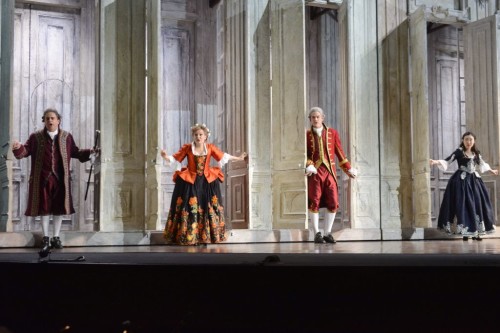 Cast:
Figaro – Brandon Cedel
Susanna – Ying Fang
Bartolo – Patrick Carfizzi
Marcellina – Lucy Schaufer
Cherubino – Cecelia Hall
Count Almaviva – John Chest
Don Basilio & Don Curzio – Jason Ferrante
Countess Almaviva – Layla Claire
Antonio – Thomas Shivone
Barbarina – Ashley Milanese
Bridesmaids – Maren Montalbano & Amy Spencer
Production:
Director – Stephen Lawless
Set & Costume Designer – Leslie Travers
Lighting Designer – Thomas Hase
Wig & Make-up Designer – David Zimmerman
Chorus Master – Elizabeth Braden
Assistant Director & Choreographer – Eric Sean Fogel
Stage Manager – Diane Lin
Co-produced with Lyric Opera of Kansas City, San Diego Opera, and Palm Beach Opera, Opera Philadelphia's new Le nozze di Figaro is not Stephen Lawless's first go at directing this greatest of all operas. I saw his earlier take on the work six years ago in Portland, Oregon, and praised it highly in these virtual columns, noting with approval Portland general director Christopher Mattaliano's comments in the program book. He outlined his company's determination to combine the obviously "downright hilarious" elements of the work with the "profound insight, humanity and sympathy" with which Mozart's music portrays the characters, and the "deeply moving" character of the resulting opera.
In this new presentation, the hilarity is undimmed, while much of the profundity remains in place. One advantage of Lawless's current revisit is the possession of superbly attractive sets and costumes by Leslie Travers, though I have to say that this advantage also has its down sides. It was a good idea – obvious enough when you come to think of it – that all of the Count's house staff members, Figaro included, are dressed in the handsome Almaviva livery. And when the curtain rose, just before the end of the overture nimbly played under Corrado Rovaris's baton, the first stage picture that greeted us, with footmen lighting up the candelabra in front of an elegantly detailed silvery-gray facade, was very beautiful.
The set, on the other hand, was susceptible of all kinds of reconfigurations, and Lawless's eagerness to profit from its flexibility led him not only to indulgence in lots of door-openings-and-closings that suffered from the usual diminishing returns attendant on excessive repetition, but at one point to perpetrating a moment of egregious silliness. Early in Act III, the Countess declares herself anxious to know how her husband responded when Susanna told him she was willing to meet him in the garden – but in the first scene of the act, the director had been unable to resist using the interconnectedness of various parts of the set to let her listen in on that conversation, so that her apparent ignorance of its result makes no sense.
For much of its length, however, the production duly made the most of the opera's comic propensities, as was evident in the frequently audible mirth of the audience's response. Happily, this was achieved without any damage to more serious aspects. And when in the final scene – which features, despite its secular context, the greatest sacred music Mozart ever wrote – the Count bowed his head on his wife's bosom in begging her forgiveness, only a churl could have been unmoved. We laughed, in other words, and we wept at all the right places.
A few jokes went almost unnoticed, partly for musical reasons. In the Act I imbroglio of concealments, Basilio's delicious repetition of "What I said about the page was purely my own suspicion," just after the said page [Cherubino] has been revealed, could have been more effectively balanced. When Figaro sang his "Aprite un po' quegl'occhi," it was clever to have him shine a lantern out at the audience, leaving no doubt where a sufficient supply of "uomini incauti e sciocchi" might be found (though it was a pity Mr. Lawless got too fond of the effect and went on to overdo it, with the consequence once again of diminishing returns). But excellent as the orchestral playing was for most of the afternoon, the horns' wordless depiction of cuckoldry at the end of the aria didn't emerge from the general texture with sufficient vividness.
One or two scenes were unconvincingly staged, notably a letter duet for the Countess and Susanna that missed its gentle yet pithy comedy. (When Elisabeth Schwarzkopf and Marilyn Tyler sang it in a Holland Festival production in the 1960s, in the fourfold repetition of "il capirà" near the end of the duet, they produced a lovely effect by making the third appearance of the phrase interrogative and the fourth reassuring.) The manner of the Count's final discomfiture was obscured when the Countess appeared in the middle of the stage (not "from the other niche," as the stage direction requires), at a spot that the Count wasn't even looking at. But the Act III sextet revealing Figaro's parentage – reportedly, Mozart's favorite number in the whole opera – was brilliantly carried off, with a nice directorial touch in the revealing of Figaro's and Marcellina's matching birthmarks.
Given the fundamentally sexual basis of the story, there was a certain appropriateness to the idea of having a bed dominate the stage, with characters tearing their clothes off at the drop of a hint, and every turning-point in the plot greeted by a corresponding turning down of the bedclothes. But Susanna's sublime "Deh vieni, non tardar" as a striptease? – please, no! I remember a Metropolitan Opera Figaro back in the 20th century, directed by no less a luminary than Luchino Visconti, that made a similar point in subtler fashion: when the curtain went up for the first scene, we were confronted with the sight of a gigantic armoire, its shelves open to reveal huge piles of sheets.
It is, you may be thinking, high time for comment on the music, and in this regard the performance was largely triumphant. With strong orchestral and choral support under Maestro Rovaris's and Elizabeth Braden's leadership, the soloists provided some highly accomplished singing. I thought the star of the cast was the Figaro, in which role Brandon Cedel proved to be a superb singing actor, with a baritone voice at once sumptuous and finely focused, though a few of his high notes, both in "Se vuol ballare" and in "Non più andrai," were good approximations rather than bull's eyes. His Susanna was Ying Fang, who was also dramatically convincing, and who sang a perfectly ravishing "Deh vieni" despite the visual shenanigans the director had foisted on her.
As Cherubino, Cecelia Hall was more impressive dramatically than vocally. Ashley Milanese made a fetching Barbarina, Thomas Shivone was a suitably rough-hewn Antonio, and there were excellent contributions from Patrick Carfizzi as Bartolo, Lucy Schaufer as an unusually youthful-looking Marcellina, and Jason Ferrante, who doubled as a wonderfully unctuous Don Basilio and then returned in disguise as a wheelchair-bound Don Curzio.
John Chest sang Count Almaviva well, and portrayed him as an appropriately hopeless loser, while as his Countess Layla Claire combined dignity and grace with some lovely singing, especially in a sympathetic and rich-toned rendering of "Dove sono."
The production as a whole was similarly impressive, a few shortcomings notwithstanding, and did ample justice to the supreme masterpiece that is Figaro's Wedding.
Bernard Jacobson