United Kingdom Tchaikovsky, Nutcracker (choreography by Wayne Eagling): Dancers of English National Ballet, Students from Tring Park School for the Performing Arts and Students from English National Ballet School, English National Ballet Philharmonic / Gavin Sutherland (conductor), London Coliseum, 13.12.2017. (J.O'D)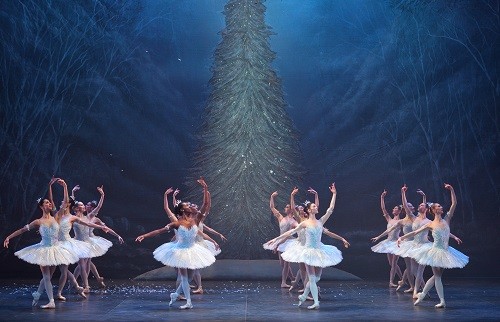 Cast:
Clara as a child – Sophia Mucha
Freddie as a child – Emile Gooding
Clara – Shiori Kase
Nephew – Joseph Caley
Nutcracker – Guilherme Menezes
Drosselmeyer – Fabian Reimair
Mouse King – James Streeter
Production:
Choreography – Wayne Eagling
Based on a concept by Toer van Schayk and Wayne Eagling
Design – Peter Farmer
Lighting – David Richardson
English National Ballet's Nutcracker had its premiere in 2010. Last year, more than one critic found it 'tired'. Perhaps to refute that charge, or perhaps due to some happy combination of circumstances, this season's opening night was as fresh as paint. There may be awkwardness in the choreography at the start of Act II. The constant swapping of the masked Nutcracker for Drosselmeyer's unmasked Nephew can still confuse. But for its magical use of the scrim at the beginning and end, for its Snowflakes and its Mouse King, for the performances by Shiori Kase (Clara) and Joseph Caley (Nephew), and those by Sophia Mucha and Emile Gooding as their child avatars, this seemingly new-minted Nutcracker continues to intrigue and enchant.
In the concept by Toer van Schayk and Wayne Eagling on which the production is based, everything that happens after a hectic Act I party to Tchaikovsky's hectic music is the dream of the young Clara. With its masks and its soldier costumes, its juxtaposition of youth and age (and death in a puppet theatre), the party contains all the elements that figure in the dream. The Nutcracker doll, given to Clara by Drosselmeyer but broken by her brother, Freddie, becomes a wounded Nutcracker soldier. Drosselmeyer's Nephew, for whom, at the party, Clara develops a first crush, becomes the hero who kills the Mouse King and partners her in the white, gold and glitter of the Grand Pas de deux.
Until 2013, when he was expunged, Freddie's adult avatar also formed part of the dream. Brought on in a cage during the Arabian Dance, he was the victim of Clara's subconscious desire to be revenged (for the broken Nutcracker doll). Although re-choreographed to cover his absence, and despite its references to Nijinsky, the Arabian Dance has always seemed rather blank since. Now it is only Clara's parents who reappear in the dream world. Fittingly dressed as a Romanov tsar and tsarina in medieval costume, they weave their way, on demi-pointe, between the dancers of the Russian Dance.
Jane Haworth, Fabian Reimair and James Streeter anchor the performance in their familiar roles of Mother, Drosselmeyer and Mouse King. The children of the Tring Park School for the Performing Arts behave, in Act I, as if they really were at a party. The transition from the child to adult Clara is smooth. Shiori Kase performs the backward bourrée with ease, but retains a childlike sense of wonder at what is happening around her. Before making their exit, the Snowflakes splendidly advance in pairs to downstage right, on pointe, arms raised and fingers fluttering. The Flowers (women in pink, men in grey and white) trace diagonal lines of arabesques and arabesques en l'air.
Joseph Caley, who joined English National Ballet from Birmingham Royal Ballet this year and whose promotion to Lead Principal was announced after this performance, has all the charm for the role of Nephew, and all the skill for the Grand Pas de deux. Although the score seems to be asking for something different, he and Shiori Kase dance this on a note of happiness alone. Two years ago, Begoña Cao drew out the sadness in Tchaikovsky's music with her arms. Last year, Katja Khaniukova showed signs of the grande ballerina she seems destined to become. Shiori Kase is always Clara, nothing else but happy to be dancing in her dream with Drosselmeyer's Nephew, a confident and consonant partner whose smiles match her own.
John O'Dwyer
For more about English National Ballet click here.