United States Bizet, Carmen: Soloists, Philadelphia Boys & Girls Choirs, Opera Philadelphia Chorus & Orchestra / Yves Abel (conductor), Opera Philadelphia, Academy of Music, Philadelphia, 4.5.2018. (RP)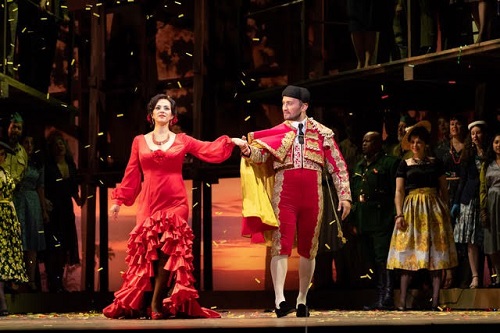 Cast:
Carmen – Daniela Mack
Don José – Evan LeRoy Johnson
Escamillo – Adrian Timpau
Micaëla – Kirsten MacKinnon
Moralès – Johnathan McCullough
Zuniga – Musa Ngqungwan
Frasquita – Ashley Milanese
Mercédès – Anastasiia Sidorova
Le Remendado – Daniel Taylor
Le Dancaïre – Doğukan Kuran
Production:
Director – Paul Curran
Set & Costume Design – Gary McCann
Lighting Design – Paul Hackenmueller
Choreographer & Assistant Director – Seth Hoff
Wig and Make-Up Designer – David Zimmerman
Chorus Master – Elizabeth Braden
If opera were to play Broadway, Opera Philadelphia's production of Carmen would fit the bill. Director Paul Curran writes that he set the action in 1950s Spain, close enough to the present  day to make it feel more immediate, yet at a time when women were even more objectified than now. That's a highfalutin way of saying that it makes for great optics, especially with costume designer Gary McCann's flair for combining Fifties looks with toreador style to create the cinematographic feel for which Curran was striving.
Opera Philadelphia assembled a young cast, some with local ties, that would have been equally at ease performing West Side Story or Grease. That's not a back-handed compliment, as the immediacy made for a direct emotional connection with the audience. The sets served their purpose, effectively conjuring up the locales of the four acts.
There were some directorial missteps. Why are slipshod religious processions devoid of precision or fervor so often the default? There was a lack of focus in some key scenes, particularly the final one where Don José was left to lurk in the dark while Carmen was center stage basically singing to herself. Curran, however, was in my good graces from the start, an ever-rarer opera director who trusts an audience to sit through an overture without anyone mucking about the stage or other annoying distractions.
The few actual nods to the period, such as Carmen, Frasquita and Mercédès as a Girl Group singing the Gypsy Song and Escamillo's James Dean-like entrance on a motorcycle, were fresh touches. They not only looked great, but they had instant audience appeal. I did, however, want just one rev of the motorcycle's engine to kick things up a notch, which pretty much sums up what was missing in the production: a bit of grit.
But it wasn't lacking in Daniela Mack's Carmen, a fiery gypsy femme fatale, whose voice smoldered as intensely as her gaze; men were putty in her hands. All her arias were tossed off with panache, but it was the Card Scene where her dark mezzo-soprano was shown off to full advantage. The Argentinean soprano had the style needed to wear a dazzling red flamenco dress that Don José shreds before slitting her throat in the final seconds of the opera.
Evan LeRoy Johnson has got a voice, no doubt about that. His 'Flower Song' was lyrical and passionate, ending with shimmering phrases sung in his beautiful head voice. He can rage also; Don José's violent thrusts of the knife into Carmen drew gasps from the audience. (The black raccoon-like circles around his eyes in Act IV, however, were ridiculous.) His default mode for Don José was intense brooding, the same as with his Narraboth in Zurich Opera's Salome last year. I'm looking forward to his return to Opera Philadelphia as Rodolfo in La bohème next season, when he will get the chance to be in love, as well as happy, for two entire acts.
Adrian Timpau was a dashing Escamillo, as at ease in a black leather jacket and white T-shirt as in a matador's traje de luces. He's a singer I have watched develop over the years in Zurich, always enjoying his work. There could be more of an edge to his Escamillo (as well as some ping to his high notes), but he's another young talent to watch.
Call it grit, pluck or whatever, Kirsten MacKinnon's Micaëla had it. She might have looked like Olivia Newton-John's Sandy Olsson heading off to class in the movie version of Grease, but she was fearless. It took a while for her voice to settle, but once it did I fell in love with it. For me, her Act III aria was the emotional highpoint of the show. Judging from the audience's response, I wasn't alone there.
Zuniga may be only a provincial lieutenant with little or no moral compass, but Musa Ngqungwan's imposing physique and deep, chocolaty bass-baritone made him a petty tyrant to be reckoned with. As Moralès, Johnathan McCullough lolled about leering at the cigarette girls, a crass character, but his baritone commanded attention.
Ashley Milanese as Frasquita and Anastasiia Sidorova as Mercédès were delightful, gamely performing as backup singers in the Gypsy Song, indulging the men with lap dances and slithering out of their panties and slipping on black stockings in Act III as they go off to distract the guards (just doing their bit to assist the smuggling operations). The Act II Quintet, where the three gypsy girls were joined by Daniel Taylor and Doğukan Kuran as the smugglers, Le Remendado and Le Dancaïre, sparkled with energy and was amazingly light, propelled forward by Yves Abel's brisk tempo.
Speed, agility and transparency marked Yves Abel's approach to the score, especially in the overture and the first two acts. As the drama unfolded and passion flamed, the orchestra textures thickened too, but he was ever-sensitive to detail, especially phrasing and balance. The orchestra and chorus were equally adept in following Abel's lead, although the trumpets had some rough patches in the overture. Philadelphia Boys & Girls Choirs sang with confidence and chewed up the stage.
Chalk up another success for Opera Philadelphia this season.
Rick Perdian