United States Rathbun, Abrahamsen, Tchaikovsky: Alexandre Tharaud (piano), Cleveland Orchestra / Franz Welser-Möst (conductor), Severance Hall, Cleveland, Ohio, 20.9.2018. (MSJ)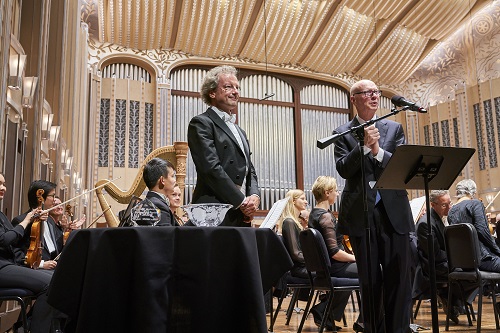 Jeffrey Rathbun – Pantheon (2018)
Hans Abrahamsen – Left, alone (2015)
Tchaikovsky – Suite from Swan Lake, Op.20
The Cleveland Orchestra kicked off its 101st season with two intriguing new pieces, then wrapped things around to familiar favorites. The opening work was a commission from Jeffrey Rathbun, a composer whose 'day job' is assistant principal oboe in the orchestra.
The fourth opus by Rathbun that the orchestra has performed over the years, Pantheon was intentionally crafted with the composer's colleagues in mind, and it exploits their sophisticated skills in sometimes unexpected ways. Equal parts recognizably tonal and dissonantly gestural, the work is cosmopolitan, completely conversant in modern international styles while still sounding warmly American. In the same way that thorny moments are undercut by optimistic surges, the joyous ones always have a nervous edge. Call it celebratory music for uncertain times—it was an ideal start to the orchestra's second century.
Receiving its United States premiere was Hans Abrahamsen's Left, alone, a concerto for piano left hand and orchestra. It's the kind of score that gets the listener's synapses firing. Fractal swarms of phrases created a sound world that managed to be both unlike anything else I've ever heard, and yet completely natural and moving at the same time.
If the opening came drifting out like a swarm of bats leaving a cave, the first section ended with what sounded like flurries of delicate raindrops. The ending clouds were not unlike an ever-changing mass of flying birds. In between came moments of stark stillness, with one section even given the tempo 'in slow motion time'. Alexandre Tharaud, in his Cleveland debut, savored the Danish composer's eccentric touches, keeping closely engaged with conductor Franz Welser-Möst and the musicians in order to coordinate Abrahamsen's tricky yet stunning score. Let's hope more of his music will come to Cleveland in the future, for this is clearly a composer who can conjure up new worlds.
After intermission, Welser-Möst was presented with the orchestra's Distinguished Service Award by Richard Smucker, the president of the orchestra's Board of Trustees. Struggling to control his emotion, the conductor said serving this ensemble was the greatest honor of his life. He concluded his brief remarks by reminding everyone that music is nourishment for the soul.
Welser-Möst then launched into excerpts from Tchaikovsky's first ballet score, Swan Lake. Most selected suites gravitate either toward the symphonic, by emphasizing the more dramatic sections, or toward the balletic, by focusing on the lighter dance sequences. Welser-Möst characteristically refused to accept the traditional either/or option, opting for an even mix.
The introduction was perfectly poised, starting with a reserve that quickly transformed into fiery intensity, and the first scene of Act I was urgent and exciting. The first misfire came with the famous waltz, which Welser-Möst polished off as a continuation of the fast lines that preceded it. In truth, this early example of Tchaikovsky's special way with the Viennese dance form has more subtle things to offer than just surface brilliance. The waltz's wildly varying moods were also short-changed by the conductor's curious decision to skip most (but not all) of the repeats. These short subsections need the repetitions in order to fully establish their moody worlds—otherwise it's a race to the finish line.
In Act II, things returned to form with poised and elegant shaping, but in Act III, the string of national dances came at the expense of dramatic drive. The Czardas was rushed, lacking the freedom others have found. The Spanish and Neapolitan Dances were pleasant trifles, but then the Polish Mazurka clotted up at a tempo better suited to ditch-digging than dancing. The Mazurka seems to provoke extremes: conductors either go slow for grandeur or fast for excitement, and it's unusual to find Welser-Möst in the former category. Drama returned with the ballet's final two segments from Act IV, with Welser-Möst returning to his more typical relentless drive. This frantic pace arguably made the finale more breathless than breathtaking, but it packed a considerable wallop anyway.
As an opening night bonus, Welser-Möst turned around to start an encore. Instead of a two-minute treat, it turned out to be Tchaikovsky's Marche Slave, once a concert staple until it was relegated to pops events. I, for one, was glad to hear it in a regular symphonic environment, where it belongs. Welser-Möst and the Clevelanders gave it a swift, incisive reading that again brought the crowd to its feet.
Mark Sebastian Jordan