United Kingdom Avex Recital Series: Nobuaki Fukukawa (horn), Eriko Takezawa (piano). Wigmore Hall, London, 5.1.2019. (CC)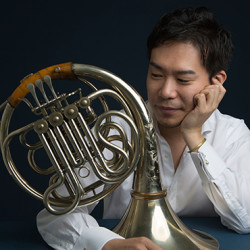 Britten – Serenade for tenor, horn and strings, Op.31: 1. Prologue
Dai Fujikura – harahara (European première)
Toshio Hosokawa – Kleine Blume
Messiaen – Des Canyons aux étoiles: VI. Appel interstellaire
Widmann – Air for solo horn
Miho Hazama – Letter from Saturn for horn and piano (European première)
Hindemith – Sonata for horn and piano
York Bowen – Sonata in E flat for horn and piano Op.101
The last time I reported on a solo horn recital at the Wigmore it, too, was a lunchtime event, albeit a weekday one: Alec Frank-Gemmill mixing two core works (the Beethoven Sonata and the Schumann Adagio and Allegro) with contemporary fare (Casken and MacMillan: see review). In a sense, this recital by Nobuaki Fukukawa, Principal Horn of Japan's NHK Symphony Orchestra, was more imaginative still. Fukukawa is a serial commissioner of new works and the added expansiveness of a weekend slot allowed for a goodly selection of the music of our time, including a smattering of jazz, as well as two better-known sonatas. The recital lasted just under an hour and a half with no interval.
It was a nice idea to begin with an off-stage rendition (as it should be) of the Prologue from Britten's Serenade for tenor, horn and strings, and particularly apposite as this piece was premiered at the Wigmore Hall on 15 October 1943, the soloists Peter Pears and Dennis Brain. Quite some footsteps to walk in, and Fukukawa was superb, one of the stage doors left ajar for the sound to waft through. The inbuilt flatness of the sounding B flat, as the movement is performed without valves, sounded impeccably (pardon the pun) natural.
The first of the European premieres was Dai Fujikura's harahara (although the composer has referred to this elsewhere as a 'UK premiere'). A short, three-minute piece, it introduces rapid tremolos alongside stopped, 'echo' effects. The title refers to 'a state of excitement touched with anxiety, as when queuing for a roller-coaster ride,' but refers also to Hiroyuki Hara, the founder of the place of the world premiere, Hakuju Hall. It was here we got the first inklings of not only Fukukawa's impeccable technique (superb hand-stopping), but also of his near-invincible stamina. There is a video of Fukukawa playing this piece (click here). As much as Fujikura's piece is dynamic, with its occasional heroic line across registers, Toshio Hosokawa's Kleine Blume is gentle. The idea of a 'little flower' growing is mirrored in the growth of Hosokawa's phrases; the title also references the central part of flowers in Japanese culture – a symbol of perfection and accomplishment – and he has written a number of pieces around this idea. A lovely piece, this confirmed the strength of Fukukawa's connection to these composers.
More famous, perhaps, is the sixth, solo horn movement from Messiaen's Des Canyons aux étoiles. A challenge to the greatest players still, Fukukawa's invocation of bird call through his instrument was remarkable; most impressive was the sense of space invoked (Des Canyons was inspired by Bryce Canyon, Utah). Special effects seemed perfectly integrated into Messiaen's musical argument. The title of Jörg Widmann's Air for solo horn refers to both the air used to create sound on the horn and also to the idea of melody. The piece also includes overtone melodies, indicated in the score through approximate directions the melody takes, as well as echo effects through stopping. Those melodies make for an unforgettable effect, especially performed with as much confidence as this. Pedal notes are coloured by singing through the instrument to invoke an impression of chords, an effect already familiar through Weber's use in his Concertino.
One can hardly imagine a grater contrast than to that of the jazz world, but it was there we voyaged via Miho Hazama's Letter from Saturn. Composed in 2016 on a commission from Fukukawa, the piece marries the composer's idea of the God Saturnus ('generous and heroic') with the dancing of the planet's rings. This letter from Saturn, therefore, celebrates this planetary giant, quite a distance from Holst's invocation in his The Planets as 'Bringer of Old Age'. Fukukawa was joined by Eriko Takezawa, a professor at Karlsruhe, and the two performers gave an account of the highest musicality. As was to be proved the case throughout the rest of the programme, Takezawa is an astonishingly talented accompanist, able to project character without ever upstaging her soloist. Hazama directs a jazz group, m_unit, and a hearing of YouTube videos confirms their excellence. Letter from Saturn is an extraordinary piece. Long, muted lines were superbly delivered by Fukukawa. The French horn has never really achieved a firm hold in the jazz world; perhaps the tide should turn?
The two meaty sonatas that closed the recital celebrated the meeting of two equals in Fukukawa and Takezawa. Hindemith's 1939 Sonata for horn and piano is notorious among pianists for its tricky accompaniment; no such difficulties for Takezawa, which meant that together the players could project an incredibly powerful experience, the marching, unstoppable rhythms of the first movement unflagging. While the central Ruhig bewegt can come across as rather meandering, both players managed to give it direction before the finale confirmed the true sense of ensemble here, with gestures incredibly together.
Finally, York Bowen's Sonata in E flat, Op.101 of two years earlier. This sonata was written for Aubrey Brian, father of Dennis and a great horn player in his own right (as his famous recording of the Brahms Horn Trio with Rudolf Serkin and Adolf Busch indicates); Bowen's Concerto was written for Dennis. The warmth of Bowen's tonal opening acted as balm to the acerbic Hindemith; the high-lying second subject had me wondering whether Fukukawa ever gets tired, or does he just play until his head falls off? The slow movement revealed an excellent horn legato in the lower register too, where it can so easily 'bump', before the delightful, 12/8 finale showcased Fukukawa's expert, light tonguing.
Encores, despite the length of the programme, were inevitable. One for solo horn, Yurayura by Fujikura (performable as separate piece, as here, or also as the cadenza for Fujikura's Second Horn Concerto) and a charming Japanese folksong, Yuyake Koyake, set for horn and piano by Kosaku Yamada.
A remarkable recital; and there was a fairly healthy audience, too, for a just-past-New Year lunchtime event. There is no doubting that Fukukawa is a prime ambassador for his instrument.
Colin Clarke
For information about the next Wigmore Hall concert in the Avex Recital Series click here.