United Kingdom Royal Birmingham Conservatoire Opening Festival – Beethoven Ravel and Chopin: Lauren Zhang (piano), Royal Birmingham Conservatoire, Birmingham, 12.3.2019. (CP)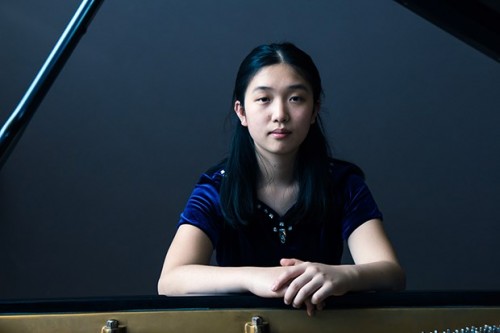 Beethoven – Piano Sonata No.28 in A major, Op.101
Ravel – Gaspard de la nuit
Chopin – Andante Spianato and Grand Polonaise in E flat, Op.22
The Royal Birmingham Conservatoire continued an exciting Opening Festival with a recital by Birmingham-based, Lauren Zhang, in its new state-of-the-art home. Since becoming BBC Young Musician 2018, Zhang's professional career has experienced a meteoric rise. Many in the audience remember her as a prize-winner from the age of 9 for many years at the Northfield Festival in Birmingham. Now 17 she is under the watchful eye of Dr Robert Markham at the Conservatoire. Inevitably, she is in demand as a concert soloist in the UK and across Europe.
Introducing the recital, Professor Julian Lloyd Webber, Principal of the Conservatoire, remarked: 'Having spent a lifetime making music with some of the world's finest musicians, I can honestly say Lauren is up there with the best – she is a total phenomenon'. This analysis proved to totally justified. Her programme of Beethoven, Ravel and Chopin confirmed Lloyd Webber's view – indeed she really is up there with the best!
Dressed in a long velvet-topped mid-blue dress, she took great care to ensure her feet would not become trapped by the hem of her dress and thereby hinder her pedal use. This impressive attention to detail will prove to an asset as her career progresses. Her poise is exceptional for such a young person; perhaps she felt very much at home in front of a packed hall giving her a near absence of coughing.
Zhang created the warm feeling Beethoven sought in the first movement of Sonata No.28 from the sumptuous Steinway – the sound was simply wonderful.  The dramatic entry to the second movement showed evidence of Zhang's ability to generate power in her playing – some of the loud passages she plays very loudly, the quiet ones are delightfully mezzo piano. With the high-spirited second movement completed, she chose a lengthy pause before starting the solemn, sometimes mournful, third movement. What maturity to take such an effective break from playing, fully justified to create the space needed before the last two movements, played without a further pause.  Zhang's memorable playing of the fugue, with some precise arpeggios, confirm this masterpiece is in the hands of a supreme technician.
Famous for its difficulty, the jewel-laden products of Ravel's Gaspard de la nuit in three movements with Scarbo, the last of the three, considered a very difficult solo piece.  Zhang was up to the challenge offering powerful glissandos at one moment, followed quickly by the most lyrical playing the next.
After the demands of the Ravel, Zhang chose Chopin's Andante Spianato  and Grande Polonaise in E flat, Op.22 to send the full house out, in happy moods, into a windy and wet afternoon. Full of distinctive motifs, Zhang showed a strong right hand when required supported by a delicate left hand. She is a remarkable young lady, destined for the international scene should she choose this.
Clive Peacock
For more about the Opening Festival click here.