Austria Strauss, Die Frau ohne Schatten: Soloists, Chorus and Orchestra of the Wiener Staatsoper / Christian Thielemann (conductor), Wiener Staatsoper, Vienna, 30.5.2019. (JMI)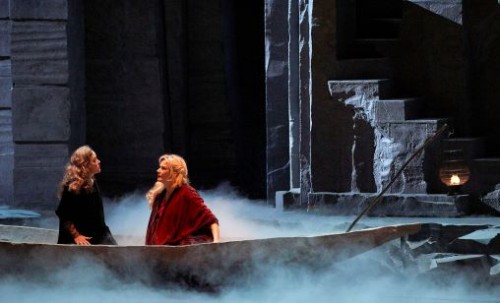 Production:
Direction – Vincent Huguet
Sets – Aurélie Maestre
Costumes – Clémence Pernoud
Lighting – Bertrand Couderc
Cast:
Empress – Camilla Nylund
Barak's Wife – Nina Stemme
Nurse – Evelyn Herlitzius
Barak – Wolfgang Koch
Emperor – Stephen Gould
Keikobad Messenger – Sebastian Holecek
Falcon's Voice and Temple Guardian – Maria Nazarova
Barak's Brothers – Samuel Hasselhorn, Ryan Speedo Green, Thomas Ebenstein
Young Man's Voice – Benjamin Bruns
Voice From Above – Monika Bohinec
This trip to Vienna has been marked on my calendar since the program for the 2018-2019 opera season was announced. To celebrate the 150th anniversary of the opening of the opera house, the Staatsoper has organized a series of events and, above all, has programmed some truly attractive performances.
To begin with there is a new production of Richard Strauss's Die Frau ohne Schatten. which is also being celebrated – 2019 marks the centenary of its premiere, which took place in this house. No less than Christian Thielemann was at the podium, and the cast was outstanding. If that were not enough, the second day features Anna Netrebko in Andrea Chénier, and the magical three days finish with Juan Diego Flórez in Massenet's Manon. It is not surprising that one heard many languages besides German in the Staatsoper yesterday, and that I saw lots of familiar faces inside the house.
Christian Thielemann was returning to conduct at the Staatsoper after an absence of more than three years. His conducting was brilliant and inspired, as you would expect from one of today's great conductors. I have had the good fortune to see a number of excellent conductors lead this Strauss opera, including a spectacular Kirill Petrenko in Munich five years ago. But what happened yesterday in Vienna topped all my previous experiences, and the performance of the Wiener Staatsoper Orchestra (whose members form the Vienna Philharmonic) was a large part of it. This exceptional musical group under the baton of a great maestro provided a truly unforgettable version of the opera. I have no doubt that Christian Thielemann's baton had a lot to do with it.
Die Frau ohne Schatten demands five great vocalists, especially in the three leading women's roles. The quintet in Vienna was first-rate, and one could enjoy the opera to the fullest.
The character who gives the opera its title, The Empress (Die Kaiserin), was sung by soprano Camilla Nylund, whose performance was appealing. The volume of her voice was somewhat reduced in Act I, but she conveyed enormous emotion to the audience in her big scene of the final act.
Barak's Wife was interpreted by soprano Nina Stemme, and she was both impressive and unsurpassable: her performance was the most rewarding of the evening. She is in a very bright moment, with a powerful voice and an attractive timbre without any shadows. If I am not mistaken, it was her debut in the part, and it was amazing how well she mastered it.
The Nurse was sung by Evelyn Herlitzius, who was also making a debut in her role and handled it commendably. This part is written for a mezzo-soprano, and Herlitzius has always been a soprano (and known for her Brünnhilde not so long ago). Her voice has widened now, and she has more problems in the high notes, so it is understandable that she wanted to take this on.
Baritone Wolfgang Koch in the part of Barak was also a convincing interpreter. His voice has been reduced in volume over the last three years, but there has been a gain in expressiveness. Finally, tenor Stephen Gould as the Emperor completed this terrific group of protagonists.
In the secondary characters, baritone Sebastian Holecek as the Messenger and soprano Maria Nazarova as Guardian of the Temple and Voice of the Falcon did well. Barak's three brothers were nicely served by Samuel Hasselhorn, Ryan Speedo Green and Thomas Ebenstein, and Benjamin Bruns and Monika Bohinec were good too.
This new production is by Vincent Huguet, who was for many years the assistant to Patrice Chéreau, and his work here served perfectly to narrate the plot. There is basically one stage with a series of vertical stone walls at the back which change positions on several occasions. The costumes are timeless and appropriate, and the lighting works well.
The Staatsoper was completely sold out. The audience gave a triumphal reception to the artists, with special attention to Christian Thielemann and Nina Stemme.
José M. Irurzun