Sweden Wagner, Das Rheingold: Soloists, Dancers from M&M Dance School, Mora, Extras, Vattnäs Extended Chamber Orchestra / Joakim Unander (conductor), Vattnäs Concert Barn, Vattnäs, Sweden, 5.7.2019. (GF)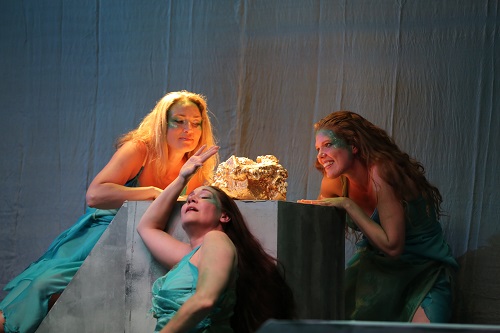 Production:
Stage director – Patrik Sörling
Sets – Bernd Janusch
Choreography – Anna Näsström
Masks – Robin Karlsson
Costumes – Mika Luther
Lighting design – Jimmy Svensso
Cast:
Wotan – Johan Schinkler
Fricka, Erda – Anna Larsson
Loge – Göran Eliasson
Woglinde – Alexandra Büchel
Wellgunde – Katarina Böhm
Flosshilde – Elisabeth Leyser
Alberich – Fredrik Zetterström
Mime – Anders J Dahlin
Donner – Johan Rydh
Fasolt – Jens Persson
Freia – Maja Frydén
Froh – Simon Pettersson
Fafner – Mattias Olsson
380 million years ago, a meteorite crashed on planet Earth in the middle of what today is the province of Dalecarlia in Central Sweden. The resulting crater formed a ring of lakes, a beautiful landscape and valuable minerals – today named the Siljan Ring, after the biggest lake in the area. The little village Vattnäs is situated within this ring, and when a new opera production for 2019 was delayed, the singer couple Anna Larsson and Göran Eliasson, owners of the Concert Barn, decided to stage their own local take on Wagner's Das Rheingold , calling it 'The Siljan Ring'. In their version, the Rheingold is hidden in Lake Siljan and the whole area is inhabited by giants, dwarfs and gods. It was certainly a bold undertaking, considering the small size of the barn – with room for at most 300 onlookers – and the minimal stage. So far, they had staged chamber-size operas, several of them commissioned specifically for the Vattnäs Barn, but Wagner's monumental Das Rheingold is in a different league. Some years ago, they produced this opera at Dalhalla, the limestone quarry turned outdoor opera arena, situated only some 40 kilometres from Vattnäs. There the stage is enormous and the rocky stonewalls create an acoustic room of the same dimensions as the Arena di Verona. But the limited space in the Concert Barn required important and far-reaching adjustments. First of all, the music: the original calls for an orchestra of around 90 musicians, so that the score had to be arranged and reduced for a much smaller orchestra. Conductor Joakim Unander spent three full months condensing the music for an ensemble of 32 players, and even that is by far the biggest orchestra that has ever appeared in the barn. The solution was to put the orchestra on the balcony, behind and above the audience in the stalls, which turned out to be a brilliant idea, creating a surround sound effect that Wagner presumably would have liked. In Bayreuth the orchestra is also invisible. Unander's arrangements are were very successful, catching the essence of the original but creating an airier, more chamber-like sound that seems ideal for this venue.
The small stage also posed problems. It is narrow and shallow and there is little room for props. Set designer Bernd Janusch opted for thin white pieces of cloth as a backdrop on which projections could be made. The opening was truly spectacular. During the prelude, growing from near inaudibility to a mighty fortissimo, an infinite cosmos spread across the back of the stage and a shapeless object appeared at the upper right corner, only to sail away towards eternity and disappear. Was this the creation of the Earth or the meteorite on its way to create the Siljan Ring?
Director Patrik Sörling chose a saga style setting and the costumes are timelessly historical; Wotan carries a spear corresponding to his costume and the rune tattoos on his arms. But he and Fricka wear silver necklaces in the shape of the Siljan Ring, created by set designer Bernd Janusch, who is also a well-reputed silversmith.
The local connections mentioned above are unimportant for this production. It is Wagner's original music and libretto that is performed, sung in the original German with surtitles in Swedish projected above the stage. The focus is on Wagner's thoughts on the struggle for power throughout human history, on man's greed for gold – another eternal feature of the striving of mankind – and also the carnal desires, but Alberich in the end disclaims his desire for love in favour of power and riches. The existence of true love, unselfish love, is also depicted – not least as an example of what is called 'the Stockholm Syndrome', which is when a hostage falls in love with her kidnapper. In this case it is Freia who reluctantly separates from Fasolt when the debt to the giants is finally paid. That Froh is also deeply in love with Freia is very obvious in this production.
There are some interesting features of this staging that are worth mentioning. In the opening, there is an appealing ballet scene with three dancers depicting the Rheinmaidens before the maidens themselves appear, and they also indulge in ballet acting, not least when they tease and degrade Alberich. Ballet in Wagner is a rarity indeed, but here it is very attractive. There is also a group of young extras who serve as hardworking slaves in the scene in Nibelheim. These are all locals and I was deeply impressed by their acting. Choreographer and director have done an excellent job with them – as with all of the actors, who are very convincing in their roles.
Anna Larsson doubles as Fricka and Erda – the latter being one of her signature roles worldwide – and Göran Eliasson's Loge is well-known, not least from the Dalhalla production mentioned above. Both are masterful and Eliasson chisels out the complicated character of this half-god, distrusted by everyone but also seeing the imperfections of the others. All the others are new to their roles, although both Johan Schinkler, Fredrik Zetterström and Johan Rydh have sung other Wagner roles – the latter two have actually both been Wotan in Das Rheingold in other productions. Schinkler, for many years one of the most sought-after basses in the country, is a monumental Wotan, hot-tempered but also with a glint in his eye (in this production he however seems to have both eyes intact). Fredrik Zetterström, a splendid actor, is a tremendous Alberich, so violent but one cannot help feeling sorry for him when he ends up bereft. Johan Rydh has less to do as Donner, but he is the traditional hot-head, squeezing his hammer and ready to strike as soon as anything goes against his will. Neither Jens Persson nor Mattias Olsson have the supersized black bass voices one ideally expects from the giants, but in this chamber-size production they work well nevertheless, and act convincingly. Simon Pettersson's Froh has his great moment in the last scene, when the gods are about to go to Walhall: 'Zur Burg führt die Brücke'. It is a short moment, but his beautiful lyric tenor glows. The other lyrical tenor, Anders J. Dahlin, was probably the most surprising choice of casting. Well-known worldwide as one of the foremost baroque singers, especially in French operas, he turns out to be a superb Mime, bullied by his brother Alberich, and certainly the most glorious exponent of the role I have seen. Maja Frydén's Freia is another character with a rather peripheral role vocally – although she has quite a lot to do scenically – but her voice resources are on a level that makes it evident that she will soon be featured in bigger roles. Alexandra Büchel, Katarina Böhm and Elisabeth Layser are certainly the liveliest and most charming trio of Rheinmaidens I have experienced and they contribute greatly to the overall excellence of the production.
The Concert Barn in Vattnäs was inaugurated in 2011 and they made a spectacular start by celebrating the 100th anniversary of the birth of Jussi Björling with a concert featuring no less than 11 tenors. I have followed their activities ever since and although one can only say that they have presented highlight after highlight, this Rheingold surpasses everything. This production can be compared, quality-wise, to anything elsewhere in the world – only that it is a size smaller.
Göran Forsling