United States Echoes of Venice: Amanda Powell, Raha Mirzadegan (sopranos), Jacob Perry (tenor), The Dark Horse Consort, Apollo's Singers, Apollo's Fire / Jeannette Sorrell (conductor), United Church of Christ, Avon Lake, Ohio, 20.10.2019. (MSJ)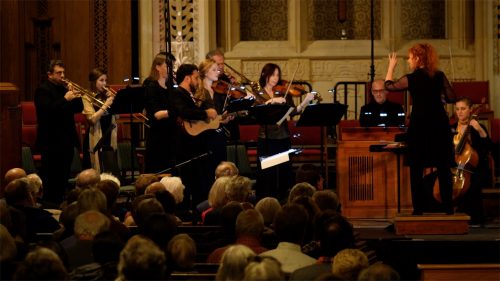 As a listener, I challenge myself to keep abreast of a wide range of music. Of course, preferences are there, but with repeated exposure I can warm up to a lot that did not appeal at first hearing.
But that doesn't always happen. Like anyone, I have my blind spots.
For many years, while I have greatly enjoyed Gabrieli's brass and Monteverdi's madrigals, operas, and Scherzi Musicali, I can't respond with a great deal of enthusiasm for the composers' large religious works written for Saint Mark's Basilica in Venice. Perhaps this was not the concert to break that barrier. Notes by visiting scholar Marica Tacconi waxed extensively about the antiphonal deployment of the musicians at Saint Mark's, but here, relatively little was done to reflect that arrangement.
The ensemble — even when divided — occupied a stage area considerably narrower than the audience area. Little if any antiphonal effect was discernible, except in Biagio Marini's slight Sonata in Ecco for three violins, with musicians in the three corners of the sanctuary. Otherwise, the minimalist architecture of the church offered few places to put people other than front-and-center.
Not only that, but the United Church of Christ in Avon Lake, Ohio, has a dull, neutral ambience that is about as far away as one can get from the acoustic Monteverdi and Gabrieli wrote for. Without the halo of reverberation and the surprise of antiphonal layout, these formal works by Monteverdi and Gabrieli (and their northern imitators Heinrich Schütz and Michael Praetorius) grow stultifying, leaning heavily on the same chord progressions, and the texts praising God over and over again, ad infinitum. Their finest moments, such as the 'Duo Seraphim' from Monteverdi's Vespers of 1610, can be breathtaking, but much of the rest amounts to variations on a very narrow expressive range.
For a more human contrast, Apollo's Fire music director Jeannette Sorrell brought in a couple of Monteverdi madrigals, winningly sung by sopranos Amanda Powell and Raha Mirzadegan, and tenor Jacob Perry — all vocalists of high characterization and gleaming timbre — but the selections sat uneasily next to such stiff-collared religious fare. Even the sole Gabrieli instrumental canzona — with the visiting Dark Horse Consort — seemed buttoned-up in proximity.
There can be no question about the quality of the artists involved. Sorrell evidently finds much that is engaging, for she directs with unfailing commitment, and her colleagues respond with customary alacrity. But for the time being, I remain resistant, convinced that these particular scores were required busy work by composers who put their finer efforts elsewhere. Perhaps in a different acoustic, the unsmiling earnestness would produce more awe.
The irony is that both concerts I attended this weekend would have benefited by switching venues. The cathedral-like St. Stanislaus church in Cleveland has reverberation that would benefit Venetian masses, as well as offering the nooks and crannies that would make antiphonal division easy. And the dry, clear environment of the Avon Lake UCC would have helped the clarity of CityMusic Cleveland in Mozart and Haydn. But as it happened, both concerts were compromised.
Photos of other venues used by Apollo's Fire for this series suggest that larger churches may have offered a more appropriate acoustic. The onus will be on the critic to choose his venue more wisely next time.
Mark Sebastian Jordan