United States Rossini, La Cenerentola: Soloists, Chorus and Orchestra of LA Opera / Roberto Abbado (conductor). Dorothy Chandler Pavilion, Los Angeles, 20.11.2021. (JRo)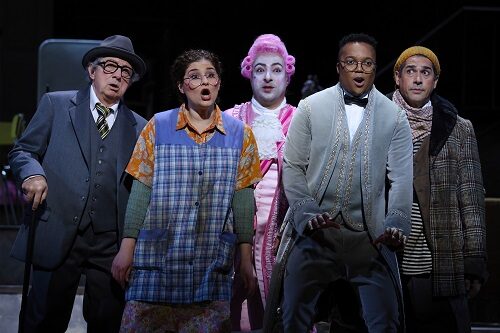 Production: 
Libretto – Jacopo Ferretti
Director/Costumes – Laurent Pelly
Sets – Chantal Thomas
Lighting – Duane Schuler
Chorus director – Grant Gershon
Cast: 
Angelina – Serena Malfi
Don Ramiro – Levy Sekgapane
Dandini – Rodion Pogossov
Don Magnifico – Alessandro Corbelli
Clorinda – Erica Petrocelli
Tisbe – Gabriela Flores
Alidoro – Ildebrando D'Arcangelo
What could be better in these perilous times than escaping to a night at the opera with that master of comic musical invention, Giacomo Rossini, and his charming La Cenerentola? It is perhaps the most beloved fairy tale of the ages with its triumph of goodness, justice and forgiveness in the face of oppression. And Rossini's score delights from beginning to end, particularly in the hands of Roberto Abbado and the LA Opera Orchestra.
In a puzzling new staging – a co-production of the Dutch National Opera, Grand Théâtre de Genève and Palau de les Arts Reina Sofía – the escapist fantasy was muted, replaced by a stab at realism. Cinderella's triumph (she is known as Angelina in the opera) appeared to have happened in a dream rather than in a full-blooded fairy-tale universe.
Replacing the wicked stepmother of the classic story, Don Magnifico is Angelina's stepfather who has stolen her dowry and lavished it on his biological daughters. Act I takes place at Don Magnifico's villa: a mid-twentieth-century house with peeling wallpaper and rooms delineated by rectangular, raised platforms of different heights, which slide in and out from the wings. The furniture looked threadbare, and a nineteen-fifties kitchen dominated the foreground. The set, though a bit dreary, lent itself to humor, as the sloppy stepsisters went through their rituals on different platforms – shaving legs, putting on make-up, flouncing on the beds. As the act wore on, the humor lost some ground, and the monochrome set began reminding me of a Eugene O'Neill play rather than a fairy-tale confection.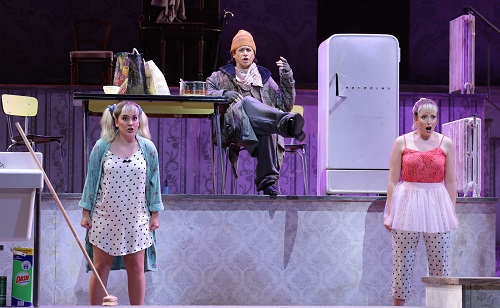 That said, I was fully prepared to accept a mid-century version of the tale down to the dingy slips and bathrobes worn by the sisters, but confusion set in from the start, as the prince, disguised as his valet, and the valet, disguised as the prince, appeared at Magnifico's house in classic eighteenth-century costume – buckled shoes, wigs and all. Once at the palace, Don Magnifico and his daughters were clothed in fancy dress. Unfortunately, the palace set consisted of nothing more than hanging, translucent screens – giant images of pink wine decanters, chandeliers, mirrors and clocks.
When poor Angelina finally appeared at the palace, instead of a sumptuous gown she wore a dreary frock in shades of black, gray and white. There was nothing glamorous or majestic about her appearance – she remained the girl of the dustbin. Fortunately, the title role was sung by a vibrant Serena Malfi, who physically resembles her countrywoman, Cecilia Bartoli, the gold standard for Angelinas. Malfi sang brightly, her voice ringing out in Rossini's rollicking ensembles. To her credit, as the opera progressed her singing grew more shaded and nuanced, culminating in the joyous aria, 'Non più mesta'.
Young South-African newcomer, Levy Sekgapane, was an attractive and sweet Don Ramiro, Prince of Salerno. Technically, he was secure throughout, his voice gaining richness and depth in the lower registers. More dramatic authority in the role would season his part and make him convincing as a member of the nobility, but clearly, he is a singer to watch.
The dream casting of Rodion Pogossov as Dandini, Alessandro Corbelli as Don Magnifico and Ildebrando D'Arcangelo as Alidoro made up for any deficiencies in the production. Baritone Pogossov is an outstanding talent, seen at LAO as Papageno in The Magic Flute and Figaro in The Barber of Seville. Blessed with major comedic chops, a graceful presence (he can do a sterling pirouette) and a robust baritone, he inhabited Dandini with relish.
Corbelli and Pogossov were perfectly matched – a pair of conniving tricksters who played off each other to hilarious effect. Corbelli sang Don Magnifico in the fabulous 2013 production at LAO [my review] – a triumph of beauty, whimsy and joy with its commedia dell'arte sets and costumes. He delighted again here with his expressive baritone and accomplished performance.
With the entrance of bass Ildebrando D'Arcangelo in the role of tutor/philosopher to the prince and fairy godfather to Angelina, the production gained heft. He fashioned true beauty from his aria, 'Là del ciel nell'arcano profondo', urging Angelina to be strong and fearless.
The roles of the stepsisters are surefire crowd pleasers, and Erica Petrocelli as Clorinda and Gabriela Flores as Tisbe did not disappoint. They waddled, wiggled and argued their way into the scheming heart of Dandini, disguised as the prince. Petrocelli, who has appeared in recent LAO productions, has been noteworthy this season.
Filling out the production, but perhaps its most singular asset, the men's chorus under Grant Gershon turned in a bravura performance as courtiers and servants.
The fairy tale's core theme, that beauty and nobility of spirit can shine through dust and rags, is typically made manifest in the opera's finale when the heroine appears in a wedding dress and sings of her love and the end of sorrow. Unfortunately, director Laurent Pelly has robbed the opera of the catharsis of the ending. Angelina, still wearing her 1950's housecoat and apron, remains dowdy and downtrodden. When the final celebration ends and her cruel family has been forgiven, Cinderella is left alone on stage, illuminated by a single spotlight as she mops the floor – more like Emmett Kelly's sad clown sweeping up the spotlight than a beloved princess. With a little coaxing, perhaps LAO will bring back its 2013 production and resettle this handsome cast into more fanciful quarters.
Jane Rosenberg