United Kingdom Mozart, Così fan tutte: Soloists, Improbable, Chorus and Orchestra of English National Opera / Kerem Hasan (conductor). London Coliseum, 18.3.2022. (CC)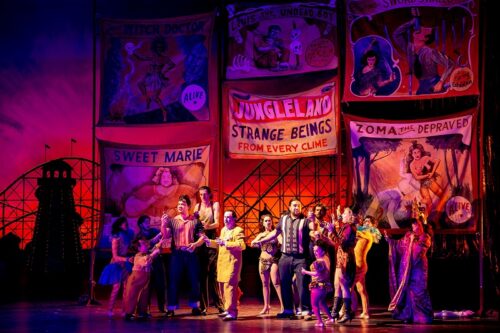 Production:
Director – Phelim McDermott
Associate director – Peter Relton
Set designer – Tom Pye
Costume designer – Laura Hopkins
Lighting designer – Paule Constable
Revival lighting designer – Andy Cutbush
Skills & Movement director – Iskandar R. bin Sararuddin
Cast:
Fiordiligi – Nardus Williams
Dorabella – Hanna Hipp
Guglielmo – Benson Wilson
Ferrando – Amitai Pati
Despina – Soraya Mafi
Don Alfonso – Neal Davies
Così fan tutte is one of the great operas: of all of the mature Mozart operas, it gets one of the worst raps, understandably perhaps because of its subject matter. The music remains Mozart at his most inspired, though, and the machinations of the plot, plus societal and interpersonal undercurrents, are many and profound.
So, candy floss, anyone? Phelim McDermott, a director I have admired in Glass (Satyagraha review click here) sets his 2014 Così in a faded Coney Island around 1950. It is a pleasure garden (with huge Mad Hatter teacups), fairground rides and an end-of-pier sideshow, with sword-swallower (undeniably impressive) and a Big Wheel in the background that turns, presumably to reflect the ongoing circularity of human folly (it is not as if they don't get tempted any more, after all). There is more than a hint of Steampunk about it all, particularly the second and final act. We see a particularly malevolent looking model swan at one point who looks like he has just finished with Lohengrin and found the whole thing rather irksome. Other reference points (!) might be American Horror Story: Freak Show (season four) and Stephen King's It (pick your preferred screen version).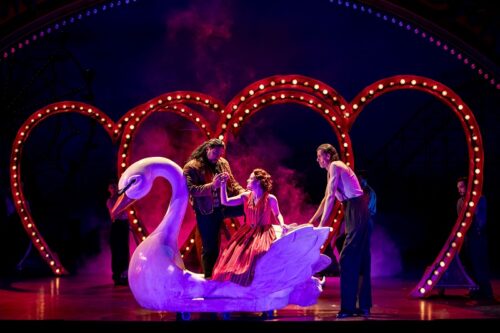 Stage magic is the order of the day, with characters popping out of a chest early on to promise 'Lies. Love. Poison. Chocolate.' (why didn't we get free chocolate? – we got a free Red Nose after all.)
A 12-strong skills ensemble gathers around Don Alfonso to assist him in his deceitful manipulations. Sometimes there is so much going on it is difficult to concentrate on the music: this is a show for everyone and no-one. Superficially luscious, it does Mozart few if any favours, no matter how impressive the lighting (superb under revival director Andy Cutbush) or the choreography from the Improbable participants. It might just work if – and it is a big if – the singing and playing match.
The orchestra first: fine playing, but Kerem Hasan's tempos were often just under so the music sagged. This was quite a counterpoint to the staging, and not a particularly comfortable one; this production needs an orchestra completely on its toes. Individual contributions were excellent (not least the horn section) but too often the music's energy dropped, A very strong harpsichord contribution seemed perfect for the space.
Vocally, there were two standouts. Soraya Mafi, an ENO Harewood Artist who has never yet failed to impress, was the perfect Despina: a maid at the Skyline Motel who is strong, feisty, cheeky, vocally acrobatic, capable of phenomenal disguises and, the cream on top, a multiplicity of fabulous accents. Luckily the other standout was her partner in crime, the Don Alfonso. This is the finest I have seen and heard from Neal Davies, hamming the role up for all he was worth in a bright – what I believe is called a Zoot – suit, commanding the stage in the process, vocally firm of voice but flexible of delivery. Both, too, delivered their lines with impeccable diction. A joy.
Which leaves the lovers – this is their school, after all, and allegedly a training ground for all of us! Two fabulous ladies took the female roles, with beautifully contrasting voices: Nardus Williams as Fiordiligi and Hanna Hipp, whose Cherubini (a Cherubino at Covent Garden and a Cherubino here at the Coliseum) has previously impressed, as a light-voiced, characterful counterpart, offering a 'Smanie implacabili' from strength. The voices need to work together, though, and so they did, beautifully. Williams is almost the complete Fiordiligi, just a slight weakness at the lower end of her range.
The gentlemen Casanovi were less evenly spaced. They are both Samoan (what are the chances? – higher than one might think, if the Samoan Ring in Putney recently is anything to go by!), Benson Wilson as Guglielmo and Amitai Pati as Ferrando. Wilson was consistently excellent, his voice honeyed and flexible, with a lovely 'Donne mie'. Amitai Pati's Ferrando, though, was of a lower rung of the ladder, his 'Un'aura amorosa' rather anaemic both musically and of tone; the two voices worked well, if not delightfully, together.
Undeniably entertaining in a sort of overload-like way, this is a 'gateway Così': if it does being in new audiences to opera, a grown-up production would be the next step. This is a concept I wish had worked – it holds so much potential – but it struck me as a bit like the food from an omnipresent beefburger chain: almost as soon as you've finished, you're still hungry. Of all composers, one cannot be unsubstantial with Mozart. Jeremy Sams's translation works well, amusing and skilful.
The performance was preceded by a performance of the Ukrainian National Anthem (although the Czech Philharmonic played it better at the Barbican Hall); the outside of the London Coliseum is draped with a Ukrainian flag.
Colin Clarke