United Kingdom Various, '20 Sonatas': Tamara Stefanovich (piano). Queen Elizabeth Hall, London, 27.2.2022. (MB)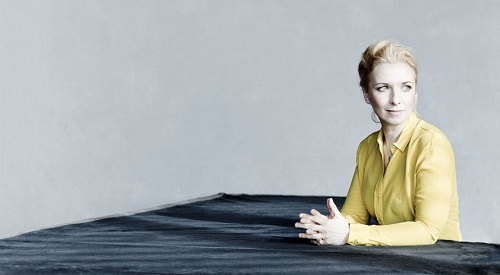 Bach – Sonata in A minor, BWV 965, after Reincken
Soler – Sonata in C minor, R.100
Busoni – Sonatina seconda
Scarlatti: Sonata in C minor, Kk.158; Sonata in G major, Kk.13
C.P.E. Bach – Sonata in G minor, Wq.65/17
Ives – Three-Page Sonata
Scarlatti -Sonata in C major, Kk.406
Bartók – Sonata, Sz.80
Scarlatti – Sonata in G minor, Kk.450
Eisler – Sonata No.1 Op.1
Soler – Sonata in D-flat major, R.110
Hindemith – Sonata No.3 in B-flat major
Soler – Sonata in G minor
Scriabin – Sonata No.9 in F major, Op.68, 'Black Mass'
Scarlatti – Sonata in G minor, Kk.8
Roslavets – Sonata No.2
Scarlatti – Sonata in B minor, Kk.87
Janáček – Sonata in E-flat minor 1.X.1905, 'From the Street'
Ustvolskaya – Sonata No.6
Twenty piano sonatas over three fifty-minute-long recitals; avoiding the 'core' Classical and Romantic (broadly speaking) repertoire, from Haydn to Liszt; asking why composers might time and time again have returned to this genre, if indeed it can be considered the same genre at all. What would you choose? Why? There are no answers, of course, or rather no definitive answers, only an almost infinite host of opportunities. Such is the embarrassment of riches, usually a blessing but just occasionally a curse, of the piano/keyboard repertoire more generally. Tamara Stefanovich's selection proved typically imaginative, committed, and both spiritually and intellectually nourishing, as well as an outstanding feat of musicianship and pianism.
The first selection began with Bach. (Does not everything?) Here we heard him in the sonata 'after' Johann Adam Reincken's Hortus Musicus trio sonatas: some distance, perhaps, from what we generally think a sonata to be, but perhaps that was part of the point. No one would deny the glories of Haydn, Mozart, Beethoven, Schubert, et al., but they can sometimes obscure other paths, especially earlier ones. Stefanovich left us in no doubt that this was a performance for the piano. (If you want to give a harpsichord performance, surely you should do that on the harpsichord.) Voicing gave the sense of a small orchestra at her disposal, a flute answering an oboe, a cello a viola. 'Ornamentation' was shown to be melody. There was declamatory joy, a strong sense of harmonic motion, and throughout a vivid, directed performance, culminating in a splendidly 'present' Gigue. Antonio Soler offered a very different voice, with both greater pathos and lightness. Stefanovich's performance drew one in to listen. Busoni's Sonatina seconda grew out of its close. Restless, diabolical, or better Faustian, it took us to the edge of atonality in a performance of virtuosity entirely at the service of the music, recalling what we know of Busoni's own pianism. Long-range coherence and incident of the moment were two sides of the same coin.
Domenico Scarlatti made the first of several appearances, with a finely contrasted pair of sonatas (as we often hear his music). The first notes of the C minor Sonata, Kk.158, sounded truly disorienting, emerging as they did from Busoni. Where were we? In a liminal zone, so it seemed, in which eighteenth-century tonality reassembled itself. Both performances seemed thought out from first principles, from individual materials. What joy there was to be had in hearing the second's repeated notes (more difficult on the piano than they sound). A sonata by CPE Bach, in G minor, followed. Its opening benefited from the grandest, most magnificent opening to a work of his I can recall, rhetoric harnessed as if to the rise of a velvet curtain. The first movement's fantasia-like swings of mood and material were disciplined, just about, into a whole, yet never too much. This justly lived on the edge. The central Adagio sarabande, still duly involved, nonetheless offered some sense of relief, its arioso quality finely captured. The sheer strangeness (Sturm und Drang, one might call it, I suppose) of the third movement was again relished, never tamed. From one avant-gardist to another, we moved to Charles Ives's Three-Page Sonata. Strikingly Schoenbergian language — close, not identical, and only for a moment or two — unleashed a parade of restless, radical, and wry freedom, whose chimes were almost the least surprising feature. The vehemence of disciplined chaos to its close made it almost impossible, had I not seen it for myself, to credit that there were only two hands at work here.
The second recital was announced by Scarlatti: full of incident and pictorial character and contrast. 'Percussive' is a word we often hear used to describe Bartók's piano-writing. One can understand why, but in reality it begs still more questions. (No bad thing.) For here, in his strangely neglected Piano Sonata, there were such profusion of melody, such variegation in the entirely unfussy weighting of each chord, propelled by rhythm and harmony alike, it seemed more than usually inadequate. A relentless first movement paved the way for a second of equal (at least) emotional intensity. The finale was every inch a finale in its substantive release. Rightly, for the first and only time within a recital, the pianist paused for applause. Returning to Scarlatti, it was fascinating to hear his repetitions and other, lighter obstinacies through the shadow cast by Bartók.
Hanns Eisler's opus one brought us fascinatingly close in its first movement to the language of the serial Schoenberg, yet held its distance too: more skittish, Scarlatti an excellent preface. Structure on paper became living form in liquid performance. Prokofiev seemed close at times too, perhaps particularly in the second of the three movements, its line unerringly traced and projected. The care and abandon with which not un-Schoenbergian idiosyncrasies were integrated in the finale typified the performance as a whole. Following an unexpectedly fragrant ornamental flowering from Soler, its harmonies taking a while to get used to after Eisler, we moved to Hindemith's Third Piano Sonata. In its first movement, siciliano rhythms immediately standing out, they sounded as if formed by their surrounding harmonies. A scampering scherzo and two deliberate yet purposeful movements to follow led us to a sense of hard-won victory.
Soler opened the third and final instalment: courtly yet capricious, ornamentation speaking of a freedom of which we stand in greater need than ever. Scriabin's 'Black Mass' Sonata suggested dissolution as another, more dangerous form of emancipation, even through the burning fire of Bakunin-like anarchism (very different from Ives's). There was wayward alchemy, though, and direction to be appreciated looking backwards from where we had come, even if we were uncertain at the time where we were heading. Command of detail was crucial to that greater sweep, just as it was in the dignified pathos of the Scarlatti sonata that followed. The post-Romantic constructivism of Ukrainian Nikolai Roslavets took a different path from Eisler (or Schoenberg) yet could nonetheless be felt as something of an antidote to Scriabin. There were moments of languor, yes, but motivic construction and transformation won out. Once more, the strangeness in context of Scarlatti's harmonies was to be relished as a pendant.
Janáček's Sonata, 1.X.1905 could hardly fail to have particular resonance given the state of the world around us. It went beyond that, though, in a moving performance of proud dignity and deeply communicative humanism, fusing the subtle and the direct. Its second movement was more songful, yet no less impassioned, through rather than despite its fragile nerve endings. For the final work of the day, Stefanovich donned black gloves to tackle the immediate yet reflective violence of Galina Ustvolskaya's 1988 Sonata No.6. More unremitting than Bartók, blacker than anything we had yet heard or wished to hear, it duly bludgeoned, yet spoke of and with an integrity that refused to offer easy answers. Was there, perhaps, a glimmer of hope in there somewhere? It was probably something more equivocal than that. And then it was gone.
Mark Berry