United States Various: Juan Diego Flórez (tenor), Vincenzo Scalera (piano). Dorothy Chandler Pavilion, Los Angeles, 23.1.2023. (JRo)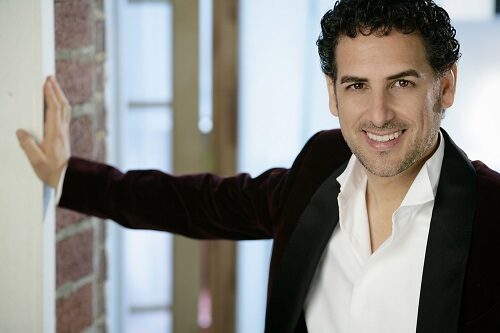 Gluck – 'O del mio dolce ardor' from Paride ed Elena
Caccini – 'Amarilli, mia bella'
Carissimi – 'Vittoria, mio core!'
Rossini – 'L'esule', 'La lontananza', 'Danse sibérienne' from Péchés de vieillesse, 'Pièce pour piano No.12' (piano solo), 'Deh, tu m'assisti amore' from Il signor Bruschino, 'La speranza più soave' from Semiramide
Donizetti – 'Linda si ritirò' from Linda di Chamounix, 'Innosservato penetrava… Angelo casto e bel' from Il Duca d'Alba
Verdi – 'Romanza senza parole in Fa Maggiore' (piano solo), 'Questa o quella' from Rigoletto, 'Je veux encore entendre' from Jérusalem
Lalo – 'Vainement, ma bien aimée' from Le Roi d'Ys
Gounod – 'Ah, lève-toi soleil' from Roméo et Juliette
Puccini – 'Foglio d'album' (piano solo), 'Torna ai felici dì' from Le Villi
In a program that spanned the sixteenth to nineteenth centuries, Juan Diego Flórez sang touchingly of love: love in bloom, thwarted love, jealous love and love abandoned. Flórez is that rare artist whose taste, refinement and charm combined with an instrument of vocal beauty turns a recital into a mesmerizing experience.
Accompanied by Vincenzo Scalera on piano, the two worked seamlessly together to create a world far from the noise of contemporary life. With subtlety and control, Flórez projected his bel canto tenor with ease. The vast Dorothy Chandler Pavilion became a small theatre as the artists, surrounded by flowers and warm wood paneling, drew us into their intimate circle.
Flórez is undoubtedly the reigning king of the high Cs – his fame secured by his role as Tonio in Donizetti's La fille du régiment with the aria 'Mes amis' and its nine consecutive high Cs. But it was his delicate floating notes, his restraint in passages that could have easily turned bombastic and flowery, that illustrated the depth of his intelligence and artistry.
This was on full view in the first half of the program. In Gluck's poignant 'O del mio dolce ardor,' piano and voice were in conversation with one another – a kind of classical call and response. Caccini's 'Amarilli, mia bella' illustrated Flórez's ability to caress a note, sending it floating from on high and sustaining it like a bird's feather turning slowly as it makes its way to earth. With the rousing 'Vittoria, mio core!', he playfully rendered a suitor's release from his base servitude to a deceitful woman.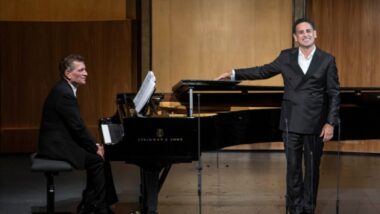 Next came a group of Rossini arias. 'L'esule' was a change of pace – a dark and brooding piece. Flórez walked a delicate line, neither excessive in conveying the emotional import of the song nor overly restrained. It was a perfect example of his intelligence at work. 'La lontananza', a lyrical love song from an absent husband to his wife, opened with the piano hinting at the call of a bird. What followed was a tender song of devotion that displayed the tenor's superb musicality and Scalera's sensitivity. Scalera had a chance to cut loose on his own with 'Danse sibérienne' from Péchés de vieillesse. It was succeeded by the discreet elegance of the tenor's rendition of 'Deh, tu m'assisti amore' from Il signor Bruschino. Before the intermission, Flórez concluded with 'La speranza più soave' from Semiramide, generating electricity with his lustrous embellishments.
With depth of feeling, impassioned musicality and impeccable phrasing, he sang Donizetti's 'Linda si ritirò' from Linda di Chamounix and 'Innosservato penetrava… Angelo casto e bel' from Il Duca d'Alba, putting me in mind of that other marvel of bel canto singing, the legendary Alfredo Kraus.
After Scalera's graceful playing of Verdi's 'Romanza senza parole', the Verdi operatic selections included the famous 'Questa o quella' from Rigoletto and 'Je veux encore entendre' from Jérusalem, both gorgeous additions to the program. Flórez's French was impeccable in the latter. With bewitching lyricism, he sang Lalo's charming 'Vainement, ma bien aimée' from Le Roi d'Ys. I savored every moment of Flórez and Scalera's interpretation.
French arias continued with Gounod's stirring 'Ah, lève-toi soleil' from Roméo et Juliette. With his charisma, good looks and dramatic skills, Flórez was thoroughly believable as the ardent lover, even dressed in a tasteful, dark-navy tuxedo.
Scalera lovingly interpreted a Puccini piano piece, 'Foglio d'album', followed by the final offering: 'Torna ai felici dì' from Le Villi – a soaring melody sung by Flórez, notable for the warmth and color he brought to the lower registers.
No Juan Diego Flórez concert would be complete without his beloved encores, accompanying himself on guitar and singing Spanish songs. Of the four he chose, none is more familiar than Quirino Mendoza y Cortes's 'Cielito lindo'. Flórez encouraged us to sing along and sing we did, erupting into cheers and hoots. When Scalera re-entered, presumably for a final round of operatic encores, it became more rock arena than staid opera house, with audience members shouting out requests for his famous 'Mes amis'. Though he didn't oblige with that one, he sang a spirited 'La donna è mobile' and the perennial showstopper, 'Nessun dorma'.
Flórez's recital will linger in my mind indefinitely. The purity of his artistry was and is a balm for the soul.
Jane Rosenberg