United States Beethoven: Dame Mitsuko Uchida (piano), Mandel Concert Hall at Severance Music Center, Cleveland, 26.2.2023. (MSJ)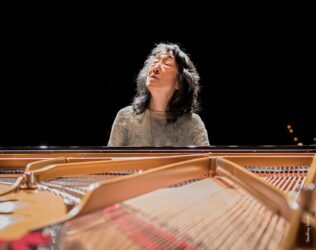 Beethoven – Piano Sonata No.30 in E major, Op.109; Piano Sonata No.31 in A-flat major, Op.110; Piano Sonata No.32 in C minor, Op.111
There's no doubt that Dame Mitsuko Uchida is one of the world's finest pianists. Anything she performs is worth hearing, but I did find myself questioning the program for this recital. And I have to wonder, is there some music that really isn't ideal for public performance? Perhaps, but if it opens a door to just one person, it would be worth it.
The questions arise because of the last three piano sonatas of Ludwig van Beethoven played here. Beethoven was a pianist, so the works are a direct line to the composer's way of interacting with the world. In his youth, brilliance was to the front in his sonatas, expanding into the heroic struggles of his middle period works. That process culminated in the 'Hammerklavier' Sonata which, in its epic scale, seems designed to be the sonata-to-end-all-sonatas. For his final three, Beethoven turned inward, shifting the focus towards an unearthly transcendence. That unearthliness makes them uneasy programming for a decidedly earthly concert setting.
Another thought is that they don't necessarily make a good trilogy. Beethoven gave them separate opus numbers, suggesting that he didn't consider them a trilogy, yet the idea of focusing on them as a group because of the new direction in Beethoven's music that they represent has merit. The works have a great deal in common, but considering that they have less contrasting material than the composer's more youthful works means that putting them on one program increases the sense of introspection.
Uchida has programmed intimate music in recital here before and, in 2019, she did an outstanding program of Schubert piano sonatas. I recall that concert as having a more focused audience than this one, though that perception was, at least in part, due to the pair of elderly ladies behind me having a good gossip at just about every moment the music wasn't playing (and a few moments when it was), and the failing hearing aid battery somewhere off to my right. It was a full-capacity crowd during a winter that has prolonged cold and flu season with roller-coaster temperatures in northeast Ohio, meaning that much respiratory distress was in evidence. I had to wonder, why were all these people here?
None of this showed any sign of bothering Uchida, who quickly went into her own world as the quietly playful knitting of pairs of notes began the Sonata in E major. Approaching the middle of her seventh decade, Uchida's technique remains deft and supple. The appearance of the first interruption of a slow tempo defined her approach: moderate, without extreme tempos in either direction, with an emphasis on fluency and poise. It makes sense that these sonatas would flourish with Uchida, considering that she is most famous for Mozart and Schubert as opposed to middle-period Beethoven. The rare eruptive moments here did prove, though, that she can play with force when necessary.
Uchida's poise came to the fore in the finale of the E major, with the almost operatic melody sung radiantly. She had asked for no applause between the first two sonatas (which made up the first half of the concert), but when she closed the sonata with a very final gesture, it provoked applause anyway. She should remember that in her focal position, she would have the power to control applause by smoothly moving into the beginning of the next piece without breaking away from the keyboard in a final gesture.
The Sonata in A-flat major had the same fluency and poise. Uchida played the sad slow movement with elegant reserve, allowing for a smoother transition into the more positive fugues that ultimately drive the sonata to a triumphant close. Particularly breathtaking were the overlapping layers in the final fugue, with the subject moving at different speeds simultaneously, a moment where Beethoven seems to be constructing a new world.
After intermission came the Sonata in C minor, one of the greatest keyboard works ever written. Uchida made it clear that her view of the first movement was in the context of the composer's late period. She didn't play it as a throwback to Beethoven's heaven-storming middle period but rather as a recollection of it. Her emphasis was on the increasing moments of quiet and lyricism that show Beethoven's focus moving inward. In the final movement, she followed the composer's trajectory in its ever-rising, ever-expanding vision. What is impressive is how much Uchida could bring me along for that journey despite coughing, gossips and rogue hearing aids. It's music of uncanny power, and Uchida is a master of the instrument.
Why were all of those people there? Surely, many came because Mitsuko Uchida is a living legend of classical music, and many young people were there to look up to someone who is a powerful role model. It's likely that others were there because Beethoven's name still carries a powerful, mystical cachet, despite the accelerating collapse of respect for the arts in America's floundering society. And some were there, as always, just to be seen. But if any of those in attendance take inspiration from Uchida's fine performances to explore these works further and deeper in the uninterrupted solitude of a listening session with headphones or earbuds, then the concert will have served a great purpose: there are other worlds within our world, and music can open those doors.
Mark Sebastian Jordan