France Couperin – Leçons de Ténèbres: Ana Vieira Leite, Adèle Carlier (sopranos); Orchestre de l'Opéra-Royal / Gaétan Jarry (conductor / keyboards). Chapelle Royale, Versailles, 5.4.2023. (CC)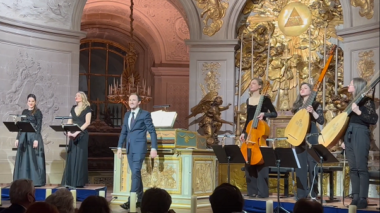 Delalande (1657-1726) – Cantique Quatrième: Sur le Bonheur des Justes et le Malheur des Répouvés
Couperin (1668-1723) – Leçon de Ténèbres pour le Mercredi Saint; Motet pour le Jour de Pâques: Victoria Christo Resurgenti!
Easter week at Versailles is always a special event. 2019 brought an unforgettable Bach St Matthew Passion from Jordi Savall, Vincent Dumestre's fascinating Pergolesi Stabat Mater, and a dual concert review of two sets of Leçons de Ténèbres, one by François Couperin and the other by Michel Lambert (this latter the first composer in France to compose a cycle, in 1662; swiftly followed by Marc-Antoine Charpentier and Michel Richard Delalande).
The traditional snuffing of the candles was again part of the experience (no candle self-snuffing this time, to the best of my knowledge). Delalande's Cantique begins with solo soprano, morphing quickly into two. The voices of Ana Vieira Liete and Adèle Carlier blended perfectly in the initial 'Heureux, qui de la sagesse' (Liete's is a little darker, perhaps a touch more operatic in nature, although as we heard in the Couperin Leçons, she can lighten it beautifully, too). The piece is fascinating, not least for the expression it packs within a relatively small ensemble, including Gaetan Jarry on chamber organ. Perhaps the finest moment was in the fifth movement, 'De nos attentats injustes', the chamber organ glistening in its higher register, occupying the same space as the voices.
The three Leçons de Ténèbre of François Couperin constitute an undeniable masterpiece. The purity of voices we heard in the Delalande was perfect for the Couperin, long melismatic passages like the pulling of a silken thread. The dark beauty of the text is reflected beautifully in the music. Jarry traced the contours of the music to perfection, while choosing his continuo instrument carefully (a harpsichord was 'stacked' on top of a chamber organ, to give the impression of a double keyboard). Moments such as the lightening on the arrival at the word 'Requiem' were absolutely cherishable; as was, in that instance, the sudden darkening thereafter. The opening of the third lesson, both voices beautifully melismatic around the letter 'Ioth,' was a moment of purest beauty; a passage saturated in suspensions, later in the third lesson, by the two sopranos was similarly a highlight.
There can hardly be a greater contrast than the joy that infuses Couperin's Motet pour le Jour de Pâques (Motet for Easter Day), 'Victoria Christo Resugenti!'. The contrasting middle section ('Sic Jesu pastor') was gloriously internal, but perhaps it was the purest beauty of 'O Jesu salus' and the joyous gait of the final minutes that truly elevated the spirits.
A truly superb concert, with some unforgettable singing from Leite and Carlier. It was short with no interval (around 75minutes) but tremendously impactful on a deep spiritual level.
Colin Clarke