47th ST MAGNUS INTERNATIONAL FESTIVAL – Friday 16 June to Friday 23 June
Set in Orkney's incredible landscape in the light nights of midsummer, the St Magnus Festival carves out a beautiful and distinct shape in the UK's festivals landscape.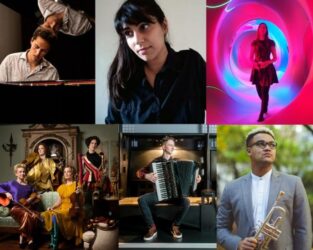 For more about the St Magnus International Festival click here

Under the directorship of Scottish composer Alasdair Nicolson, this year's multi-artform programme spans the world premiere of David McNeish's new play, Thora, directed by Gerda Stevenson, brings superb dance in the form of Scottish Ballet's debut, sees its first major outdoor installation from Architects of Air, and of course a strong music line-up courses through it.
Bringing performers to Orkney to be 'in residence' at the festival, Nicolson is exploring both sustainability and the deepening of relationships between artists and between visiting musicians and the Orkney Islands.
Known for spotting and championing fantastic young talent, this year's St Magnus Festival pairs the young Scottish stars accordionist Ryan Corbett and trumpeter Aaron Akugbo for the first time, sees the Hebrides Ensemble perform Ravel's orchestral works in new arrangements by Nicolson, and welcomes a strong Dutch contingent including the award-winning young pianist Nikola Meeuwsen, rich baritone Maarten Koningsberger and several performances by the internationally renowned and exciting Ragazze Quartet including Winterreise in an arrangement by Dutch violist Wim ten Have.
The Festival spans venues from Pier Arts Centre to St Magnus Cathedral, stunning churches nestled scenically on the coast, Stromness Town Hall, The Writing Room at Kirkwall Hotel and the Pickaquoy Centre.
Festival Director, Alasdair Nicolson said: 'We are excited to be presenting a vibrant and eclectic 2023 Festival bringing the midsummer nights to life with concerts, theatre and much, much more. This year sees a Lowlands to Northlands series with performers from the Netherlands "in residence" in the first days of the Festival, exploring the talents of astonishing young pianist Nikola Meeuwsen, the phenomenal artistry of the Ragazze Quartet and the elegant baritone voice of Maarten Koningsberger.
'A new play by local writer David McNeish turns the spotlight on the story of Thora, the mother of St Magnus, looking at the well-known events through her eyes. An amazing assembly of accordions makes for a mini festival in itself with solos, duos and ensembles filling St Magnus Cathedral with extraordinary sounds. New Scottish star performers Ryan Corbett and Aaron Akugbo collaborate for the first time and we have old friends of the festival, Florilegium and the Hebrides Ensemble, giving several performances. 
'Hot on the heels of last year's highly praised promenade performance, we have Solstice of Dark and Light, an evening of music, poetry and art. As usual you'll be able to see various parts of the Orkney Islands and venues not often visited as well as many chances to sample local foods and baking as part of some concerts. We look forward to seeing you in June.'
Emma Campbell, Creative Scotland's Music Officer said: 'Orkney's St Magnus Festival plays a vibrant role in the cultural life of the islands; its imaginative programming and unique setting attracting artists and audiences from far and wide. Celebrating music, dance and theatre in many forms and featuring a stellar line-up of homegrown talent in concert with artists from around the world, the Festival gives the arts a starring role in Scotland's cultural life in June.'
Emma Gee, Arts Officer for Orkney Islands Council said: 'St Magnus Festival's 2023 offer spans an incredible range of artforms and genres, and it is really exciting to see such a strong return to live performances building on last year. Orkney Islands Council is pleased to be in partnership with the Festival as a funder and excited to see its ongoing development.'