United Kingdom   Humperdinck, Hänsel und Gretel: Glyndebourne Touring Opera / Ilyich Rivas (conductor),     New Victoria Theatre, Woking, Surrey, 29.10.2013. (JPr)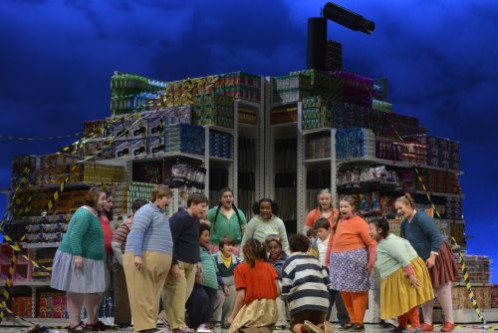 Cast:
Hänsel: Victoria Yarovaya
Gretel: Andriana Chuchman
Mother: Anne Mason
Father: Stephen Gadd
Witch: Colin Judson
Sandman: Lauren Easton
Dew Fairy: Angharad Morgan
Production:
Director: Laurent Pelly
Revival Director: James Bonas
Designer: Barbara de Limburg
Lighting Designer: Joël Adam
For a recent Covent Garden staging of Hänsel und Gretel joint director Patrice Caurier (with Moshe Leiser) said 'You can't put sugar on sugar', and then replaced most of the sugar with salt and vinegar to leave a sour taste in the mouth that missed the point of Humperdinck's Märchenoper (fairytale opera). It must have been something about 2008 because earlier that year Laurent Pelly also trod a similar darker path for this work – even if the results are less Gothic horror and more ecological and anti-consumerist than Leiser and Caurier. And Pelly certainly does 'put sugar on sugar' as we shall soon see.
Humperdinck was born near Cologne in 1854 and in 1882 he was musical assistant to Richard Wagner helping to prepare the first performances of Parsifal. In the 1890s, his sister, Adelheid Wette, had written a libretto based on the Grimm fairytale, and asked her brother to set it to music as a Christmas entertainment for her children. Later, they decided to turn this modest home project into a full-scale opera and Hänsel und Gretel premièred on 23rd December 1893 at Weimar. It was an instant hit and has remained an enduring masterpiece. Humperdinck composed other operas, yet he was a victim of this first big success as nothing else he did quite matched up to it. Richard Strauss, who was the assistant conductor for the première, called it 'a masterwork of the first rank' but Humperdinck's music owes so much to Wagner that the score is almost an affectionate parody at times of his operas such as, Tannhäuser, Die Meistersinger von Nürnberg and Siegfried. Perhaps it is just my ears there also appears to be a direct quote from Mahler's setting of the Wunderhorn poem Das irdische Leben composed at around the same time (it deals with the similar topic of hunger that Hänsel is singing about) – and all those cuckoos in Act II cannot just be another Mahlerian coincidence.
Barbara de Limburg's sets are amazing and we begin with clear evidence of how impoverished Hänsel, Gretel and their Mother and Father are because they all live in a large battered cardboard box. In the month when Cilla Black changed the line of the 'Liverpool Lullaby' from 'You'll gerra belt from your Da' to 'be told off', in the twenty-first century the mention of the children being thrashed may jar somewhat – as do some of the other issues raised by taking Hänsel und Gretel to the dark side as here. I think the opera needs to reclaim its fairytale origins before it is too late. Act II seems to set in a polluted forest where trees have been stripped of their greenery; waste packaging is everywhere and some of it is collected by Gretel to make her garland. The 14 impeccably dressed angels munch away on what seem to be burgers while the starving children sleep and it is clear there are those that have … and those that have not.
In Act III the 'gingerbread house' has to be seen to be believed (just see the photo) and is a ziggurat of eclectic calorie-laden supermarket products that matches a similarly shaped structure of hay bales for Pelly's L'elisir d'amore at Covent Garden. Compounding this is the fact that the 'gingerbread children' that Hänsel and Gretel save are obese, ramming home the idea you can have too much of a good thing – particularly in a week of Halloween 'treats'! Rosina Sweet-Tooth, the wicked witch in a shocking-pink twinset, is an outrageous Roald Dahl version of a supermarket manager from Sky TV's Trollied. When this harridan removes her wig and 'she' reveals a hairy potbelly, as well as a penchant for boning knives, it will probably give the youngest of children nightmares for years to come – so thank goodness there were not that many present from what I could see!
Venezuelan Ilyich Rivas is only 20 and has recently been an assistant conductor to his mentor, Vladimir Jurowski at the London Philharmonic Orchestra. He obtained a performance from The Glyndebourne Touring Opera Orchestra that had a confidence and maturity of someone much older. Along with his singers, he struggled against what might have been an unforgiving acoustic in Woking and with the orchestra going down under the stage in front of him produced a wall of sound that none of the voices – from where I sat – could cut through. Nevertheless it was a lovingly nuanced musical accompaniment, with all the Wagnerian colourations in the melodic score brought into wonderfully focused detail.
Under revival director James Bonas, the production (which I was seeing for the first time) was fresh and performed with great commitment by a cast that was perhaps not of the first rank. Generally their acting was much better than their singing – but that may just have been the acoustics again of course. Andriana Chuchman was a suitably girly Gretel and the perfect foil to Victoria Yarovaya's snot-nosed, clumsy Hänsel – a right little brat if ever there was one. They seemed to thoroughly enjoy all the childish rough-and-tumble of Act I and sang pleasantly together. Stephen Gadd and Anne Mason portrayed the sort of feckless parents that you read about every day in the Daily Mail, however I have heard Norman Bailey and Elizabeth Connell, amongst many, sing these roles and unfortunately Gadd and Mason's worthy performances were not in the same class. Humperdinck gives the Sandman and Dew Fairy chances in this opera that it is virtually impossible to fail at and the limpid voices of Lauren Easton (in white) and Angharad Morgan (in sickly green) made the best of their opportunities; theirs was some of the best singing of the evening. From moment to moment Colin Judson reminded me of Klingsor in Wagner's Parsifal or the double-dealing Mime from his Ring and he tried hard and was suitably grotesque – in that fat-suit how could he not be? – but it all needed a much more vocally outré performance than Judson achieved.
It is claimed that this is the perfect introduction to opera and should be something for younger children, however, at this performance at the start of half-term week there were only a very few people in the disappointing audience who actually seemed younger than I am – and I'm nearly 60! Perhaps if there was anyone of school age present they must have been in the cheaper seats very high up in the theatre. Hänsel und Gretel was the first opera I ever saw when at school so full credit to Glyndebourne for their forthcoming series of Encore performances especially for school groups, families or those under 30. Also to help everyone, operas like this really do need to be performed in English on tour I would think.
Jim Pritchard
For more about forthcoming performances on the 2013 Glyndebourne tour, the Encore week and details of the 2014 Glyndebourne Festival visit http://www.glyndebourne.com/.