United Kingdom  A Spoonful of Sherman(Songs by Al, Robert B and Richard, as well as, Robert J Sherman ): St. James Studio, Victoria, London, 17.4.2014. (JPr)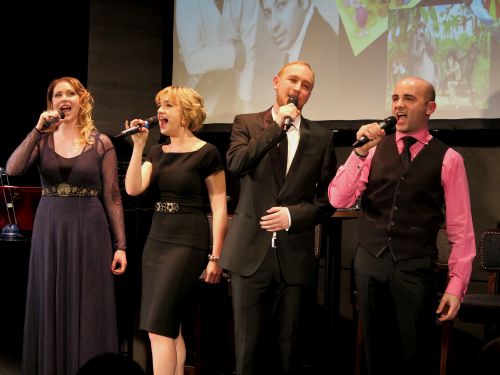 Staging by Stuart Nicholl Performers: Greg Castiglioni, Stuart Matthew Price, Charlotte Wakefield, Emma Williams and Robert J Sherman accompanied by Colin Billing (piano)
A Spoonful of Sherman is a jolly, upbeat evening of cabaret full of wistful reminiscence of the films and shows of most people's formative years – and particularly for those of a certain older age group. However, looking around me in the intimate St James Studio there were certainly enough younger people singing, clapping and tapping their feet as evidence – if evidence were needed – of the enduring appeal of the songs of the Sherman Brothers, their grandfather, Al, as well as, Robert B's son, Robert J. He is also a songwriter – could he be anything else? – and so he is our direct link to New York's famous Tin Pan Alley.
I recently reviewed Fiddler on the Roof (review here please https://seenandheard-international.com/2014/04/fiddler-leaves-roof-seaside/ ) and that ended with the Jewish milkman hero of the piece being expelled from his Ukrainian village in the first decade of the twentieth century and heading for another promised land, America. Al Sherman was himself born in the Ukraine and the family also fled a pogrom in 1903. They too went to America and arrived there in 1909. Al's composing career began in 1918, that of his sons, Robert B and Richard, began in 1951 … and Robert J has been continuing the tradition in recent years.
Al Sherman's songs seem less enduring than his sons' songs. I knew the words of 'The Ugly Bug Ball' from Summer Magic (made famous by Burl Ives) by none of the rest of the selection performed. The Sherman Brothers enjoyed a wonderful collaboration with Walt Disney, amongst others, and created the musical scores for Mary Poppins, The Jungle Book, The Aristocats, The Parent Trap, Bedknobs and Broomsticks, and Chitty Chitty Bang Bang, to name only a few. In 1995 they won two Academy Awards for Mary Poppins and since then nine Academy Award nominations, two Grammy Awards, four Grammy Award nominations and 23 gold and platinum albums. Robert J Sherman's credits are not yet as extensive as his forebears but there is still time and there were two songs for a project he is currently working on, Bumblescratch, about a plague rat during London's Great Plague – and as Robert J said as an aside, 'You draw inspiration from people in this business!'
Clearly for Robert J Sherman this show does exactly 'what it says on the tin' and was devised with the assistance of Colin Billing, his musical director and arranger, and is billed as 'A Celebration of the Life, Times and Songs of Robert B Sherman' to bring us 'The Songbook Of Your Childhood'. The genial and self-deprecating Mr Sherman was present to guide us through his family history and there were family pictures and other images projected to help bring the tales and songs to life. However, he told us little more than the leaflet with the list of songs and biographies we were given already did. I would like to have heard more anecdotes about the song-writing process. This would not have made some of the magic disappear but would have only enhanced it. Most of the audience would, like me, have seen the recent film Saving Mr Banks that fictionalises how Mary Poppins eventually got to the screen and I felt I learnt more about his father and uncle from that movie than I learnt now from Robert J himself. For more about the hard graft behind all the childhood memories perhaps we need to read his late father's recent autobiography, Moose: Chapters From My Life that Mr Sherman has edited.
Four excellent vocalists enlivened the songs: Chitty 'veteran' Emma Williams and Stuart Matthew Price generally were given the gentler ballads ('There's a Harbour of Dreamboats', 'Feed the Birds', 'Hushabye Mountain', 'Lovely Lonely Man') whilst Charlotte Wakefield and Greg Castiglioni enchanted us with their renditions of the livelier tunes ('Comes A-long a–Love', 'A Spoonful of Sugar', 'Chim-Chim-Cher-ee', 'The Wonderful Thing about Tiggers', 'A Veritable Smorgasbord'). It all worked well with just some understated support from Colin Billing at the piano and the singers helping out from time-to-time with backing vocals.
There were also moments of genuine comedy when Stuart Matthew Price did his monkey best to try and put Greg Castiglioni off his stride during The Jungle Book's famous 'I Wanna be Like You', Charlotte Wakefield seemingly wanting to say everything backwards, not just 'that' word from Mary Poppins and when Mr Matthew Price, sang 'fifteen' to Ms Wakefield during 'You're Sixteen'. I suspect the latter – despite all the laughter on stage – had been well-rehearsed especially when Mr Sherman added afterwards: 'We're going to have to talk about statutory ages.'
I believe there was a conscious attempt to strip away as much potential cloying sentimentality as possible from all the material which possibly was a mistake. When I saw Fiddler on the Roof there was a lot of Oy Veying by the actors when they spoke yet when they sang it was with refined English vowels. Here sometimes something similar happened and I wonder whether some of the lyrics might have benefitted from an edgier approach. When it worked … it worked very well. When Charlotte Wakefield sang a very evocative 'My Own Home' it was clear how often there might have been an overlooked subtext in the songs from composers with a Jewish heritage because, especially as in this one, the music was redolent of the synagogue. Mr Sherman reflected some of this when he said how later in his career 'My father would write songs of hope and belief in a world that had stopped believing.' There was some sadness too as he introduced 'The Whistle Tune' from the 1995 Busker Alley musical reflecting how it would have been a big hit had the shows' leading man, Tommy Tune, not injured his foot, resulting in its backers taking fright and pulling out, effectively ending the Sherman Brothers' Broadway career.
The new St James Theatre not far from London's Victoria Station was an interesting discovery. It has a large auditorium (seating 312) and a smaller studio space (seating 120) where A Spoonful of Sherman was put on. The cosy atmosphere of tables and chairs (on two levels) reminded me of a small performing area with a bar on a luxury cruise ship – and the entertainment seemed of the same standard as I have seem on the few cruises I have been on. This is not to diminish the accomplishments of a wonderful quartet of singers that includes two singers with genuine West End leading lady pedigree, Charlotte Wakefield and Emma Williams, presided over by one very proud Sherman. In the main theatre they are showing the UK première of the Tony Award winning satirical musical Urinetown and if that, and Spoonful,is an example of the innovative programming we can expect there in the future then this new venue should be worth coming back to regularly.
Jim Pritchard