United Kingdom  Handel, Rinaldo: Longborough Festival Opera / Jeremy Silver (conductor), Longborough, 24.7.2014  (RJ)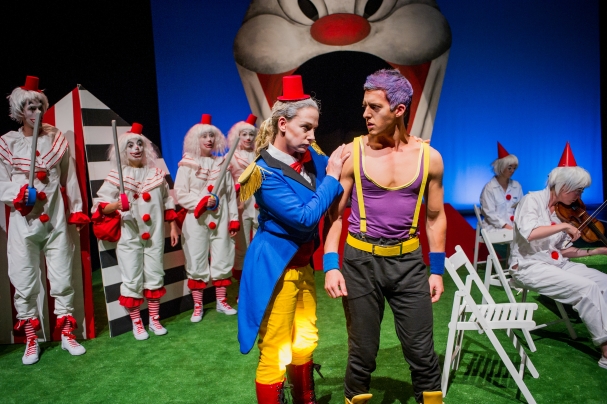 Cast:
Goffredo: Martha Jones
Almirena: Eloise Irving
Rinaldo: Jake Arditti
Argante: Nicholas Merryweather
Armida: Rhiannon Llewellyn
Mago Cristiano: Richard Moore
Eraldo: Laurence Panter
Sirene: Annabella Ellis, Aino Konnka, Prudence Sanders
Production:
Director: Jenny Miller
Designer: Faye Bradley
Assistant Director: Rebecca Hanbury
Repetiteur: Lesley Anne Sammons
I wondered if Longborough might burn itself out last year (like Valhalla) with its three cycles of Wagner's Ring, but not a bit of it. This current season has been less strenuous: The Barber of Seville, Tosca, a concert and now Handel's first London opera – Rinaldo.
In a world beset with religious conflicts it might seem risky to stage a drama set against the background of the Crusades, though I doubt whether soothsayers and sorcerers played any part in the medieval struggles between Christian and Saracen. Not that I can see our 18th century forbears bothering much about the historical and theological background to this opera: they simply wanted a ripping yarn with plenty of romance, drama, spectacle and fantasy – plus good music.
With this consideration in mind director Jenny Miller has dumped the idea of knights in shining armour facing up to the exotic and terrifying Saracen hordes and set the action of the opera in the world of the circus. Yes, a circus. So Goffredo ceases to be a Christian knight besieging Jerusalem and becomes a circus boss reining in his ambitious lion tamer Argante (King of Jerusalem in the original production) with the assistance of the show's strong man, Rinaldo. Rinaldo is hopelessly in love with the boss's daughter Almirena, and further love interest is provided by the sorceress Armida who is Argante's consort and has a posse of demons at her beck and call.
The on-stage orchestral players entered into the spirit of the production by dressing up as clowns. Conductor Jeremy Silver made a grand entrance in top hat and cape, and after disposing of these with a flourish, strolled over to the harpsichord to start proceedings. First on stage was the no nonsense Martha Jones as Goffredo anxious to get on with the looming battle. Alas, her strong man Rinaldo has other things on his mind: he is head over heels in love with Almirena and clearly has no stomach for the fight. The petite Eloise Irving as Almirena is everything a young chap could wish for, but she follows her father's lead by insisting that battle must precede marriage (Combatti da forte).
While the Christians and clowns are played (very well) by relative newcomers to the opera stage, the baddies, Arganti and Armida,  are played by comparative veterans Nicholas Merryweather and Rhiannon Llewellyn.  Brandishing his whip Arganti strides on to the stage with two wild animals – which looked like tigers to me – but proves to be less vicious than he looks. He is suffering from cold feet about the forthcoming hostilities and asks for a three day truce which Goffredo grants. He consults his sorceress only to learn that if he is to be victorious Rinaldo has to be removed, and she offers to carry out the deed herself.
Flute and and piccolo (or rather their Baroque equivalents) provide a delightful introduction to the next scene which finds Almirena taking an improvised bubble bath. She and Rinaldo meet and pledge their love for each other (Scherzono sul tuo volto) only to be thwarted by Armida and her demons who abduct Almirena. A distraught Rinaldo pours out his sorrows in the heart-wrenching aria Cara sposa, but the quick-thinking Goffredo knows precisely what to do and they set off together across the seas in a small sailing boat to seek advice from the Mago Cristiano.
When they reach land things go from bad to worse. The hapless Rinaldo is seduced and entrapped by three sexy Sirens with luminous bras; by now one suspects him of being all brawn and no brain. Arganti falls in love with his captive Almirena who implores him to free her in the opera's most famous aria Lascio ch'io pianga – which proves to be a show stopper. Almida then falls for Rinaldo and changes into Almirena is order to attract his attention, but he manages to break free, to her intense fury.  There are plenty of further twists and turns to the plot and moments of high (melo)drama – but I am happy to report that everything turns out for the best in the end.
Singers in the minor roles spend most of the time clowning around on stage and shifting scenery ensuring there was never a dull moment. Of particular note was Richard Moore as the Mago Cristiano (or Christian Magician), an automaton-like figure in a fairground booth. The five of them play their roles with skill and relish, and any theatrical managements needing mimes, singers or accomplished scene shifters should note down their names.
A sophisticated 18th century Londoner might pour scorn on Longborough for its lack of intricate stage machinery, and it requires a leap of the imagination at times to appreciate all the magical effects.  Yet designer Faye Bradley has worked wonders with the limited material at her disposal producing eye-catching costumes which belong to the later Victorian and Edwardian circus and creating a few versatile props which serve as boats, baths and boudoirs.
Musically and dramatically this production was tremendously satisfying, and such was the standard it was difficult to tell the newcomers and more experienced singers apart. Jake Arditti, a member of a famous musical dynasty, has a wonderful range of expreession; I have never seen a more magnificent wimp! And haughty Rhiannon Llewellyn frightened the life out of me as the domineering and threatening Almida.  Apart from being people of considerable vocal skills they clearly have a dream of a repetiteur in Lesley Anne Sammons.
As for the Baroque orchestra kitted out in clumsy clowns' costumes on one of the hottest nights of the year – even at Longborough – I cannot praise them too highly. I cannot help feeling that some of the magic of the evening was provided by Jeremy Silver's rippling harpsichord solos.
Though a Longborough Festival Opera production,  Rinaldo was premiered at the Bernie Grant Arts Centre, Tottenham (London) and has also visited Hastings as part of LFO's educational outreach programme. The final performance is on Saturday 26th at Longborough at 6.30. (www.lfo.org.uk), but I fervently hope it will be revived.
Roger Jones