United States  Brahms, Tchaikovsky, Scriabin, Prokoviev, Mendelssohn, Debussy, Mozart, Ligeti, Beethoven: Yefim Bronfman (piano), Alisa Kolosova (mezzo-soprano), Sergey Skorokhodov (tenor), Rudolf Buchbinder (piano), Rosa Feola (soprano), Alisa Kolosova (mezzo-soprano), Saimir Pirgu (tenor), Michele Pertusi (bass), Stephanie Jeong (violin), Kenneth Olsen (cello), Jonathan Biss (piano), Chicago Symphony Orchestra Chorus (Duain Wolfe, director), Chicago Symphony Orchestra/ Riccardo Muti (conductor), Orchestra Hall, Chicago 15/23/27.1.2015, 19/26.2.2015, 7.3 2015 (DP)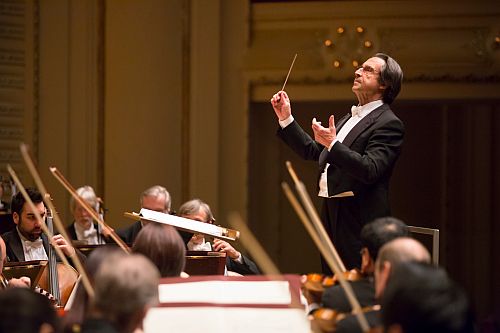 Brahms: Piano Concerto No. 2 in B-flat Major, Op. 83
Tchaikovsky: Symphony No. 1  in G Minor Op. 13 (Winter Daydreams)
Scriabin: Symphony No. 1 in E Major, Op. 26
Prokofiev: Alexander Nevsky, Op. 78
Mendelssohn: Calm Sea and Prosperous Voyage Overture, Op. 27
Debussy: La mer
Scriabin: Symphony No. 3 in C Minor, Op. (The Divine Poem)
Mozart: Piano Concerto No. 24 in C minor, K. 491
Mozart: Requiem in D Minor, K. 626
Scriabin: Symphony No. 2 in C Minor, Op.29
Tchaikovsky: Symphony No. 6 in B Minor, Op. 74 (Pathetique)
Ligeti: Lontano
Beethoven: Concerto in C Major for Piano, Violin and Cello, Op. 56 (Triple)
Tchaikovsky: Symphony No. 2 in C Minor, Op. 17 (Little Russian)
Since Riccardo Muti became music director of the Chicago Symphony Orchestra in the fall of 2010, he has divided his Chicago residencies in quarters: he has always opened the season in September and closed it in June, with a winter and spring residency in between. This season, however, Muti's winter and spring residencies happened virtually back-to-back, in three programs from mid- to late-January—most of that repertoire then played at Carnegie Hall in early 2015. After a brief break in Italy, Muti returned to Chicago in February and March for three additional programs.
In addition to continuing a season-long Tchaikovsky cycle that began in the fall and will conclude in June, Muti began a Scriabin cycle. He will continue in June and will conclude next September to coincide with the centennial year (2015) of Scriabin's death.
It was interesting to hear the Scriabin First Symphony open the cycle, in some ways perhaps the oddest symphonic work of a composer many already consider to be anomalous. As if to underline the importance Muti gives the piece, he also chose the first three movements of it to rehearse and dissect, in his annual public rehearsal with the Civic Orchestra, the CSO's training orchestra. In introducing the Scriabin First to the Civic Orchestra, Muti emphasized the work's crucial step in the composer's search for the "unique metaphysical sound world," with which he would become so associated. "Like Stravinsky, who is much more well-known, both looked to Debussy, the father of modern music. Stravinsky changed styles to find his own way, but Scriabin remained faithful to a single vision."
The CSO performances were its first-ever—a situation that Muti was particularly pleased to rectify. And since a chorus is needed for the finale, Muti cleverly programmed it alongside a breathtaking traversal of Prokoviev's Alexander Nevsky to make full use of the Chicago Symphony Chorus. Both works also made use of Russian mezzo-soprano Alisa Kolosova, joined in the Scriabin by Russian tenor Sergey Skorokhodov.
Scriabin's six movements—some fifty minutes total—could not have been presented more proficiently or persuasively, every nuance and detail exquisitely revealed, though it still managed to come off in an episodic manner. Every movement is a sound world of its own—each certainly pleasant enough, though with little to unify them as an overall entity. By the time the finale came in with Scriabin's rather banal lyrics—though joyously rendered by the soloists and chorus—each movement had come off more like a series of unrelated short stories.
The same was not true of the composer's Second Symphony, performed out of sequence within the cycle and after the Third Symphony (The Divine Poem), the most familiar of the three, which Muti led in Chicago two seasons ago to great effect. Muti managed to reveal the Second as a neglected gem, and a fascinating bridge between the rather confused collage of the First and the innovative hallucinatory sound world of the Third. It was particularly interesting to hear the Second, with Scriabin's hyper-chromaticism and structure giving full way to expression, paired with the Tchaikovsky Sixth. In the latter, Muti gave a decidedly retrained and classical reading as if to illuminate how visionary the neglected Scriabin was, versus the conventional and ever-popular Tchaikovsky. The comparison was compelling and thought-provoking.
The early entries of Muti's season-long Tchaikovsky cycle, however—the First (Winter Daydreams) and Second (Little Russian), which were championed by Stravinsky—were shown to be more daring, and Stravinsky put it, "more Russian."
Three concertos were traversed across these residencies: a Brahms Second Piano Concerto with Yefim Bronfman that came off rather perfunctory; Bronfman's dynamic palette limited for a work of such variety. Mozart's Piano Concerto No. 24 with Rudolf Buchbinder seemed too reverent. But a memorable performance of the Beethoven Triple Concerto—with CSO co-concertmaster Stephanie Jeong, CSO co-principal cellist Kenneth Olsen, and pianist Jonathan Biss—was so refreshingly unified and convincing that an immediate standing ovation greeted the finale.
Other repertoire, such as Mendelssohn's Calm Sea and Prosperous Voyage Overture and Debussy's La mer, appeared on programs last fall but were presented more persuasively upon being revisited.
Muti had not previously conducted any Ligeti in Chicago, so it was fascinating to hear his ethereal traversal of Ligeti's 1967 Lontano, in which the conductor not only managed to bring forth the delicate sonorities from dynamic nothingness, but sustained a sense of shifting harmonic ambiguity—to thrilling effect.
However, the highlight of these concerts was his first-ever Chicago performance of the Mozart Requiem. Though it had long been planned, it took on special significance with the passing of Chicago critic and broadcaster Andrew Patner, a close friend of Muti, and to whom the performances were co-dedicated, along with former CSO cellist Leonard Chausow. Since the 1970s, a number of contemporary completions of the Requiem have been made, attempting to fill in the sections Mozart left unfinished at the time of his death, and in a manner more in line with Mozart's style and intentions. Those expecting Muti to have chosen one of those, rather than the traditional—and controversial—Süssmayr completion, would have been disappointed.
So, too, those expecting some semblance of early music performance practices—which Muti finds disingenuous—or seeking an even balance between orchestral and choral forces, would also be foiled. This was an unapologetically mid-size orchestra with a chorus nearly double that size. Yet the dynamic variance and text-painting of the soloists, and particularly the chorus, was astounding. Muti had been meticulously working with the latter—which had been prepared by CSO chorus director Duain Wolfe—right up through an open rehearsal the day of the first performance.
Yes, when Muti wanted thunder in his cosmic drama—as in the Dies irae—he got it, to be sure. But at the other end of the spectrum were the tender sections when comfort was pleadingly sought, and granted, on a scale so intimate and tender that it was no less hair-raising.
Dennis Polkow