United Kingdom Donizetti, Don Pasquale: Soloists, Chorus and Orchestra of Longborough Festival Opera / Thomas Blunt (conductor), Longborough, 3.7.2015. (RJ)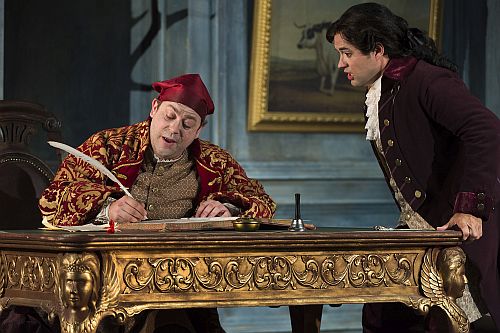 Cast:
Don Pasquale: David Stout
Dr Malatesta: Gary Griffiths
Norina: Susanna Hurrell
Ernesto: Jesus Alvarez
Notary: Laurence Panter
Production:
Director:  Alan Privett
Designer: Lara Booth
Lighting Designer: Anna Sbokou
Movement Director: Jo Meredith
Répétiteur: Charlotte Forrest
Orchestra Leader: Katharine Gittings
I tend to associate director Alan Privett with rather serious works. He was behind the successful Ring Cycle at Longborough which demonstrated that Wagner's music dramas have a life outside state subsidised opera houses. Yet there's nothing especially serious about his Don Pasquale, apart from the moral that youth and age don't mix and old codgers should abstain from marriage – especially to young women.
This is a staple plot for opera buffa, though Donizetti's characters have far more personality and depth than others from this genre.  However, Privett makes a virtue out of  the artificiality of the story by setting it in a film studio circa 1930 before film making became a glamorous activity with luxurious trailers and dressing rooms for the stars.  Designer Lara Booth's set with its makeshift scenery and dowdy dressing rooms captures splendidly the spirit of the time.
While the cast of the opera wear 18th century costumes when singing  "on stage", when not performing they wear 1930s outfits and hairstyles – as do the studio staff who take on multiple roles: applying make-up, manoeuvring floodlights into position, changing scenes, providing rudimentary sound effects, observing the action intently, operating a clapper-board and calling out "cut" at the end of a scene. One senses there a second play in progress around the opera complete with backstage quarrels and torrid romances. Away from the opera stage the singer playing Ernesto is a matinee idol popular with the girls in the studio. The studio workers go on strike during the overture to Act 2, and resume work only when the producer hands out cash to them.
Yet anyone hoping to see a traditional production of Don Pasquale would not be disappointed. Martin and Lizzie Graham, the founders of Longborough, have once again assembled a stellar cast of singers. David Stout as Don Pasquale lives up to his surname and turned in a rip-roaring performance, and how he roars with rage in 'Son tradito, son tradito' when he finds his new wife taking over the household and spending all his money!  Susanna Hurrell is a terrific Norina with an exciting coloratura voice who makes the transition from lovable girl next door to intolerable, scheming minx with great aplomb. Her brother, Dr Malatesta, played by the good-looking Gary Griffith looks less of a schemer than some Dr Malatestas I have seen and does a terrific job on his patient Pasquale – especially in their brilliant comic duet in Act 3. As for Jesus Gonzalez, he was convincing both as a matinee idol and in the role of the Ernesto whose despairing looks are reminiscent of the close-ups in film melodramas from the twenties and early thirties.
This year sees a new conductor, Thomas Blunt, in the pit at Longborough bringing bounce and momentum to the score. He's making a name for himself in Bern at the moment, so I understand,, but I hope we shall hear more from him over here. The playing of Longborough's house orchestra was. as usual, superb.
In the final act there is a distinct change of mood. The eight studio workers finally get the opportunity to discard their working attire and dress up and sing, providing an exquisite chorus to Ernesto's show stopping serenade 'Com' è gentil' with guitar accompaniment. Gradually the scenery and the 18th century costumes melt away and virtually everyone, Norina and Ernesto included, appears in modern (or at least 1930s) clothes. Only Don Pasquale continues wearing pantaloons, cutting a pathetic figure as one who is hopelessly out of touch with modern times.
So once again Longborough has come up with an imaginative, sometimes thought-provoking offering having already chalked up a notable success with Tristan and Isolde last month. There is more to come this month with productions of Rigoletto and Handel's Xerxes for which tickets have sold like hot cakes. See website www.lfo.org.uk for details.
Roger Jones