Germany  Bayreuth Festival 2015[1] Richard Wagner für Kinder – Parsifal: Soloists and Musicians of the Brandenburgisches Staatsorchester Frankfurt (Oder) / Boris Schäfer. (conducor), Probebühne IV, Bayreuth Festspielhaus, 2.8.2013. (JPr)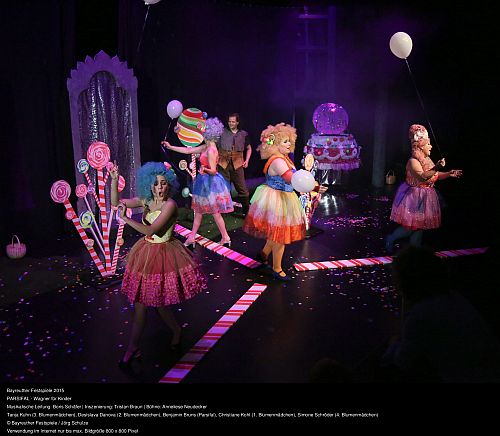 Cast:
Amfortas: Raimund Nolte
Titurel: Andreas Hörl
Gurnemanz: Jukka Rasilainen
Parsifal: Benjamin Bruns
Klingsor: Kay Stiefermann
Kundry: Alexandra Petersamer
Blumenmädchen: Christiane Kohl
Blumenmädchen: Desislava Danova
Blumenmädchen: Tanja Christine Kuhn
Blumenmädchen: Simone Schröder
Production
Concept: Katharina Wagner, Nicolaus Richter, Tristan Braun
Musical reduction: Marko Zdralek
Director: Tristan Braun
Sets and costumes: Anneliese Neudecker
Richard Wagner für Kinder (Richard Wagner for Children) began in 2009 with a version of Der fliegende Holländer and has become a much anticipated event at the annual Bayreuth Festival. Its target audience is children between the ages of 8 and 12 and it aims to introduce Wagner's 'fairy tales' to them in a non-threatening way in the hope it might encourage a deeper interest in the 'real thing' in later years. The journey through the Wagner operas traditionally shown on the Green Hill was completed this year with Parsifal, following Lohengrin and the reduced versions of Tannhäuser, the Ring, Die Meistersinger von Nürnberg and Tristan und Isolde in the previous years. Each runs for about one hour and all have been filmed. The DVDs are available from http://shop.bayreuther-festspiele.de/ (as Parsifal will be from September).
This venture is absolutely critic-proof because who can complain about an attempt to demythologise Wagner for young and old alike. For too long Wagner has been demonised for his dubious morals and beliefs that he has supposedly weaved subliminally into his operas. These are basically just love stories – or fairy tales – with some biographical elements, rehashed German philosophy and a political message relevant to the historical period they were written in.  I suspect, Wagner never intended them to have the same relevance for future generations.
These 'For Children' operas take place in one of the vast rehearsal stages and the first I saw in 2013 was the best, as it was 'in-the-round'. But in the last two years it has received a more 'normal' presentation with the audience facing the performers. The musical reduction is for an orchestra of 30 and there is much spoken dialogue to explain what is happening. In the UK we call this 'pantomime' but Germans do not have this tradition. As is to be expected, the music and singing was of a much higher standard than we usually expect at these annual UK Christmas events!
Once again I though the opera was filleted just a little too much and some of its musical highlights could have remained intact. I am sure the generally well-behaved children in the audience could have endured just a few more minutes of the music and we heard the bloodiest of 'Bleeding Chunks' with just some small sections of the most familiar passages. Of course Parsifal would not be my first choice as an opera to introduce Wagner to younger children. Indeed one infant was so scared in the first few seconds by a shaggy fur-coated Gurnemanz in lederhosen that she became distressed and had to be led out. Maybe rather like the 'play within a play' at the end of Shakespeare's A Midsummer Night's Dream a 'prologue' could have been written to explain there would be nothing to frightened about. Actually for the first few minutes – and with a lot of bloodied bandages on stage – this Parsifal seemed be to taking itself too seriously.
The problem is that aforementioned lack of understanding of 'pantomime. I have seen 'shot' swans in full stagings of the opera that have looked like plucked turkeys and caused (unintended) laughter from the audience. Playing it 'straight' director Tristan Braun missed a real opportunity for some fun here. It was only when a very angry Titurel (the genuinely funny Andreas Hörl) stopped the show to berate his 'idiot' son Amfortas that genuine laughter was heard for the first time. He has to explain to him that he can only release the Grail – here a powerful sacred stone as in Wolfram von Eschenbach's original tale – by reuniting it with the spear that we saw him lose to Kundry and the magician Klingsor during a mimed sequence at the beginning of the opera.
There is an annual costume contest and children in Düsseldorf were responsible for what we saw: Klingsor was Baron Samedi, a flamboyant voodoo priest with a skull for a face, and his magic garden was full of huge lollipops and a cake. The Flowermaidens here are gaudily coloured 'sweet girls' who entice their victims with their treats. Klingsor is defeated and another opportunity was missed for some humour – or some magic – as Parsifal reclaimed the spear before it using it to heal Amfortas of the wound he received when he lost it. There is then the traditional happy ending all fairy tales need and Parsifal becomes the new King of the Grail.
To be honest in the end it was more possible to understand the story than sometimes when Parsifal is performed in its full version and much fun was had by all. The Brandenburgisches Staatsorchester Frankfurt (Oder) does not have much to play but does remarkably well for such a small ensemble under their conductor Boris Schäfer, and it was particularly wonderful to hear the original Glockenklavier (bell piano) built for the original Parsifal performances at Bayreuth in 1882. There was a mix of youth and experience in the cast with some of the singers to be also seen on the main stage at the Bayreuth Festival. No one has much to sing either, Jukka Rasilainen is a 'regular' and has appeared in all the three I have seen. He was superb yet again and appears to enjoy himself as much as we all do watching him. He was well supported by Raimund Nolte's anguished Amfortas, Kay Stiefermann's evil Klingsor, and Benjamin Bruns engaging Parsifal. The Flowermaidens were a very appealing quartet and – given even less to do than the others – Alexandra Petersamer slinked around effectively as Kundry.
Ihis year's Parsifal seemed more clearly aimed at the 8 to 12-year-olds rather than their parents or others young-at-heart, but I enjoyed it nonetheless. If you have the opportunity to be at one of these performances in the future, do go because your time will not be wasted.
Jim Pritchard